Coles Amaroo Village, a highly-convenient neighbourhood shopping centre located in the fast-growing northern suburbs of Canberra, is set to be offered for sale next week. Sales are rare in the ACT and this provides an opportunity for an astute investor to enter the ACT's growth market. 
Steven Lerche and Nic Purdue of Savills Australia and Philip Gartland and William Blanch of Stonebridge have been exclusively appointed by Coles Group Property Development Ltd to sell the 4,600m2 centre featuring a convenient, non-discretionary tenancy mix, with 80% of the gross floor area secured to Coles and Liquorland on a brand-new long-term lease. Coles and Liquorland is complemented by eight specialty shops including a pharmacy, real estate agency, barber, Indian Grocer and various food offerings.
The ACT retail investment market has continued to be extremely tightly held, with only three retail properties between $15m to $40m transacting in the past five years. The ACT continues to be a very secure retail market to invest in due to the significantly high barriers to entry for competing retail offerings.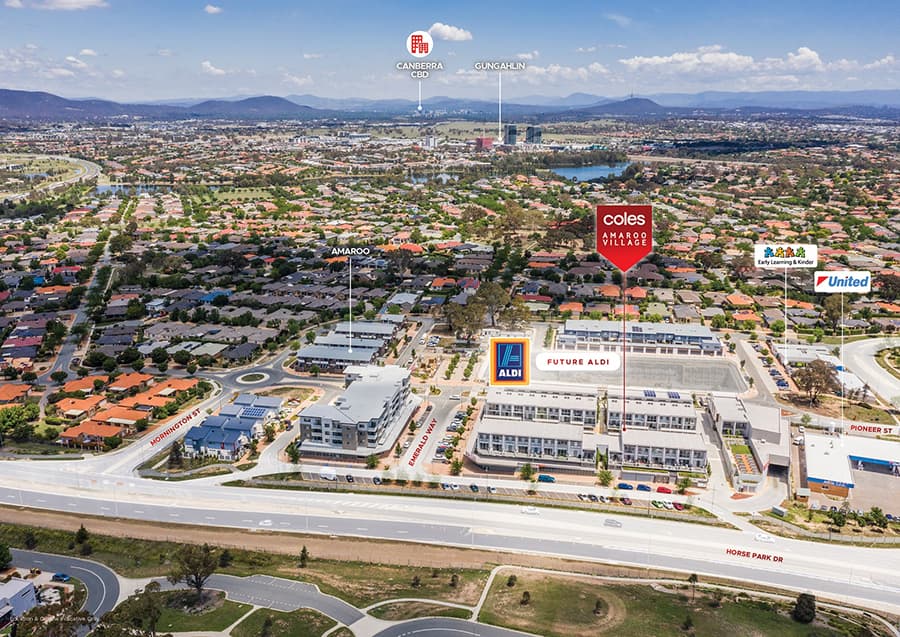 According to independent research firm MacroPlan Dimasi, the Centre serves a highly affluent trade area, with per capita income levels 55% in excess of the Australian average. The trade area's population is forecast to grow rapidly by 3.8% p.a. to 2031, well in excess of the Australian average of 1.4% p.a.
The Coles at Amaroo Village is located at 815 Horse Park Drive, Amaroo and is the only full-line supermarket within the sprawling catchment and the centre produces an estimated Net Income of $1,850,000 p.a.
Savills Australia National Director of Retail Investments, Steven Lercheaid "Amaroo Village is an outstanding convenience and non-discretionary retail hub, ideally located within the town centre. The strength and appeal of the town centre will be enhanced with the only Aldi in the area, located opposite the site, under construction and due for completion late-2019. The site is within walking distance to the northern suburbs' two major schools and a day care centre."
"Neighbourhood centres along the East Coast, particularly in the major capital cities, regularly command yields of sub 6%, as seen in the sale of Cranebrook Village at 5.30% in Western Sydney, Woolworths Caloundra at 5.67% on the Sunshine Coast and Coburg North Village in Melbourne rumoured to be sub 5%" he continued. "Investors place a premium on neighbourhood centres offering a net lease structure such as that offered at Coles Amaroo Village"
These neighbourhood shopping centre yields are only outdone by freestanding supermarket investments that have traded in the high 4% to low 5% range, due to their security of income and ease of management and prime core regional shopping centres that have benchmark yields of 4 to 4.5%.
Stonebridge Director Philip Gartland said "This is an outstanding centre which sits within a highly affluent and growing catchment – with very high barriers to entry for competition – reflected by Coles' very strong sales growth since opening.
The international expressions of interest campaign is being run by Savills and Stonebridge and closes on 19 June 2019.