Cbus Property and Scentre Group have embarked on a joint venture partnership to deliver a bold new icon for the Sydney CBD and skyline that will usher in a transformative new age of living, working and luxury retail under two new addresses: 111 & 121 Castlereagh Street.
In an adaptive reuse of the original David Jones Men's Store, the heritage building will be transformed into a leading luxury destination that celebrates its legacy while inspiring a reimagined identity. The mixed-use community, with a refined and tactile design, seamlessly integrates elite residences, dynamic commercial spaces and a luxury retail precinct.
Sitting above the existing heritage podium, Cbus Property will deliver a 22-storey residential tower with only 101 residences available. This rare collection of boutique apartments and penthouses will enjoy the city's most coveted views, across the lush canopies of Hyde Park and beyond to Sydney Harbour.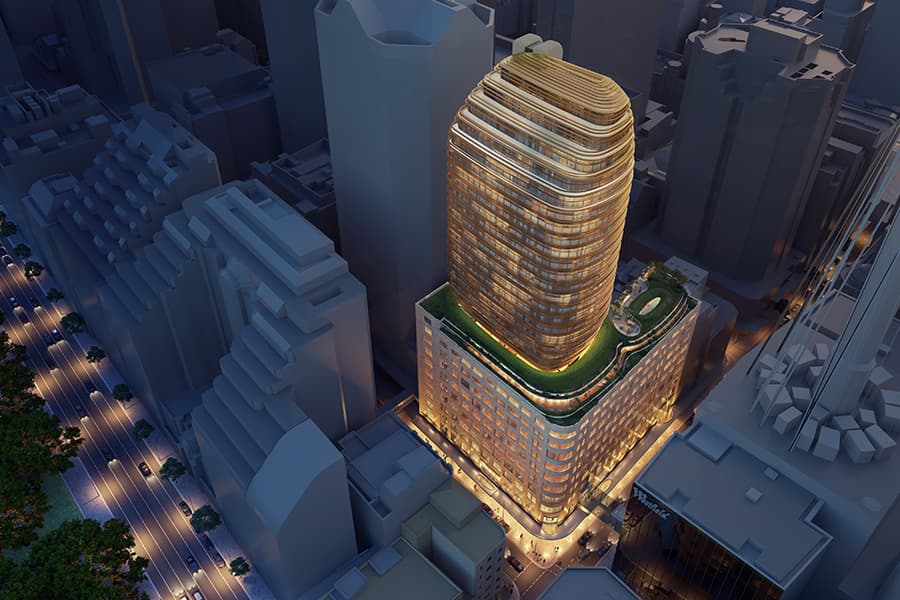 Cbus Property will also be delivering six levels (floors seven to 12) of high-quality, PCA Premium-grade serviced office space of approximately 11,500 m2, transforming the existing heritage building. The commercial space will be visibly connected to the highly anticipated extension of Westfield Sydney below, which is being developed by Scentre Group.
As part of its transformation, a central atrium will create a vertical flow through the core of the design and link the site's many uses, flooding the retail and commercial levels with light, as they look up through the building to the striking conical base of the residential tower. The 11,500m2 of commercial space, with an exclusive lobby entrance from Castlereagh Street, will offer large, flexible and contiguous floor plates that range from approximately 1,700m2 to 2,030m2, creating a world-class offering for leading global companies.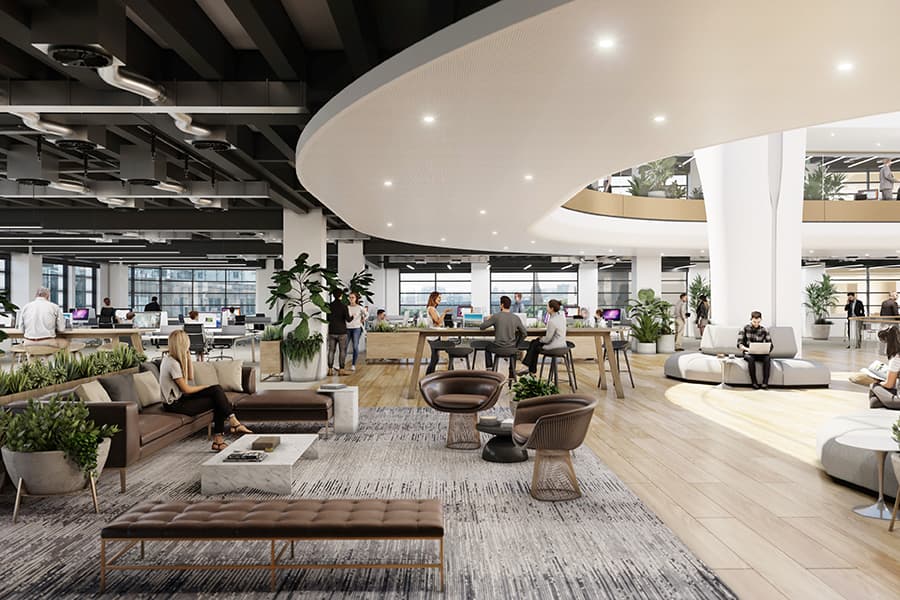 Cbus Property Chief Executive Officer, Adrian Pozzo, said "The Castlereagh site offers a prestigious address with rare historic character in the centre of Sydney. It provides the opportunity to offer the best of both worlds by both showcasing the heritage and also bringing it into the future, with new architecture and world-class commercial and residential assets.
"Cbus Property is making a bold move to reshape the Sydney skyline, setting a new standard in customer experience and transforming the city lifestyle with this landmark development", Pozzo said.
121 Castlereagh is designed to achieve a 5-star Green Star rating, 5.5-star NABERS Energy rating and WELL Gold rating. Cbus Property has extensive experience in undertaking sustainable initiatives within Australia and is committed to using this experience in the investment and delivery of developments that provide a benchmark for both economic and environmental sustainability. This includes finishing second globally out of 964 companies in the 2019 Global Real Estate Sustainability Benchmark (GRESB).
Scentre Group Director Development and Strategic Asset Management, Stewart White said "Westfield Sydney plays an integral role in the community, anchoring the key retail and luxury precincts in Sydney's CBD and bringing the inner city to life as a social hub and lifestyle destination for locals and visitors.
White continued "As the city's home of luxury, Westfield Sydney is experiencing a wave of luxury brand rejuvenation, expansion and renewal driven by strong demand from selective and discerning local and international customers, drawn to the centre by a wave of new luxury brand openings. The highly anticipated extension of Westfield Sydney to the adjacent David Jones Men's Store site will cement Westfield Sydney as the city's pre-eminent luxury destination, offering experiences and ambience that reflect the lifestyle and aspirations of our global city."
Colliers International has been appointed to act as the selling agent for 111 Castlereagh (residential) and leasing agent for 121 Castlereagh (commercial).