Australian superannuation funds could channel at least $68 billion into the commercial estate sector over the next two years according to CBRE's 2022 Pacific Real Estate Market Outlook, with immigration, capital flows, residential prices, and commercial rent growth to be key market drivers.
The report highlights that 2022 is shaping up to be another year of strong growth for the property sector, with Australia's GDP expected to grow by 3.5-4.5%, Australian unemployment to fall by 0.5%, and companies to take advantage of top-line growth by hiring and upgrading office space requirements.
In tandem, commercial real estate investment volumes are expected to be circa 10% higher in Australia and New Zealand this year – building on last year's record sales tally of $50 billion. Offshore investment is expected to remain a key driver, in tandem with rising superannuation fund allocations to real estate.
"Foreign investment reached a record high in 2021, and Australia's border re-opening should spur further interest. There is also scope for an incremental $68 billion of inflows by 2024 from Australian superannuation funds if asset allocation to property returns to historical levels of just over 8%. The numbers could be even bigger if funds chase the inflation hedge offered by real estate," said Sameer Chopra, CBRE's Head of Research, Pacific.
Rental reversion is broadly complete
According to the report, all retail asset classes are expecting to see rent growth in 2022. Large format retail and neighbourhood rents were resilient over 2020/21 and are expected to see continued growth over the next two years. The rental correction in CBD and regional centres should drive take up from occupiers who are resetting their network with a focus on high quality locations.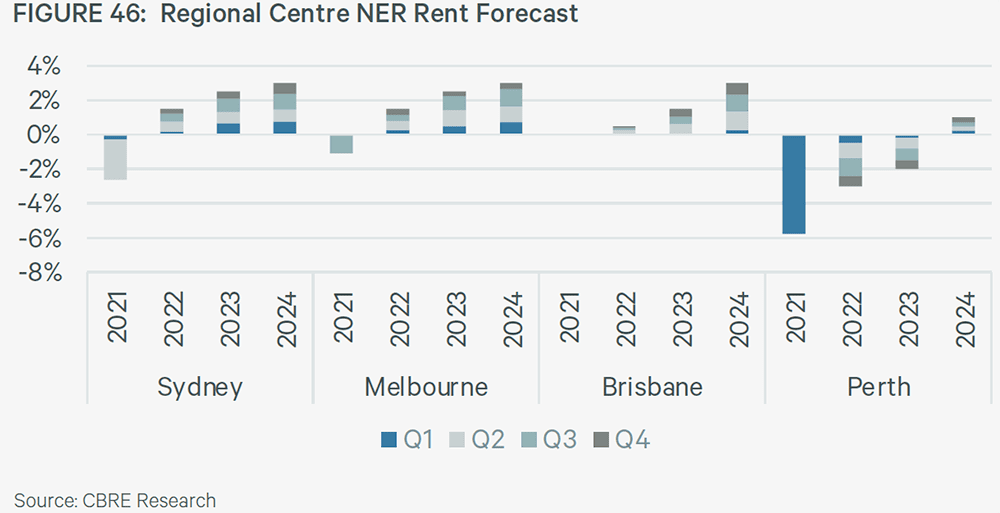 Incentives will remain broadly stable in 2022 with a more solid recovery in 2023 onwards. This should further support investor demand for retail assets many of who have looked to the asset class in the second half of 2021 with the assertion that the majority of rental reversion is complete.
2022 will also see greater cross border retailer demand complementing local retailer expansions and start ups.
While in most parts of APAC, retailer expansion sentiment has a largely domestic focus, New Zealand features highly in the expansion plans of Australian retailers. This has lifted New Zealand to third place on the list of target markets in APAC for cross border retailer expansion in CBRE's October 2021 APAC Retail Flash Survey.
Retailers indicate demand for bigger store networks with preference for prime high street locations
81% of Pacific respondents to CBRE's retail flash survey said they expected sales to be better or significantly better in 2022.
This increased optimism is informing real estate choices with retailers indicating they would increase the number of stores in their network in 2022 and seek out quality locations for network expansion.
62% of Pacific respondents to CBRE's flash survey said they would increase the number of stores in their network in 2022 while 35% would look to increase the size of their stores. As retailers rationalise their footprint, many will look to capitalise on the spike in suburban foot traffic.
Retailers are looking to dedicate more space to click & collect, pick and pack areas and showroom type space. With supply chain issues expected to continue to cause delays, the retail store network can act as an important part of the distribution network.
Australians spend close to $62 billion on overseas travel each year, some of which was re-directed to electronics and home furnishings. As borders reopen and stimulus is wound back, retail spend is expected to moderate to pre-pandemic levels in 2022.