Vicinity Centres has taken a significant first step to transform Bayside into a diverse mixed-use precinct, revealing approved plans for a new state-of-the-art, 8-storey A-Grade commercial office building, 12 Balmoral Walk. The development has all the benefits of mixed-use office with a shopping centre, providing unrivalled amenity with shops, services and dining.
Bayside is a three-level major regional shopping centre located in the heart of Frankston, anchored by Myer, Kmart, Target, ALDI, Coles, Woolworths and HOYTS Cinemas. The centre includes more than 160 specialty stores and a vibrant food and entertainment precinct, receiving more than nine million visitors each year.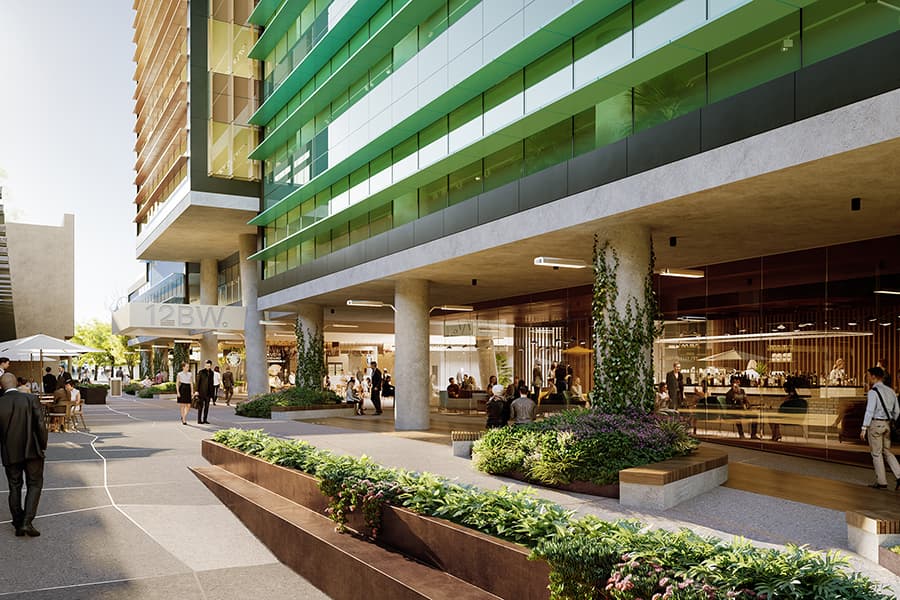 12 Balmoral Walk offers a contemporary office solution for organisations looking to decentralise office accommodation for increased affordability and take advantage of Frankston's strategic location in Melbourne's expanding south-east, which serves as the gateway to the Mornington Peninsula and is at the centre of the community for more than 400,000 Melburnians in the region.
Vicinity's Chief Development Officer, Carolyn Viney, said, "12 Balmoral Walk is the first step in the transformation of Bayside and forms part of the evolution of Frankston's business district, offering a new workplace solution boasting the hyper convenience of direct transport links to the greater metropolitan Melbourne area, on-site parking and enjoying the vibrancy of the Bayside retail and entertainment precinct on its doorstep."
"The 'work near home' model is gaining momentum as people long for the connection missing while working from home but without the commute time. 12 Balmoral Walk is perfectly located to provide the 'work near home' model for employers and employees looking for the best in work-life balance."
Located adjacent to Bayside, 12 Balmoral Walk will include approximately 14,000m2 of A-Grade office space spread over eight storeys, supported by new ground-floor retailer and hospitality spaces. Designed by Lyons Architecture with current and future employment trends in mind, 12 Balmoral Walk will feature large campus-style floor plans complemented by an external terrace space with bay views, accommodating close to 1,400 full-time workers.
"With hotel-inspired design and amenities, combined with a modern, campus-style floorplate that encourages coworking, 12 Balmoral Walk will set a new benchmark for commercial office space in the southeast while allowing office workers, retailers and consumers to realise the benefits of an integrated mixed-use development," said Viney.
Frankston was nominated as a Metropolitan Activity Centre in the Victorian Government's Plan Melbourne 2017 – 2050, and Vicinity's investment in 12 Balmoral Walk represents the beginning of a Bayside pipeline of development investment that will provide opportunities for a diverse range of jobs and activities in the region.
The development is targeting 5-Star Green Star and 5-Star NABERS Energy ratings. With planning approval already secured, construction of 12 Balmoral Walk will commence immediately on a suitable leasing pre-commitment being secured.