Australian retail turnover fell 1.7% in August 2021, seasonally adjusted, according to the Retail Trade figures released by the Australian Bureau of Statistics (ABS).
This third consecutive monthly fall in turnover follows falls of 2.7% in July 2021, and 1.8% in June 2021, with the impact of current recent lockdowns affecting short-term turnover growth and record spending throughout 2020 affecting longer-term comparisons.
Ben James, Director of Quarterly Economy Wide Surveys (ABS), said "Retail turnover continues to be negatively impacted by lockdown restrictions, with each of the eastern mainland states experiencing falls in line with their respective level of restrictions. In direct contrast, states with no lockdowns performed well with Western Australia and South Australia enjoying strong rises as physical stores were open for trade."
Another full month of lockdown has seen New South Wales fall 3.5% to its lowest level since April 2020 when the pandemic first hit. After having restrictions eased in July, Victoria fell 3.0% as the state was placed back into an ongoing lockdown on August 5.
A snap lockdown on August 12 in the Australian Capital Territory with restrictions on non-essential retail led to a 19.9% fall, while a mid-month lockdown in South East Queensland drove a 0.9% fall.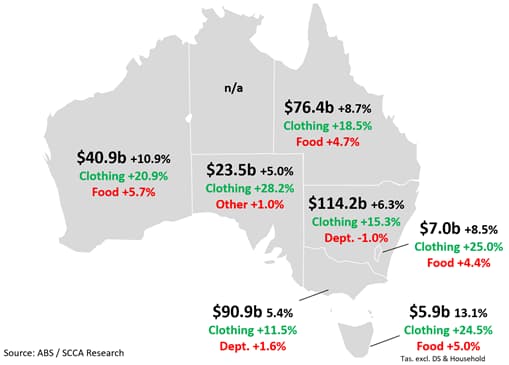 With no lockdown restrictions in place for the month of August, retail turnover in South Australia rose 6.6%, bouncing back strongly from a lockdown in late July. Western Australians continued to enjoy relatively few restrictions, with the state's retail sales rising by 2.8%.
By industry, the extended physical store closures across the country continue to negatively impact retail trade in August with the largest falls in clothing, footwear and personal accessory retailing (-15.7%), cafés, restaurants and takeaway food services (-7.0%), department stores (-10.2%), and household goods retailing (-2.3%).
Simon Hemphill, Head of Research at Shopping Centre Council of Australia (SCCA) said: "The strongest jurisdictions in seasonally adjusted terms were Tasmania (up 13.1% to $5.9 billion) followed by Western Australia (up 10.9% to $40.9 billion) and Queensland (up 8.7% to $76.4 billion). South Australia (up 5.0% to $23.5 billion) was the 'worst performing' jurisdiction, although still recording strong positive growth. The highest growth across all jurisdictions was recorded for 'Clothing, footwear and personal accessory' retailing."
He continued, "Indeed, strong growth for clothing retail averaged 20.6% across six jurisdictions. It is worth noting that just one jurisdiction (New South Wales) recorded 'negative growth' for the worst performing category, whilst all others recorded positive growth across all six categories."
The following table summarises the key data in seasonally adjusted terms across the six ABS retail categories. The strongest growth was recorded for Food retailing on a m-o-m basis (2.1%) as COVID-19 restrictions continue to limit mobility and keep households at home.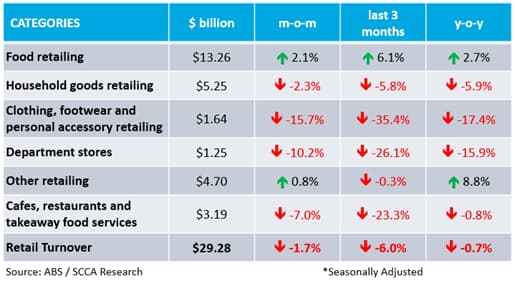 According to the latest figures from the Westpac-Melbourne Institute Index of Consumer Confidence report, consumer sentiment was recorded at 106.2 in September 2021, up from 104.1 the prior month. This marks 12 consecutive months of positive consumer sentiment, with an average of 109.3.
Westpac commented that "The resilience of consumer sentiment in a period when Australia's two major cities have been locked down and the economy has been contracting is truly remarkable. The Index is still comfortably above the reads seen over the five years prior to the pandemic and is only 0.9% below its June print just prior to Sydney's move into lock-down."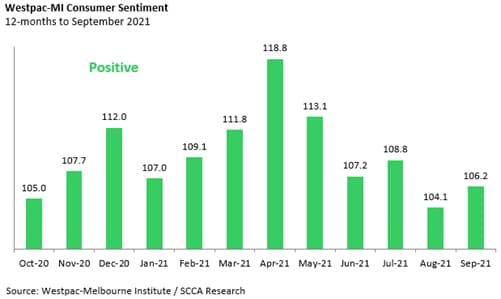 National Retail Association's CEO Dominique Lamb said an October opening should ring in the cash registers for retail, with pent-up demand likely to surpass last year's Christmas trading period. "The 2020 Christmas period was worth more than $17 billion to New South Wales retail. The importance of the festive season to our members cannot be overstated", Lamb said.
A record $4.2 billion was spent online in August according to ABS figures. The figures show an increase of 15.1% compared to the previous month, with online sales also up 36.4% compared to August 2020.
Australian Retailers Association CEO Paul Zahra said: "Many Australians are turning to the internet for their shopping in a big way with so many of us subject to stay-at-home orders, and that's reflected in the ABS figures released  with online sales in August going through the roof."
Zahra also cautioned Australians to plan for some supply chain challenges this year. "There's a myriad of issues disrupting supply chains this year and whilst retailers have been navigating this extremely well, these supply chain demands are likely to continue for the foreseeable future. With a reopening is on the cards in locked down parts of the country in the coming days and weeks and only 80 days to go till Christmas, consumers should consider shopping now to avoid disappointment", he said.