Australian retail sales jumped 1.3% in July, the highest rise in four months, according to the latest release (July 2022) of the monthly ABS Retail Trade data.
Australian retail sales continued their record-breaking run in July, with $34.7 billion spent in stores and online – an increase of 16.5% from a year ago (y-o-y), up from 12.0% in the prior corresponding period (pcp).
The June result followed a rise of 0.9% in April 2022, a rise of 0.7% in May 2022 and a rise of 0.2% in June 2022.
The following table summarises the key data in seasonally adjusted terms across the six ABS retail categories: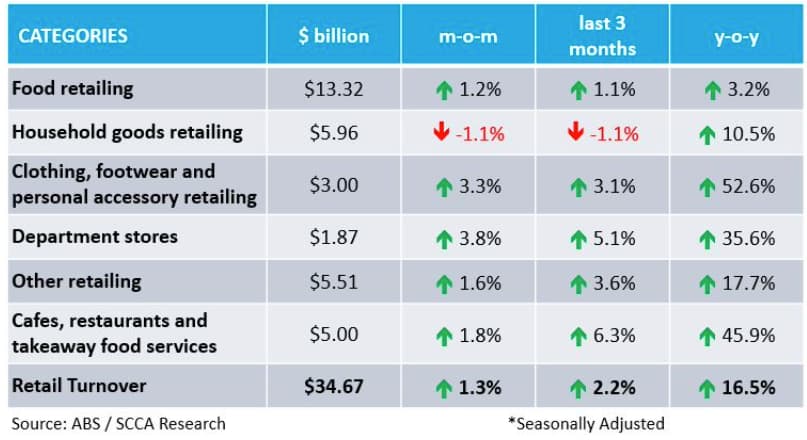 The strongest growth was recorded for 'Department stores' retailing on a m-o-m basis (3.8%) and for 'Clothing, footwear and personal accessory' retailing on a y-o-y basis (52.6%).
In seasonally adjusted terms, Retail Turnover increased by 1.3% in the month of July 2022. On a y-o-y basis, Retail Turnover increased by 16.5%, a significant increase from the prior month and the biggest increase since April 2021.
Pre-pandemic analysis
According to Simon Hemphill, Head of Research at the Shopping Centre Council of Australia (SCCA), the comparison of retail spending will be affected throughout 2022 given two main factors. Firstly, lockdowns and Government restrictions for 'non-essential' retail in certain jurisdictions (including during post-lockdown periods) will negatively impact short-term comparisons, especially for month-on-month or quarter-on-quarter periods. Secondly, record spending during 2020 and 2021, due to the bounce back of consumer activity, has an impact on longer-term analysis (year-on-year). Given these factors, it is worth making a comparison of Retail Trade versus pre-COVID spending. Interestingly, all jurisdictions (including those exiting Government restrictions in the latter part of 2021) show positive growth versus the corresponding 12-month period in 2019.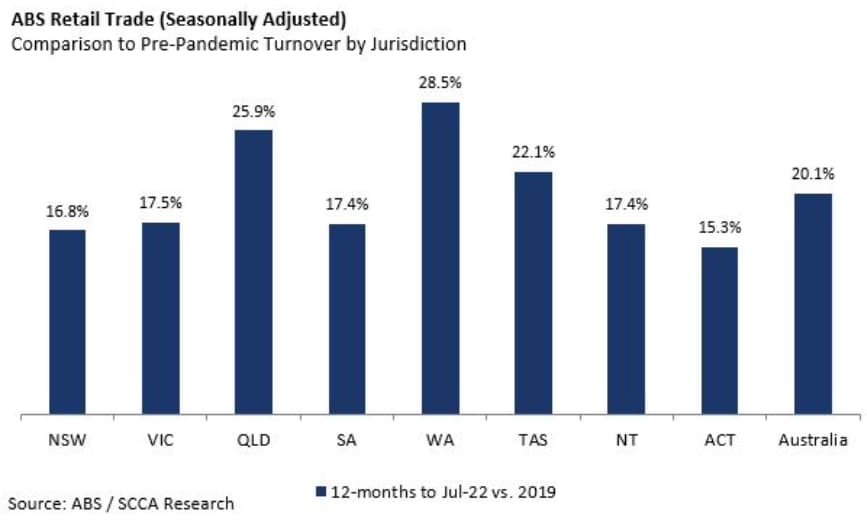 National Retail Association Chief Executive Dominique Lamb said the higher-than-expected increase in turnover is the strongest the country has seen since March.
"This is a welcomed result as it indicates that although recovery across the sector is still patchy, retail is getting back on its feet.
"Momentum has appeared to be wavering since February, but the data released today is a sign of consumer resilience as households are spending despite the current cost of living pressures."
Lamb said the tightening of monetary policy is likely to continue when the Reserve Bank meet next week.
"Even though we know price increases are contributing to some of the turnover growth, this show of resilience is likely to reinforce the RBA's decision to continue increasing interest rates.
"With low unemployment and competitive wages and now strengthening consumer spending, it's clear most Australians have been able to meet their financial obligations during this challenging period.
"However, some are struggling to meet ends. There are thousands of small businesses who are still doing it tough, even though some states and some sectors are thriving," said Lamb.
The ABS has split the release of their Retail Trade data into two separate parts with more detailed data to be released next week.