Arundel Plaza at Parkwood on the Gold Coast has installed innovative new solar carports to create shade for 42 car parks, while offsetting carbon emissions for the centre.
More than 350 panels covering an area of 590m2 in the car parks off Daintree Drive will generate over 165 MWh of projected annual renewable energy, which is enough to power 25 homes for a year based on an average four-person household in the area.
Designed using steel beams and aluminium purlins up to five meters high, the solar carports provide plenty of clearance for cars while taking advantage of the Gold Coast's plentiful sunlight.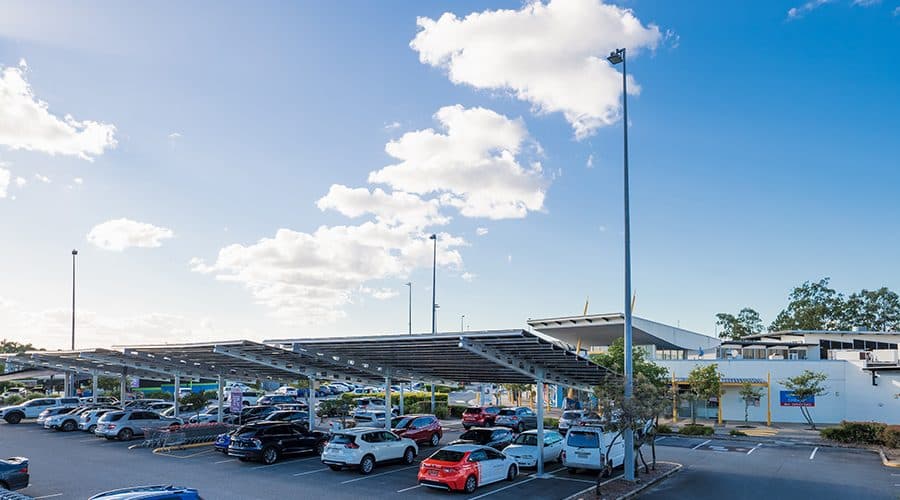 Speaking on behalf of centre owners Chin Hong Investments, Centre Manager and Director of Commercial Management for LJ Hooker Commercial Gold Coast, Kelly Golf said the solar carports were a state-of-the-art shade solution for the centre, which was in the process of planning solar roof panels and new car shading before exploring this technology.
"The solar carports at Arundel Plaza are helping to lower the carbon emissions for the electricity supply to the centre, while also providing a fantastic shade solution for customers in a previously open car park."
Michael Moran, Managing Director of energy management company Voltio, said the panels were designed to meet the high wind loads for south-east Queensland.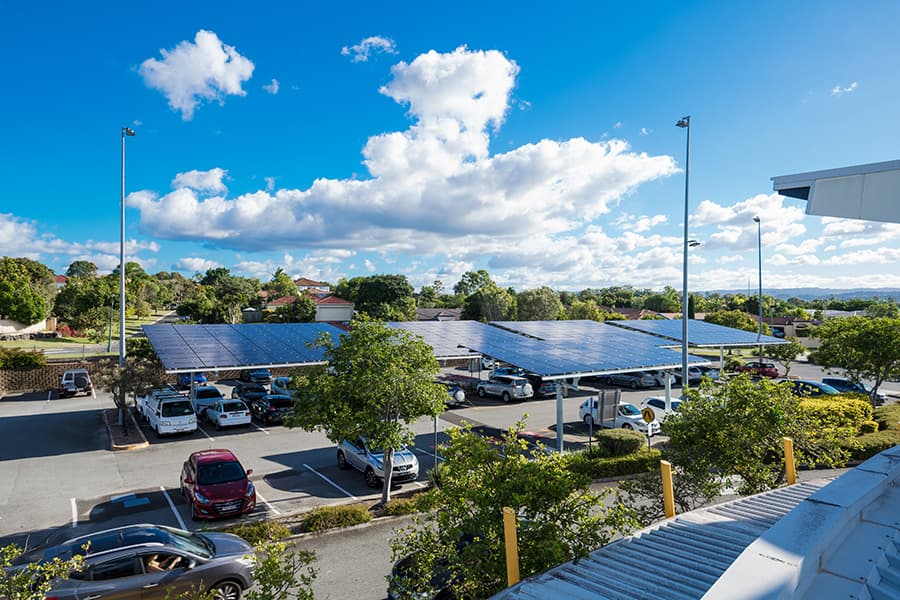 "Tier 1 solar panels are approved in accordance with standards stipulated by the Clean Energy Council. The existing standards feature specific test sequences that guarantee the continuous efficient performance of the solar photovoltaic (PV) panels after many years of exposure to various average climate conditions.
"In addition to extensive insulation tests, these solar panels are also exposed to UV preconditioning, humidity, thermal stress, mechanical load and hot-spot endurance tests. The impact of hail on the panels is also tested after the system has been subjected to all the aforementioned conditions."
Moran said renewable energies in solar carports were perfect for shopping centres to convert open, flat spaces into areas that generate power and shade.
"These solar carports are a stepping stone for Arundel Plaza to achieve carbon offset for the centre supply. Based on these benefits, solar carport structures are rapidly becoming more popular in shopping centres and businesses throughout Australia."