Alipay has today announced a new initiative – Zero Contact – to support Australia's hospitality sector as the COVID-19 lockdown restrictions begin to gradually ease. Zero Contact aims to help Australia's hospitality sector digitise their offering, introduce or expand their mobile food order and delivery channels, as well as engage with more than 1.2 million Chinese Australians.
The initiative which draws on the company's experience in China and the 1.3 billion users worldwide, includes a new partnership with food delivery platform Hungry Panda to enable Alipay users to order grocery and meal deliveries from more than 1,800 participating merchants in a 'zero contact' fashion, in addition to temperature testing of staff involved in the preparation and delivery of orders to minimise infection risks.
Australian leading skincare brand DU'IT will also donate thousands of bottles of hand sanitiser to participating merchants and delivery riders.
Alipay ANZ Director John O'Loghlen said the initiative would support Australia's hospitality sector to better engage with the Chinese Australian community during the COVID-19 pandemic, and provide a greater degree of assurance to customers concerned about the safety of home delivery.
O'Loghlen said "Similar to many areas of the economy, restaurants and the tens of thousands of people they employ around the country have been severely impacted by the COVID-19 crisis. However as more Australians are advised to self-isolate in their homes and dine-in hospitality options are shut, so takeaway and delivery services are more vital than ever before."
"Drawing on Alipay's experience supporting restaurants during the earlier COVID-19 outbreak in China, we hope this campaign will encourage businesses to digitise their offering and utilise our channels to engage with our substantial Chinese Australian community. We also hope the stringent safety measures we are implementing, including zero contact delivery and temperature testing, will provide consumers with the confidence they need to continue supporting the industry", he said.
"By taking care of each other in this difficult time, we are helping ensure the future viability and strength of Australia's vibrant and world-renowned culinary scene", said O'Loghlen.
The Zero Contact campaign has already attracted significant demand from consumers, with an increase of more than 500 per cent in Alipay orders made through the Hungry Panda platform in April compared to March.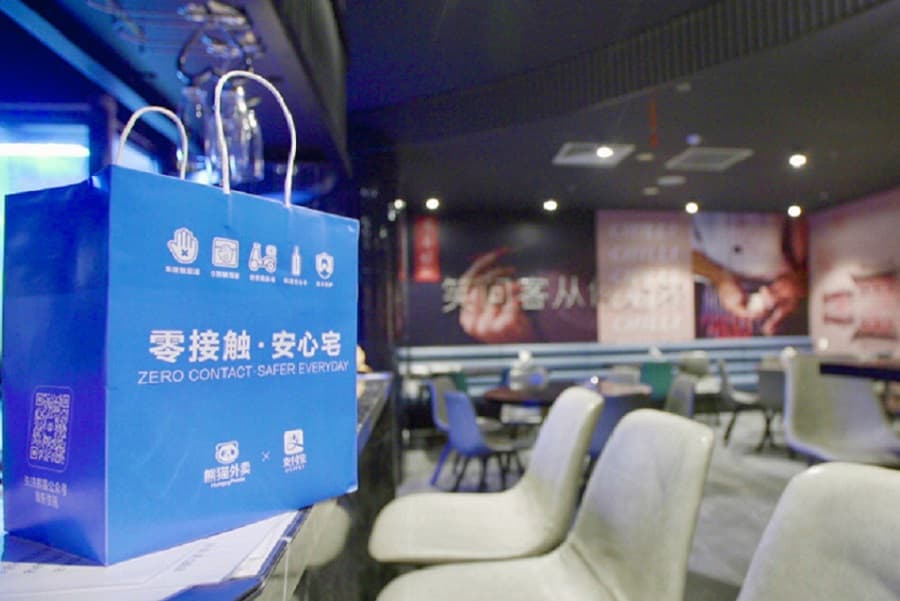 The Zero Contact initiative draws on Alipay's experience supporting hospitality businesses in China during their earlier COVID-19 outbreak, and the contributions of numerous partners, including:
• A new partnership with food delivery platform Hungry Panda to enable Alipay users to order meals and groceries from more than 1,800 participating merchants through the Hungry Panda app, and have them delivered in a risk-minimised process.
• This includes temperature testing of staff involved with the preparation, packaging and delivery of the order in participating restaurants, and a zero-contact delivery process.
• A new partnership with food software developer Menu Technology to enable Australian businesses to quickly and simply digitise and promote their digital menu through the Alipay app.
The City of Melbourne is also a partner of the campaign, and Councillor Susan Riley said the initiative would support local businesses through the pandemic.
"Melbourne is renowned for its vibrant hospitality sector and the calibre of our cafes and restaurants is simply outstanding. We know that many of our local hospitality businesses are adapting to the current circumstances by offering take-away and deliveries, which is fantastic," Cr Riley said.
"This zero contact initiative is a great way to use technology to support businesses and provide peace of mind to customers during these challenging times", she said.
Cr Riley said "Alipay is commonly used by our Chinese Australian residents, so we are delighted to be first Australian city to partner with Alipay on this program and encourage our local residents to explore and enjoy the wonderful food on offer in our city. We are doing everything we can to support local businesses to adapt to the current conditions and keep operating by offering products online, providing services virtually and offering take-away and delivery of goods."
The campaign will leverage Alipay's experience enabling businesses to continue operating during the peak of China's COVID-19's outbreak. During that period, Alipay supported and enabled the operations of one of China's top grocery supply chain service providers, Meicai, which saw a 300% increase in transactions and more than 800,000 new users in just one week after partnering with Alipay to promote its services during the pandemic.
Alipay, Ant Financial and the Alibaba Group have utilised a variety of innovative technologies to support initiatives to combat COVID-19 and support economies around the world. In China, Alipay has deployed a blockchain-based coronavirus prevention information platform, while Alibaba Group has developed artificial intelligence which can identify coronavirus infections with a 96 per cent accuracy rate.