QIC Global Real Estate's (QICGRE) Head of Commercial – Brand iQ and New Business, Dennis Michael has been announced as the third Fellow of The Shopping Centre Council of Australia's (SCCA) prestigious industry initiative, The Frank Lowy Fellowship, highlighting the power of new business opportunities and outcomes. Michael was awarded at a function last night in Sydney attended by the SCCA Board of Directors and all 2019 Fellowship nominees.
This year, 16 nominations were received, from 12 companies. The nominees were representative of the broad range of skills and roles relevant to the shopping centre industry, including centre management, marketing, leasing, operations, research, facilities management and investment management.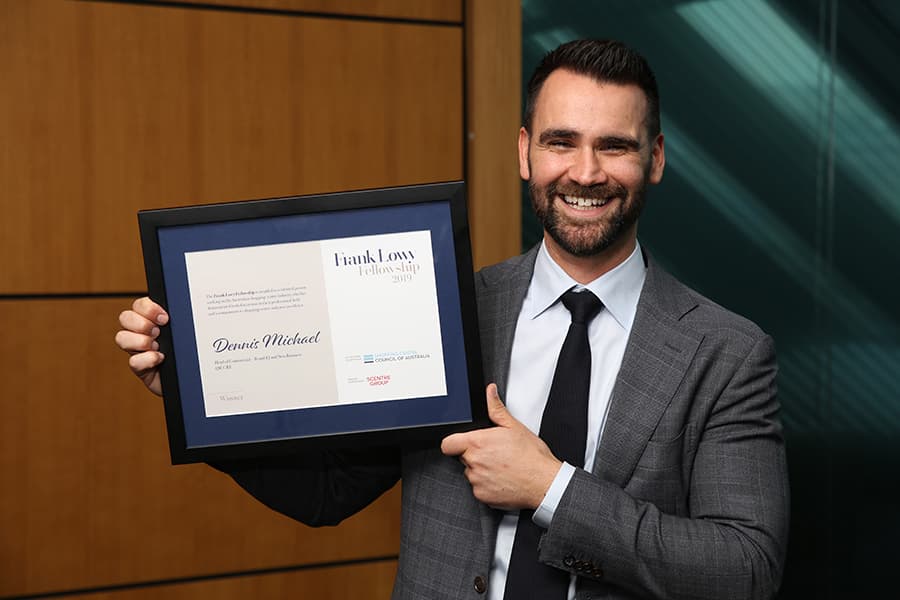 Peter Allen, the Chairman of the SCCA, and CEO of Scentre Group, said: "I warmly congratulate Mr Michael on being awarded the 2019 Frank Lowy Fellowship, which presents a unique opportunity to be an influential advocate for our dynamic industry."
"Mr Michael has been awarded the Fellowship based on his leadership and delivery of commercial outcomes across mall media, experience, digital and content curation, and innovative approaches to retail leasing such as pop-up stores to encourage retailers to open their first physical locations", said Allen.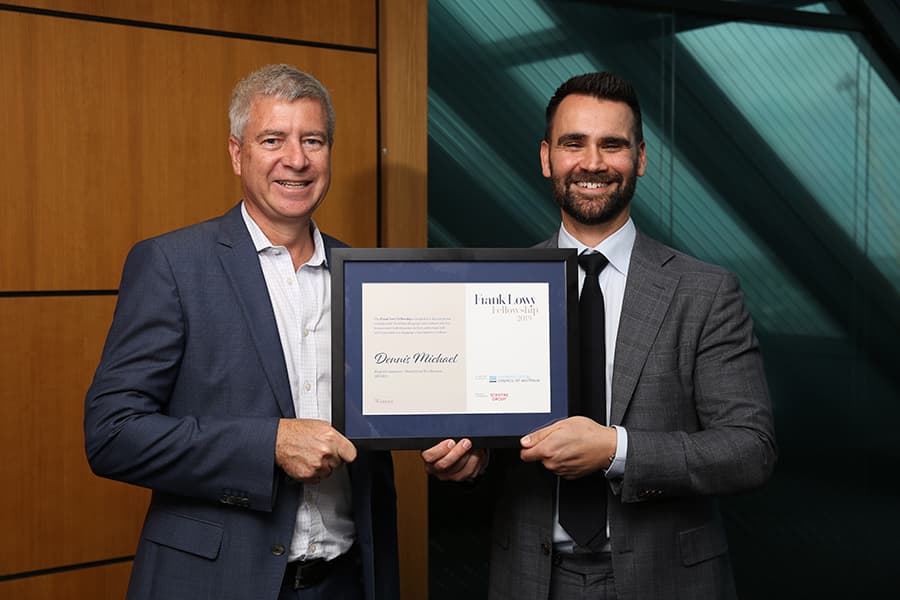 The Fellowship was established in recognition of the contribution made by Sir Frank Lowy AC to the Australian shopping centre industry and launched in 2016 when Mr Lowy stepped down as Chairman of Scentre Group. The Fellowship is sponsored by Scentre Group and is awarded annually to a talented person who has demonstrated distinction in their professional field and a commitment to shopping centre industry excellence.
Sir Frank Lowy AC has stated: "While the Fellowship bears my name, it is all about the industry's talented people, and rewarding and recognising them and fostering the next generation of leaders, collaborators and innovator thinkers. I am delighted it has become an important industry initiative run annually by the Shopping Centre Council of Australia".
For 2019, the judging panel has also awarded two High Commendations, being: Erin Donnellon, Manager, Digital Delivery, ISPT and; Nicholas Irvine, General Manager – Operations, Vicinity Centres.
"I congratulate Erin and Nick for their High Commendations. The judging panel was impressed by Erin's creation of a new customer experience centre known as Foy's Arcade, and Nick's delivery of innovation in shopping centre operations, including the trialling of autonomous robotic cleaning solutions", said Allen.
2019 WINNER
Dennis Michael leads QICGRE's nation-wide Band iQ team which provides multi-platform commercial solutions across mall media, experience, digital and content curation. He has introduced innovative approaches to retail leasing such as pop-up stores to encourage online retailers to open their first bricks-and-mortar locations, flexible and short-term leasing arrangements and the creation of a dedicated pop-up leasing team. Through these initiatives Michael has delivered strong results for the business.
QICGRE Managing Director, Michael O'Brien, commended Dennis for his prestigious recognition.
"With his out-of-the-box thinking and new approaches in utilising our physical spaces, Dennis has emerged as a leader in seeing value where others may not and, quite simply, revolutionised casual mall leasing in Australia," O'Brien said.
"Since joining QICGRE in 2015, Dennis has realigned the national Brand iQ team, which was once almost completely focused on casual mall leasing, to become an efficient data and insight-led division that provides multi-platform commercial solutions across mall media, experience, digital and content curation.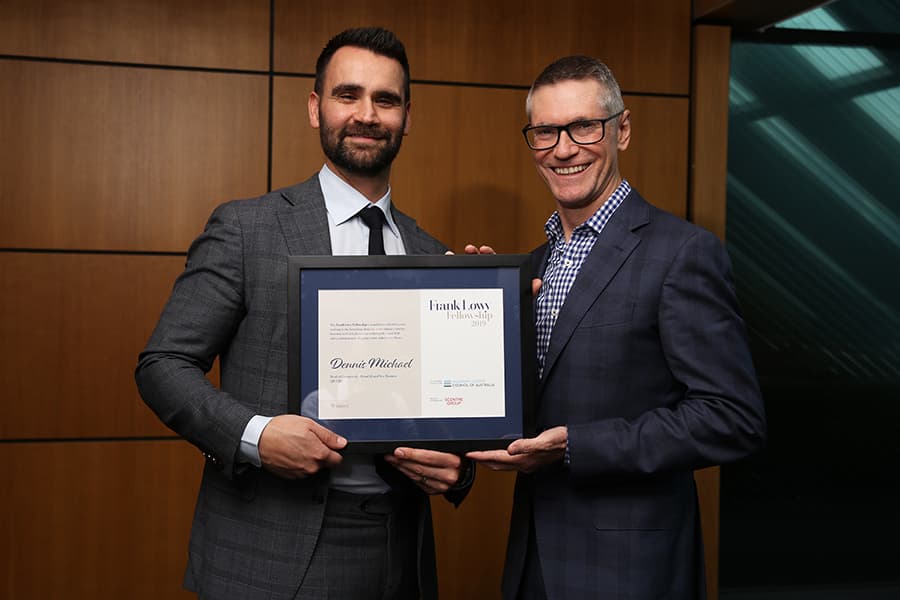 This non-traditional approach to retail has also delivered a significant uplift to business performance, with the Brand iQ team creating a multiplatform income stream in excess of $30 million pa, and expanding its client network by over 20%. "A huge congratulations to Dennis for receiving this well-deserved recognition, I look forward to supporting his ongoing innovation in this evolving space." said O''Brien.
Michael's focus on staying ahead of the change, developing a centralised and data-led strategy and his belief in the benefit in partnering online and physical platforms has revolutionised Brand iQ's ability to drive value for QICGRE, broadening the team's remit and capturing new value streams to equip QICGRE for the future of retail in a rapidly evolving consumer environment.
"I'm confident that there is a strong future for retail if we encourage the collaboration between online and physical platforms, understand the role shopping centres play in e-commerce, and act now," Michael said.
"That's why we are dedicated to welcoming established online brands into the physical space (The Daily Edited, Mon Purse and Cool Hunter opened pop-up stores in QICGRE town centres), which not only encourages digitally-native consumers to enter into a bricks-and-mortar world but contributes to five per cent of our year-on-year income growth," Michael said.
"To assist this blurring between the online and physical, we were the first in market to offer a remodelled approach to 'semi-permanent agreements', that made six-month leases more practical and were immediately popular with digital brands looking to trial several different markets."
"I am a long-term believer in a strong future for collaboration between online and physical platforms and this course will not only complement my present journey but allow me to learn from the cutting-edge innovators in this space."
HIGHLY COMMENDED
As Manager, Digital Delivery, Erin Donnellon manages ISPT's new customer experience centre, Foy's Arcade. Foy's Arcade provides a space for retailers to conduct innovative thinking sessions such as hackathons, team building, customer journey mapping, design thinking sessions and strategy days. Donnellon has been instrumental in the design and creation of the experiential destination and has actively worked to connect retail and community groups to identify areas for success.
HIGHLY COMMENDED
Nicholas Irvine leads the National Operations team at Vicinity Centres and has introduced and delivered innovation into shopping centre operations across the portfolio. This has included a $73 million renewable energy investment, (Australia's largest retail solar installation, battery storage and the trialling of block chain technology to support their microgrid) trialling of autonomous robotic night floor cleaning solutions, deployment of a remote management system (e.g access control, CCTV and WMS) and social procurement including a $2 million spend on indigenous programs, youth activities and a disability review program. 
"I'm proud to have been recognised as part of this year's Frank Lowy Fellowship Award and congratulate Dennis on his win. The commendation reflects the work of an outstanding team of people at Vicinity Centres that's worked together to ensure operational innovation is at the forefront of our business, and we're proud to be delivering industry-leading initiatives."  said Irvine.
Allen concluded by noting that the 2019 Fellowship process has been a great affirmation of the strength and diversity of talent in Australia's shopping centre industry.
"The SCCA looks forward to growing awareness and recognition of the Fellowship in 2020, to help foster our next generation of leaders." said Allen.
The 2019 Fellowship nominations were reviewed against various criteria by a panel of SCCA Directors and senior industry leaders as follows: Peter Allen, CEO, Scentre Group; Susan MacDonald, Head of Retail, Mirvac; Michael O'Brien, Managing Director, Global Real Estate, QICGRE; Andrew Byars, General Manager Property Investments, Perron Group; Anthony Mellowes, CEO, SCA Property Group.
The Fellowship recipient receives a cash contribution towards a professional development pursuit or industry event of choice. As the winner of the 2019, Dennis Michael intends to use the Fellowship to attend a new course offered at Harvard Business School about Competing in the Age of Digital Platforms.
PREVIOUS FELLOWSHIP RECIPIENTS:
2017: Sidone Thomas, Head of Digital and Marketing – Retail, The GPT Group, was awarded the inaugural Fellowship. Thomas used the Fellowship to attend the 2018 World Retail Congress in Madrid, Spain.
2018: Genevieve Elliott, General Manager, Data Science and Insights, Vicinity Centres. Elliott used the Fellowship to attend Harvard Business School's Competing on Business Analytics and Big Data, in June 2019.