The Canopy – Lane Cove's premier dining, food and beverage destination has officially opened to the public, offering a unique environment for the community and retailers to converge within a purpose built facility that provides convenience and atmosphere for day and night trading and activities. The Lane Cove Council funded project has completely transformed the previous 170 surface-level car park into a vibrant community space in the heart of Lane Cove village.
 The state of the art public open space sits at ground level and includes parks, performance space and local BBQ facilities. Underneath are 500 car parking spaces over four underground levels, creating almost a 300% increase in the amount of spaces than the previous car park. The car park features bicycle parking including end of trip facilities as well as Lane Cove's first registered Adult Change Facility. Electric charging stations are also included.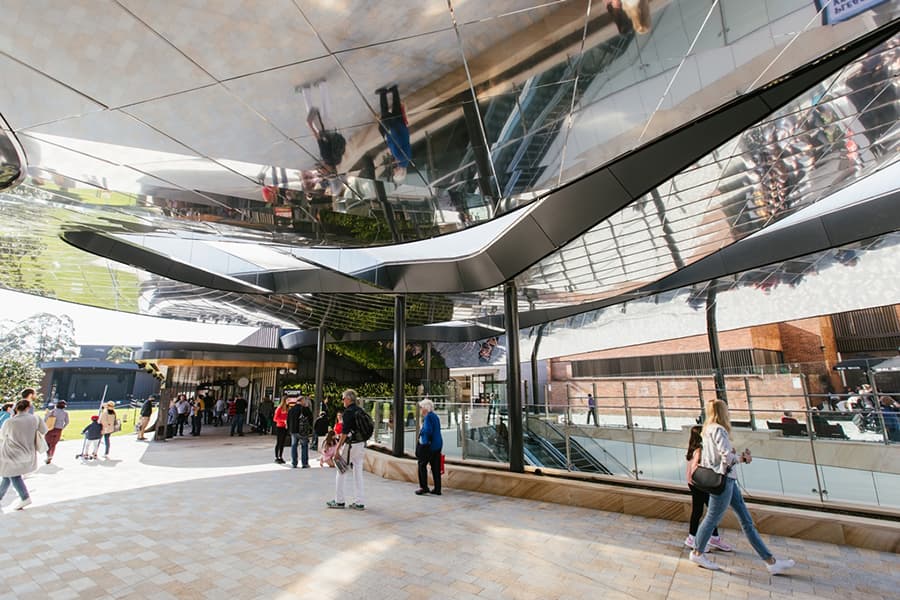 Anchor tenant, ALDI is open, while Coles will open on the 8 July. Several fine dining, food and beverage tenancies are also scheduled to open later in the year. 
An iconic and flowing gateway, the reflective underside of The Canopy entrance roof provides an artistic 'periscope' that visually connects the new park with the supermarkets below. The beautifully free-flowing roof consists of more than 1,000 mirrored shingles and two durable ETFE (Ethylene Tetrafluoroethylene) skylights. Despite its seemingly complex shape, only 18 different sized polished tiles were required to cover the roof's underside, which were designed using custom-written computer aided design algorithm.
Originally developed as an inert coating material for the aerospace industry, EFTE was used extensively in roofing structures for sporting venues for the Beijing Olympics. The two-layered skylight provides UV light transmission to support the green wall plant growth and mitigate sound reverberation in the central space. Reflections was designed by supermanoeuvre in conjunction with Scott Carver architects.
The Canopy is home to a dense collection of plants that form a living, breathing 'Green Wall'. The 20 square metre wall houses a mixture of plant species scientifically developed to improve air quality. The wall also acts as a sound barrier, improves acoustics and cools the immediate surrounding air temperature. The wall's location also helps to create the green reflection you can see as part of the overhead canopy structure.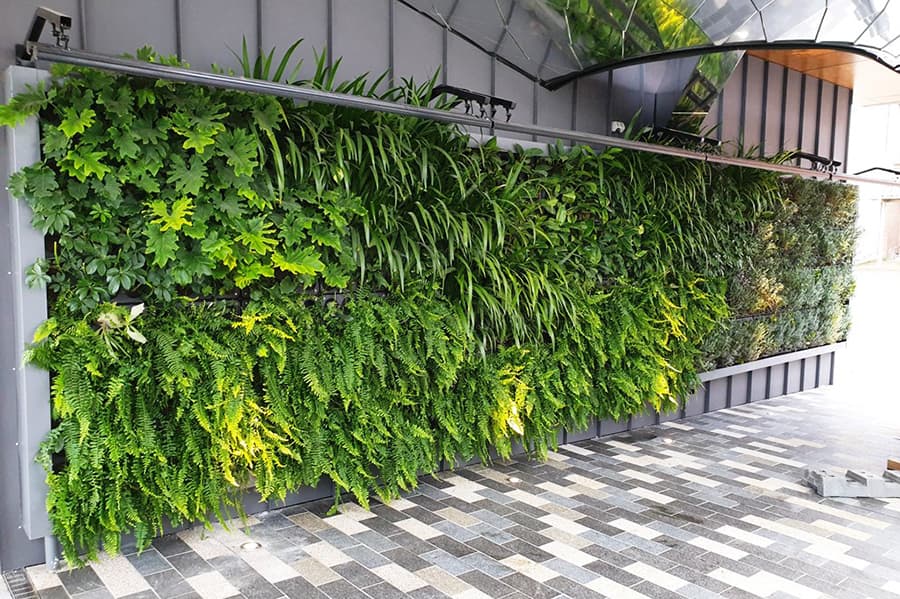 The Canopy is not only about saving energy but also about generating energy too. More than 2oo solar panels help to provide around 300kw of power to The Canopy car park and park lighting each day. Over the course of a year this saves 83 tonnes of CO2. It will save around $25,000 a year in energy costs, helping to future-proof against rising energy prices. A solar arbour is being installed on-site and it will be the only place in Australia to see a printed solar cell.
The solar panel system also provides energy that is stored in four TESLA power wall batteries within the car park. Each system stores 13.5kw of power as well as 7kw of back up power to help in the event of a black out. The travelators slow down when not in use to help conserve power while the regenerative lifts when braking while going down generate power to go back up. This feature recovers up to 30% of the total energy consumption of the lifts. LED Lights are also installed throughout the car park and public areas of the park level to help reduce energy consumption.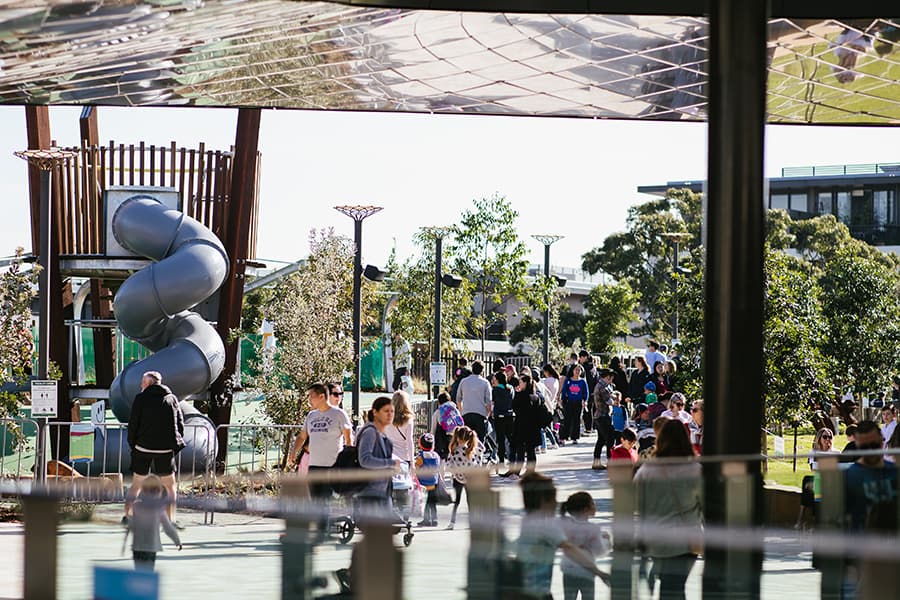 To help locals access their new park, a new pedestrian bridge was installed over Rosenthal Avenue, including lift and stairs located on the western side of Rosenthal Avenue to connect to the public walk through to Coxs Lane. An improved trafficable shared pedestrian zone for Birdwood and Rosenthal Lanes to provide level access to the laneways and Lane Cove Plaza.
The playground consists of two play areas to cater for different age groups. The toddlers area is fully shaded and includes a slippery dip, tunnel and water pump with water weir. For older children the adventure playground includes the solar arbour, soft fall, trampolines, accessible swing, and more prominently a bespoke installation by Fleetwood Urban that stands approximately 8 metres high and stretches over 15 metres long.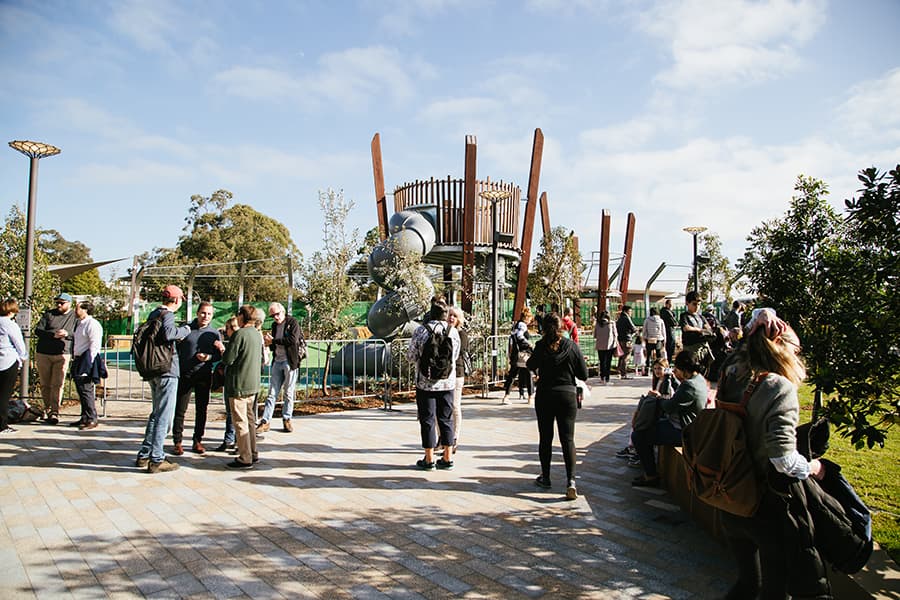 Council was able to repurpose some of the trees from the original site as play equipment within The Canopy. Timber Creations helped to create custom pieces of play equipment using the natural characteristics of the trees that grew within the previous car park on this site. 
The Canopy features 90,000 litres of water harvesting capacity. Rain water from the water feature and the roof of our buildings is captured and reused for landscape irrigation. The Canopy's fountain was selected as it is ultimately more sustainable than a traditional permanent, recirculating fountain. It consumes less energy, requires no chlorination and uses less water as it avoids water loss through evaporation and wind. The fountain features 46 jets with lighting which are programmable to allow various sequenced displays.
Located on Sydney's Lower North Shore, The Canopy  is conveniently set amongst the high street's active commercial and retail precinct. Lane Cove is one of Sydney's most prosperous and vibrant communities, with a population of 38,000 and growing. The suburb is dotted with parks, sporting facilities, retail centres, well-regarded local schools and an abundance of transport options.