Chadstone – The Fashion Capital, has achieved annual sales of more than $2 billion dollars in an Australian shopping centre first. When Shopping Centre News announced the 2018 Big Guns in March, Chadstone was nearly there so we knew this announcement would come soon. Congratulations to Vicinity Centres, Gandel Group and to all the shoppers that made this happen.
The milestone means Chadstone is again ranked among the top five best-performing shopping centres in the world by sales1. The $2 billion is an increase of close to $400 million on the previous year, when sales came in at $1,671 billion. This is the first time Chadstone has reached $2 billion in a 12 month period. 
Vicinity Centres CEO and Managing Director Grant Kelley said: "We are delighted that Chadstone continues to be the number one shopping, dining and entertainment destination in Australia." 
Mr Kelley said the centre's success was a credit to the visionary role of John Gandel who fashioned Chadstone into a world-class retail destination, and created the benchmark for Australia's premium shopping experience, which now attracts more than 23 million visitors every year. 
"The $2 billion milestone is an opportunity to reflect on the rich history of Chadstone and the important role it has played in Melbourne's shopping past and present," Mr Kelley said. 
"We acknowledge the ongoing support of our customers, both locally and internationally, and our retailers. We know retail is a dynamic, cyclical business and the success of Chadstone could not have happened without the dedication and innovation of our retailers and their teams. 
"We know consumer expectations are always changing, so our focus has been about continuing to reinvest and evolve Chadstone to create shared value for our customers, retailers and investors," Mr Kelley said. 
Chadstone's growth and evolution continues, following a $660 million major redevelopment in 2016, with the $130 million, 250-room Chadstone hotel expected to open late 2019. Stage 43 also includes a new food atrium and Australia's first full-range Victoria's Secret store. Other projects include the $17 million West Piazza redevelopment including visitor lounge and more luxury retailers in time for Christmas.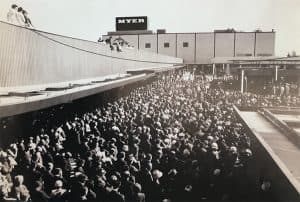 Mr Kelley said fashion remained a drawcard for Chadstone's customers with 40 per cent of this year's sales in the fashion category. Chadstone continued to attract a growing number of diners with 17 million people now eating at the centre each year and more than a fifth of the centre devoted to food. 
Chadstone's rich history with careful planning and an impeccable retail mix has made it what it is today, we take a look in to it's history;
Chadstone was built at a cost of approximately £6 million by the Myer family and was the first regional shopping centre in Australia when it opened in 1960. In 1983, Mr Gandel paid $37 million to acquire Chadstone when sales were approximately $100 million a year. Mr Gandel's work to expand and improve Chadstone began almost immediately and has continued ever since. 
▪ 1960 Chadstone officially opened, built at a cost of £6,000,000 
▪ 1983 John Gandel purchased Chadstone from Myer for $37m 
▪ 1984 The original mall was enclosed, Target added to the retail mix 
▪ 1986 Development included the addition of Chadstone's first cinemas 
▪ 1989 Bi-Lo came to Chadstone as fresh food offer expanded 
▪ 1990 The Galleria Mall was built including Australia's first food court and additional specialties 
▪ 1991 The first office spaces were opened at Chadstone 
▪ 1995 Chadstone Corner, K Mart introduced 
▪ 1998 Expansion included Myer, 20 specialties 
▪ 1999 David Jones opened along with another 40 specialty retailers 
▪ 2000 The Entertainment Precinct was opened – Hoyts expansion, Time Zone food, offer 
▪ 2007 Expansion of fresh food including Safeway and the development of a five-level office tower. 
▪ 2009 West Mall opened, including ground and lower ground levels, as well as luxury retailers 
▪ 2016 Stage 40 opened including LEGOLAND Discovery Centre, Hoyts, H&M, Uniqlo, Zara, food central, dining terrace, more luxury and Tower One commercial office building. 

Chadstone is co-owned by Vicinity Centres and the Gandel Group.