UPSTAIRS is the final segment of Stage 1 of the redevelopment of Mirvac's Toombul Shopping Centre. At the time of purchase in 2016, Toombul was anachronistic, responding to a time and a market long since gone. Mirvac's strategy was to 'unlock the value' by totally repositioning Toombul and providing the market with a modern, sophisticated centre with a distinctive character, reflective of its trade area residents. UPSTAIRS is a lifestyle, leisure and entertainment precinct, the likes of which, has not previously been seen in the state of Queensland.
This is a classic story about re-positioning a shopping centre. It's a textbook case of how to do it. It's a story about a group of highly professional people and how they go about their jobs.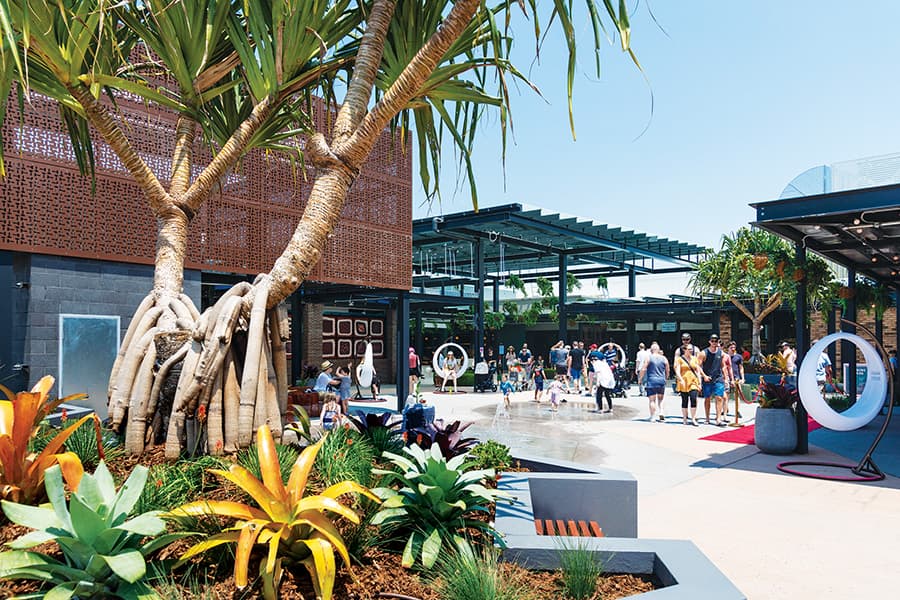 As we go to press, Mirvac's Toombul Shopping Centre opens its latest addition – a new dining and entertainment experience, known as UPSTAIRS, and what an UPSTAIRS it is!
UPSTAIRS is the next step in the transformation of the iconic Toombul Shopping Centre, a $43 million project positioning it as an urban lifestyle destination. It's so progressive that it's likely to be copied as centres embrace the world of Instagram, Facebook and the rest of the social media universe.
UPSTAIRS brings new concepts to Brisbane's northern suburbs because Mirvac has created something very different to what the region already has to offer; it's a unique precinct and the first of its kind for Queensland.
Mirvac and its publicity people describe UPSTAIRS as a "Foodie playground made for the 'gram! A place where you sit back and relax in round neon hanging chairs whilst you sip on cocktails under brightly coloured layers of dangling tinsel".
That might sound like an advertising spruik, but it's quoted here because that's exactly what the reality is.
UPSTAIRS is the result of an in-depth market research exercise undertaken by Mirvac in the early stages when it began to plan the redevelopment.
Those who live in the region wanted an entertainment, leisure and lifestyle precinct, an attraction that could satisfy the wants and aspirations of its market. The retail plan emerged, the development, marketing and management teams signed it off and the leasing has succeeded in spades. The result, in a word, is phenomenal!
The highly successful Archie Brothers, 'Cirque Electriq', opens its first Queensland operation UPSTAIRS at Toombul. It's a circus, an antique games arcade, a cocktail bar, a restaurant, a dodgem car track, a bowling alley, virtual reality thrill rides and more. It's a place, says Mirvac, for 'kidults', for families, for teens. In Australia, Cirque Electriq operates at Melbourne's Docklands and in Sydney's Alexandria. It's totally experiential with a degree of sophistication in this very unique concept. It's a great place to bring children but, then again, one wouldn't feel out of place going there without them! Certain pursuits, like certain films, don't have an 'age' requirement; Cirque Electriq is one of them.
UPSTAIRS features 10 new restaurants and, again, the selection is in total conformity to the market. It's important to note here that these restaurateurs are not 'first timers', but well-known, established, even iconic operators, some, like Cirque Electriq, are first timers in Queensland, others are firmly established in the Brisbane market.
Niku Ramen, an elite and top-quality Japanese restaurant by the team behind the famous Umaya restaurant in Parramatta has opened a classic ramen eatery. The famous Little Red Dumpling, dubbed the best dumpling house in Brisbane, opens its eighth store in the UPSTAIRS precinct. It's an iconic, authentic dumpling house billed as a 'slice of Guangdong'.
'Beyond the Pale' is another iconic 'foodie venue' in Coorparoo, Brisbane. It's a modern, contemporary restaurant and bar featuring classic cocktails and 12 craft beers on tap, along with an extensive wine list. UPSTAIRS sees the owners opening a new venture, 'Dapple + Waver', a similar operation with its boutique style menu, craft beers and signature wine list.
Phat Elephant, the next edition of the popular bar and authentic Thai restaurant brand in the Brisbane CBD will offer a casual blend of authentic Thai food with relaxed, sit-down dining. UPSTAIRS also features 'Il Gancio' from the owners of the highly acclaimed Il Verde restaurant in Bowen Hills, (Fortitude Valley). It's their latest venture, a modern Italian dining destination that features pastas including their signature cheese wheel pasta, wood-fired pizzas, an oyster bar plus a range of proseccos.
Sweet tooths can indulge at Max Brenner where chocolate is celebrated everywhere; in the music, design and on the menu. And there's more! Jackpot Dining is a unique restaurant that combines the gourmet-style of Chinese cuisine with a quick-service format, Sushi HYO is a new venture by the successful operator of several locally famous sushi outlets and Hello Harry, famous from Brisbane to the Sunshine Coast, is a funky burger joint with a wide range of boutique beers. Meanwhile, Espresso Max adds to its two Brisbane all-day dining cafés with a new venture that extends the offer to a full dinner service.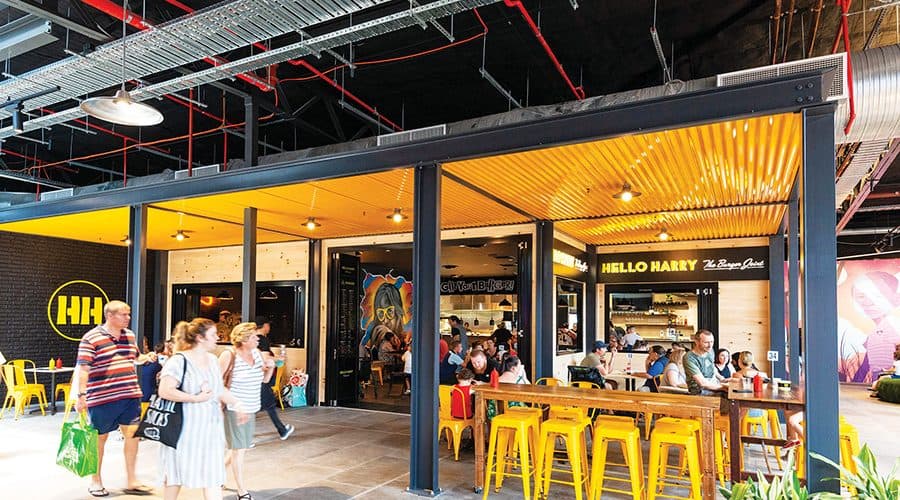 But UPSTAIRS goes beyond just eating and drinking! The eight-screen BCC cinema complex has undergone a complete make-over. The total refurbishment includes two fully upgraded cinemas featuring full-reclining leather seats – the first BCC Recline concept in Australia. The foyer and lounge areas are completely transformed with new flooring, wall finishes, lighting and furniture that ooze modern opulence!
All this is showcased in a precinct of cool industrial and somewhat unique indoor/outdoor spaces, in the centre of which a sparkling fountain that transforms as the sun goes down into a misting feature speckled with coloured lights.
The partnership with the Brisbane Street Art Festival is celebrated throughout; street art murals painted by local artists pepper the walls. An installation by French artist Charles Petillon hangs in an open space linking UPSTAIRS to the new food court below.
The new food court sits under a massive atrium with sightlines directly into the UPSTAIRS precinct. It's small, yet smart and slick – takeaway focused outlets Top Asian, sushi, a carvery, kebabs and a Subway complement the dining offer UPSTAIRS.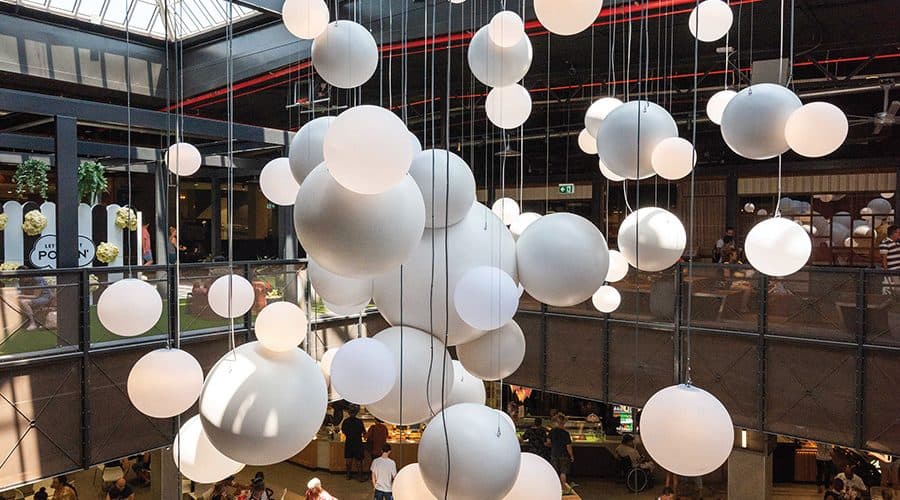 Yet all these are 'physical' changes; refurbished and modernised malls, food court, UPSTAIRS, external décor, new stores and so on, but equally impressive is the marketing contribution to the centre's re-positioning. It's a marketing strategy that targets and responds to Toombul's affluent and sophisticated trade area population.
While the precinct may have only just opened, the community has been taken on the journey throughout the year, commencing with a partnership with the Brisbane Street Art Festival that saw more than ten of its high-profile locations given over to a plethora of acclaimed local, national and international street artists across the two-week programme, including some of the largest and most challenging public art projects of the festival's history.
A tenancy was converted to a dedicated artist-in-residence pop-up space that was home to a series of events, interactive workshops, live painting, music and artist panel talks held throughout the festival.
The festival culminated with a huge finale party held on the rooftop carpark for some 450 guests, featuring four local bands, two DJs, live performance art and a live street art battle by two of the headline artists. The partnership generated more than $350,000 in positive PR throughout the festival with 100% of tickets to all art workshops and events held at Toombul during the festival being sold.
And the marketing strategy extends to further community contributions. The centre has partnered with the not-for-profit Nundah Community Enterprises Co-operative (NCEC) to provide sustainable job opportunities for people in the local community whom have struggled to gain employment due to intellectual disabilities or mental illness. NCEC is a well-known local organisation and winner of Australia's best social enterprise in 2015; this is their first corporate partnership.
All this is reflected in the look and feel of UPSTAIRS; links to the Street Art Festival partnership are formed by the now permanent artworks.
UPSTAIRS, the latest project in Mirvac's initial redevelopment and repositioning of Toombul Shopping Centre, creates a powerful new identity for the centre, positioning it as a leading-edge lifestyle community focal point that is highly representative of its trade area population.
UPSTAIRS is the topping off, the crowning, of what has been a total transformation of Toombul Shopping Centre, bringing it into the present and launching it into the future, as distinct from cocooning it in its past. And that past has relevance.
Toombul Shopping Centre, developed by Westfield, opened in 1967; the first 'air-conditioned' shopping centre in the state of Queensland. The socio-demographic at the time, could be described as 'lower to middle'; made up predominantly of workers moving to Brisbane's outer suburbs where house prices were affordable.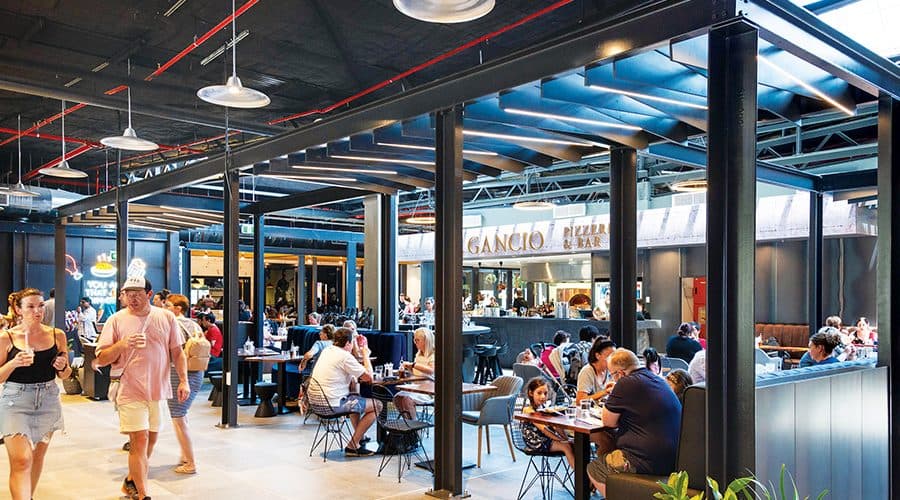 Westfield Toombul was a great success; it catered to its market and the trade area population 'owned' the centre.
But some 30 years later, by the late nineties, the scene had changed. Westfield bought Carindale, which was to become the super prime regional for the north of Brisbane; that was their focus. Centro purchased Toombul in 2003 but managed to complete only half of its proposed extensions. Then Centro morphed into Federation and, ultimately, Vicinity became the owner of Toombul Shopping Centre. It had been somewhat neglected for a long time when Mirvac purchased it in 2016.
At the time Mirvac purchased Toombul, the vision for the site was to re-engage with the customer as the surrounding suburbs grow and the consumer demographics shift. Investing time in the early days, a long-term masterplan was developed for Toombul to maximise the site potential through mixed use. The latest instalment, UPSTAIRS, sits at the heart of the masterplan and is seen as key in the future evolution of the Toombul site.
One measures successful retail by turnover. Toombul Shopping Centre's turnover (MAT) clearly illustrates the neglect. In 1996, Toombul's MAT was $194 million; a decade later in 2006 it was $229 million, an increase of less than 2% p.a. – well below the inflation rate for the period. When Mirvac purchased it in 2016, Toombul's MAT was $228 million, one million less than it had been a whole decade earlier!
But as the Mirvac team is keen to point out, it's the whole scene that's changed at Toombul, and the influencing factors affecting the centre go far beyond the confines of the building.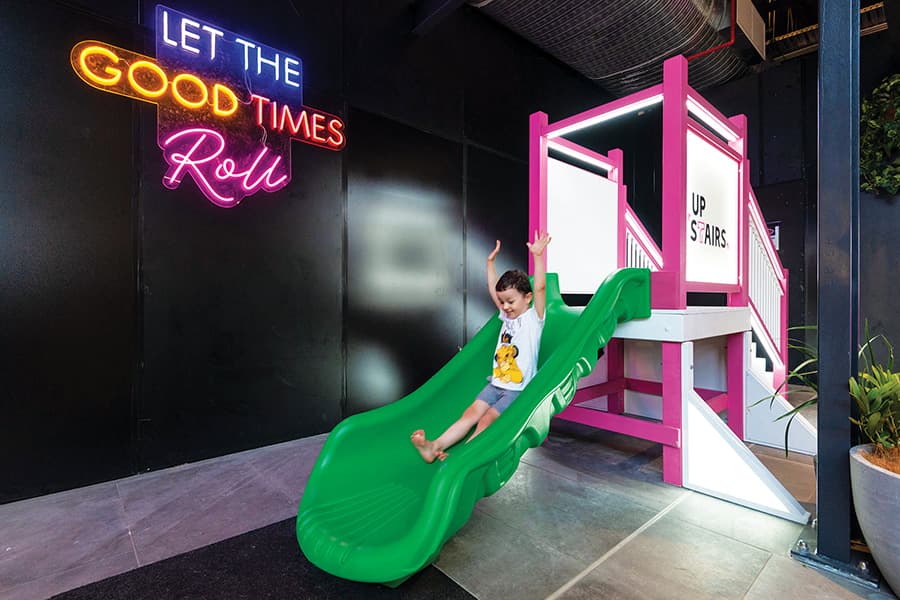 Toombul Shopping Centre sits to the north-east of Brisbane, some eight kilometres from the CBD. In 1967, when the centre first opened, it may well have been located in an 'outer' Brisbane suburb; however, 52 years later, the area is today considered an 'inner' suburb; it's a mere seven-minute drive to the CBD!
Naturally, the socio-demographic profile of the trade area residents is very different these days; 'working-class' and 'lower to middle', have given way to 'professional', 'managerial' and 'affluent'. The average per capita income of the main trade area population is 30% above the metropolitan Brisbane average. The primary and secondary south sectors are particularly affluent with per capita income levels at 34% and 50% above the metropolitan Brisbane average, respectively.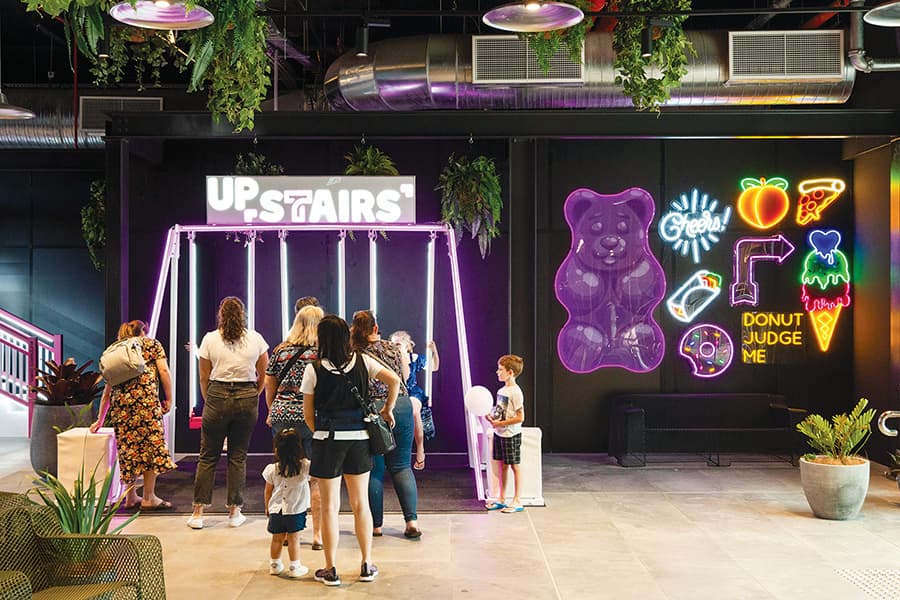 It's a common scenario in all major cities, and not just in Australia but all over the world. In London, Fulham and Pimlico for example; in New York, Greenwich Village and Soho, even Brooklyn; in Sydney, Paddington and Balmain – 50 years ago, all 'working class' or 'fashionably undesirable' suburbs, but today, as a direct result of their close proximity to the CBD, these locales have transformed to become professional, affluent and fashionable.
Yet in this case, Toombul Shopping Centre, for a variety of reasons, remained stuck in a time warp. From being the 'sub-regional' centre at the heart of the community, it became somewhat of a 'convenience centre' for the surrounds. It traded at an 'acceptable level' but lost its former positioning as the centre of choice for the trade area population.
SCN ran a story on the centre a couple of years back, shortly after the Mirvac acquisition. Mirvac saw the potential and embarked on a course of action to 'unlock the value'. They've transformed the centre with a refurbished Kmart, Target, ALDI and Fresh Food mall. They've installed new travellators leading to an additional 200 undercover carparks, fully refurbished the food court and introduced some 60-odd totally new or refurbished stores.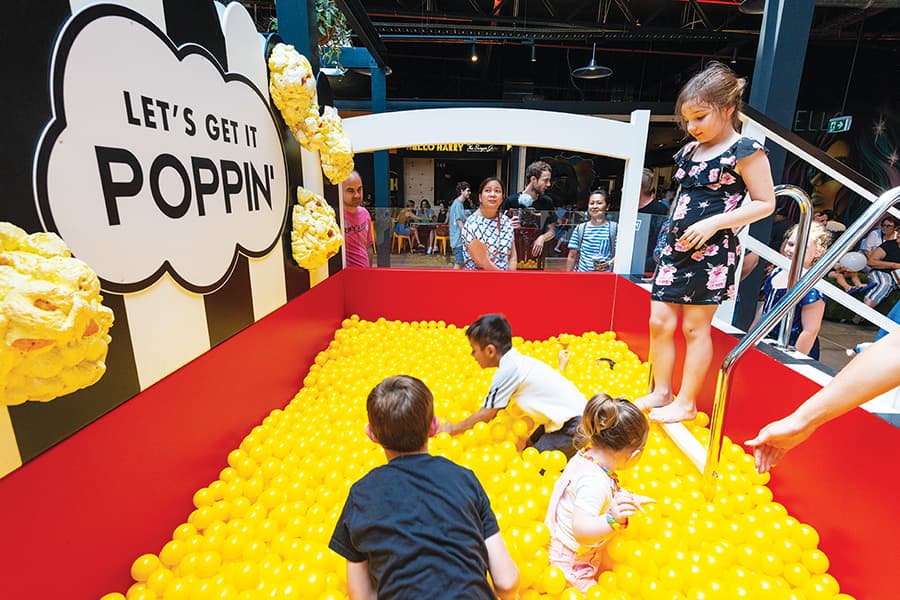 And the repositioning extends beyond the physical transformation. The totally updated Fresh Food mall has a butcher with the slogan; "A place 2 meat". It's clever and the offer, like the retailer, is geared to the market; for example, customers can now purchase apricot chicken, hickory smoked pork and spiced Mongolian lamb chops. The fruit and veg outlet spills directly into the centre mall space, giving it a market feel and creating two sides of the streetscape. Above the merchandise, an array of hanging plants help to inspire the feel and ambience of a slick food hall.
When you spend time with the Mirvac team at Toombul, it becomes very clear that this is a 'holistic' approach to the centre's re-positioning. It's a shared objective from management, to leasing, through to marketing and operations; they're all on the same page and share the same vision while adopting the same strategies.
Research showed, we're told, that until recently, people shopped at Toombul using it as a 'convenience centre'. "They shopped there," said Centre Manager, Melanie Hodge, "but they never admitted it!" Young people, the research showed, didn't want to say they were at Toombul – it wasn't cool; it wasn't the place to be seen.
This is a project totally driven by the market. The research has been exhaustive. The Mirvac team has not just collected data on demographics, trade area numbers and spending power; they've gone further, and looked at attitudes, mindsets, aspirations, social structures and psychological influences. They've put all this information together and tailored the mix, the marketing, the management and the total presentation of the centre to reflect the retail, lifestyle, leisure and entertainment requirements of the market.
And attitudes are already changing as the MetroTechs, young professionals and affluent young families increasingly embrace the centre, take pride in it and begin to 'own it'.
UPSTAIRS completes the total transformation of the centre. The commercial returns are already evident. Although during the past two years or so it's been under significant strain with major works underway, it hasn't shown any downturn in its MAT.
When we reported on the centre last year, we made the comment that over the past six to seven years, Toombul Shopping Centre had occupied places ranging from 25 to 30 on the Little Guns MAT ladder. SCN forecast that in its first full year of trading, after completion of Mirvac's initial redevelopment, it would occupy a Top 10 position.
UPSTAIRS completes the redevelopment; it's a classic case of a 'market driven' redevelopment. Toombul's first full-year of trading will be 2020. We stand by our forecast. Let's see what happens in the 2021 Little Guns edition!