As reported in SCN, Deb Palmer, National Programs Manager, QIC has been awarded the 2022 Frank Lowy Fellowship. We spoke to Deb about the award-winning program – an initiative to combat the increase in self-harm in shopping centres. This article is featured in the latest issue of SCN magazine.

How did Project Safe-Guard come about, and what impact has it had on shopping centre safety and security?
Throughout the pandemic, shopping centres across Australia experienced an increase in self-harm incidents. In response, QIC undertook a thorough review of our security and operational response times in relation to self-harm incidents.
Through this review, it was identified that even with 24-hour manned security control rooms on-site, it was near impossible for control room guards to watch over more than 600 security cameras. My investigation recognised the need for a smarter and more holistic approach to help mitigate these serious events. In essence, I was intent on questioning traditional ways of working.
In response to this widespread industry and social issue, I spearheaded Project Safe-Guard — a world-first initiative that significantly reduces the likelihood of self-harm and security breach incidents at shopping centres before they occur, using leading-edge technology and sophisticated camera analytics.
With almost half the population (44%) aged 16 to 85 estimated to have experienced a mental health issue at some point in their life, and one in five (21%) having experienced a mental health issue in the previous 12 months*, Project Safe-Guard has been critically important in ensuring security teams and first responders act on potential self-harm or security breach incidents as quickly as possible.
To date, Project Safe-Guard has prevented four potential self-harm incidents and many security breaches across those of our QIC shopping centre assets that have the technology in place, as a result of dramatically reduced response times.
The technology is now in place at four of our shopping centres — Robina Town Centre, Eastland, Grand Central and Canberra Centre, with a further four rollouts planned for Westpoint, Pacific Epping, Pacific Werribee and Castle Towers this year.
We have also received high praise from industry peers and emergency services for our demonstrated safety leadership and culture at QIC, providing a safe and secure environment for visitors and staff alike.
How does the technology help to prevent incidents?
The establishment of Project Safe-Guard was guided by three core design principles — focus (who are we doing this for and why?), simplicity (questioning tradition and beginning with the end in mind), and cross-discipline execution (leveraging a diverse mix of expertise to push boundaries).
I led a team of highly experienced hardware, software and integrator specialists to develop and install Project Safe-Guard's state-of-the-art camera technology. Following a comprehensive site survey, camera analytics are strategically set up to create virtual 'trip wires' and 'loitering areas' across high-risk restricted and publicly accessible areas such as car park ramps, loading docks, crossing bridges, and elevated internal and external voids. These analytics act as a 'virtual fence'.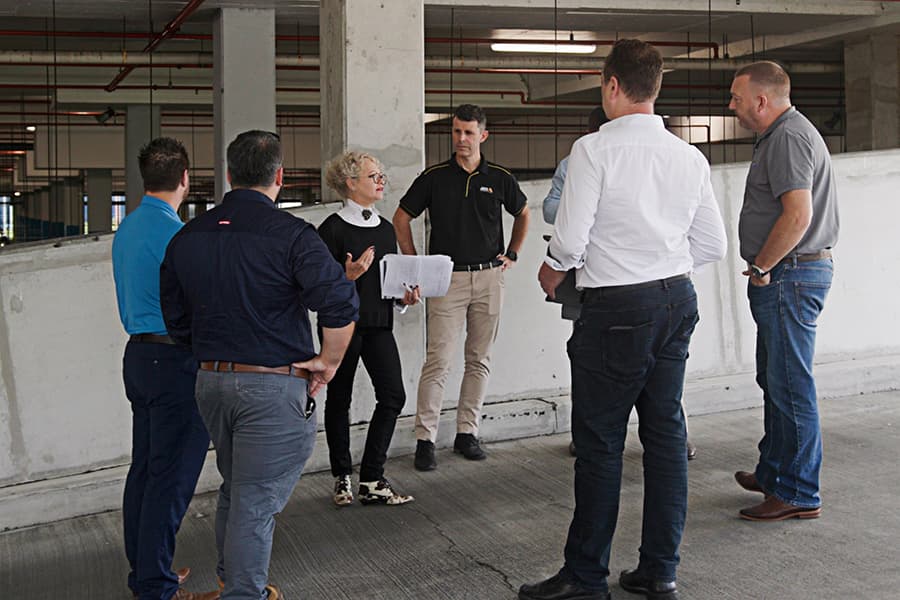 Using dual radar devices connected to existing CCTV cameras, a 360-degree field of view for 80 metres is established, enabling the cameras to focus on any detected movements that cross into the 'virtual fence'. Loitering detectors installed along rooftop edges provide an added precautionary measure.
When the 'virtual fence' is triggered, live vision and audible alerts are sent to the shopping centre's security control room. These alerts allow the control room guard to hone in on the movement within the restricted or high-risk area to respond immediately.
This technology was up and running as a pilot program at Robina Town Centre in October 2021, and was refined using historical incident reports and a self-harm audit tool developed in collaboration with Lifeline. This helped to identify the high-risk and vulnerable areas within shopping centres.
Diligent testing over several days and nights on all Project Safe-Guard cameras and devices is regularly conducted to ensure the accuracy of alerts and activations, and any potential visual gaps identified from the control room are quickly plugged. A full review after the first month of operation is also undertaken with the team to ensure alerts are behaving correctly, and the software and hardware are performing in the most efficient manner.
Importantly, the positive impact of the technology extends to the wellbeing of our staff, security and first responders. Attending to self-harm incidents can be emotionally distressing and traumatic, even for the experienced. With an almost immediate response, Project Safe-Guard has the ability to prevent the self-harm incident occurring and to avoid the potential aftermath and trauma of these types of incidents.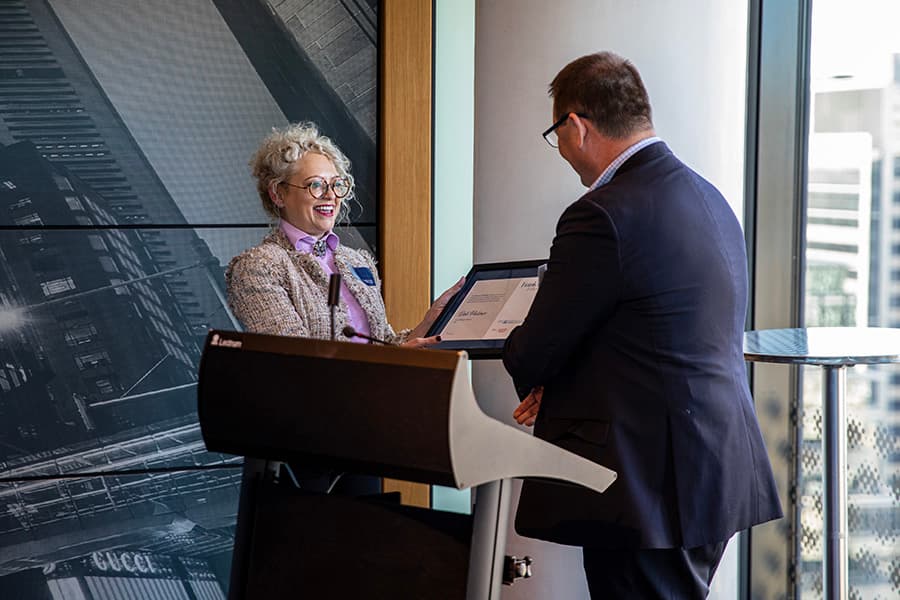 How has the Frank Lowy Fellowship impacted your efforts to drive a high-performing safety culture at QIC and the broader Australian retail industry?
My desire to make a difference at our QIC centres and the industry as a whole was already strong, and this has only amplified as a result of the Fellowship win. I am incredibly humbled to be recognised for Project Safe-Guard and immensely proud of the impact it has had so far.
At QIC, we pride ourselves on our standards of excellence, which are critical to our success, particularly from a risk and safety perspective. This is why we continue to push the boundaries and look for new ways to improve the Project Safe-Guard technology — it is not a 'set and forget' initiative. Contributing to its success has been the ability to collaborate, evolve, refine, share and repeat.
We have already come leaps and bounds in terms of enhancements, including privacy masks on all external moving CCTV cameras as standard to protect the privacy of surrounding residential areas, the trialling of new cameras and devices in position prior to deployment, and specialist software training for control room guards.
Importantly, I am eager to continue collaborating with retail owners and external industries to share my learnings so we can continue to make a difference, together. This is how we will achieve positive, whole-of-community outcomes based on collective knowledge and experience.
* Australian Institute of Health and Welfare – Prevalence and impact of mental illness – Mental health – AIHW.