Fortius has a track record of 'unlocking value' in shopping centres. The company is nearing completion of its latest project. Unlocking value at this centre has led it to forming relationships with other stakeholders in its immediate surrounds as well as the NSW Government's 24-hour Economy Strategy, in order to place the centre at the heart of what is destined to emerge as a major 24-hour precinct in the most densely populated area of Australia.
If there is one word that dominates discussion in our industry at present, it's 'experiential'. The retail world is abuzz with the word; leased space in our centres, traditionally used for stock and product display, is giving way to 'experience' with a forecast that by 2025, 50% of leased area will be 'experiential'.
Shopping Centre design is focusing on 'experiential spaces' while management, with the collusion of high-tech and digital displays, is transforming our common areas to provide 'experiences' for our shoppers. Our industry is at a stage in its evolution at which, the very word 'shopping' is reaching its 'use-by date'; people go to centres for experiences and 'shopping' is now just a part of it.
For most of our industry, the transition is challenging; the speed of change is daunting, affecting every discipline from design to leasing, from marketing to management, from retail planning to operations and everything in between. Not so at Central Park Mall; here there's no transition; they began with 'experiential'. Figuratively, from the ground up (because in this case it was from the top floors down) they created an experiential centre!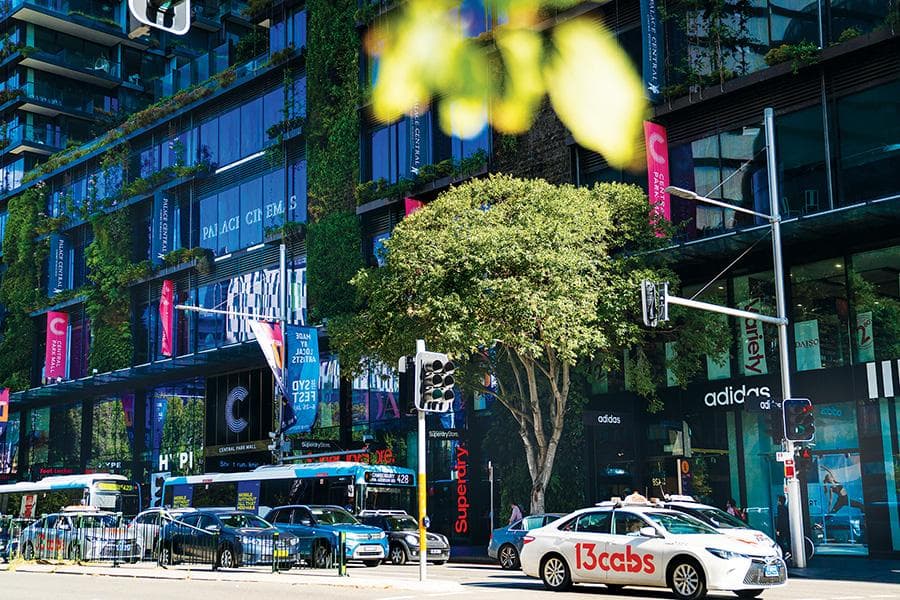 Fortius Funds Management (now a part of Growthpoint Properties Australia) and SC Capital acquired Central Park Mall in 2019. To be kind, you could say the asset was in a mature stage in its lifecycle; the reality was that it was dated and had lost relevance to its market. Then COVID struck; footfall and sales declined dramatically and vacancies followed.
At Fortius they saw opportunity; they could begin afresh, they could create a brand-new centre, an experiential centre that could become leading edge in a location touted as Sydney's technology and innovation hub.
Central Park Mall sits on Broadway in Chippendale, an inner-city suburb at the southern end of the Sydney CBD. Broadway is a major arterial route linking Parramatta Road to the west, with George St to the east. Approximately 25 million vehicles a year pass the centre; numerous bus routes connect the mall every hour. It's also a major pedestrian thoroughfare with some 18,213 people a day walking by. The centre is less than 350 metres from Central, the busiest train station in Australia with some 200,000 daily passenger movements. Staggering as it may seem, all that is secondary with regards to its potential market!
Central Park Mall sits opposite several major higher-education facilities, including the University of Sydney, UTS, University of Notre Dame and TAFE NSW. In total, more than 140,000 students are within a short walking distance. Most of these students not only frequent these four campuses daily, but they live in the centre's primary trade area that includes the suburbs of Haymarket, Chippendale, Darlington, Ultimo and part of the suburbs of Redfern and Surry Hills. When you combine this with 227,000 residents and 49,000 office workers Central Park Mall is situated within the most densely populated area of Australia.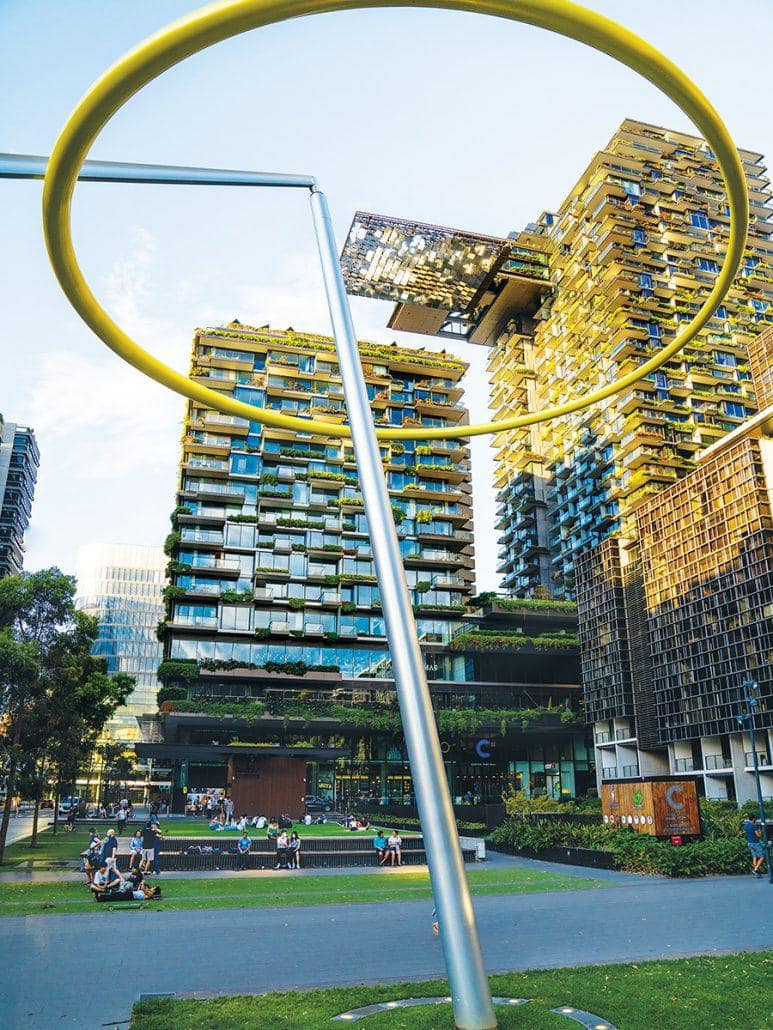 So, the numbers are there; the surrounds of Central Park Mall are just jammed packed with people; and with the retail expenditure capacity of both the resident and worker market projected to double to $8.7 billion and $1.8 billion by 2036; in terms of a potential market, quite simply it's a lay-down misere!
And the centre is not just 'in' this populous precinct, it's at its very heart; the dead centre. The university campuses are literally across the road; the centre's main entry/exit is directly on and at the centre of Broadway. Spice Alley, the food and beverage street precinct, modelled on Shanghai's Tian Zi Fang is literally next door.
So how do you develop an 'experiential' centre? First, you need to define it; at Fortius, they do so with just two words – it's an 'Urban Playground'. What does that mean? And it's here that all the 'traditional' rules of shopping centre development are thrown out of the window!
It's a totally new approach requiring creative thinking, left field strategies and innovative directions. What that does to basic principles in centre development is fascinating; take for example the fundamental question of 'trading hours' and how Central Park Mall is approaching that.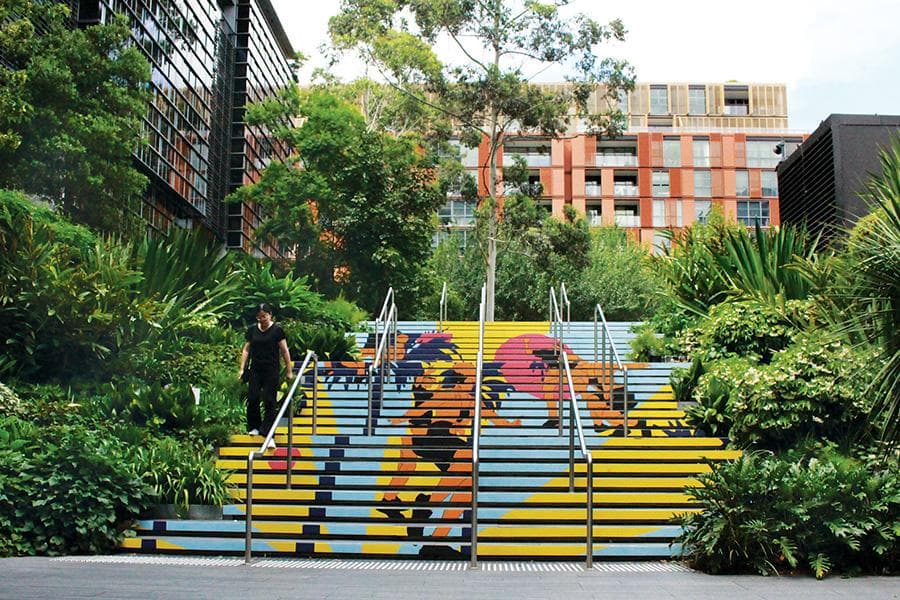 A key repositioning strategy is the opportunity to align the centre with Sydney's 24-hour economy ambitions while strengthening the centre and the precinct's already established evening destination credentials. The question for Melissa Kaczmarek, Fortius' Senior Asset Manager, in charge of repositioning, was how to keep Central Park Mall 'awake longer' with a curated tenant mix promoting a diverse range of entertainment experiences, rather than alcohol consumption as the primary late-night activity.
Sam Sproats, Executive Director of Funds at Growthpoint, the joint owner of Central Park Mall says, "The transformation of Central Park Mall will not only revitalise the precinct but will also revolutionise Sydney's 24-hour economy, offering a thriving day and night destination. Once complete, Central Park Mall will deliver a truly unmatched lifestyle experience for Chippendale residents, surrounding university students and the broader Sydney community, creating a dynamic and exciting destination."
Michael Rodrigues, the NSW Government 24-Hour Economy Commissioner has welcomed the introduction of Fortress to enhance the diversity of night-time offers in Sydney.
"It's a big deal for Sydney to be the location for the largest e-gaming centre in the Southern Hemisphere, in a district that has undergone a night-time renaissance in recent years," says Rodrigues. "It's a good example of an integrated entertainment offer, which gives the audience a range of options to choose. It's a good example of what a modern, diverse night-time economy can offer".
Tracey Whittaker, Managing Director Twentieth Letter, Fortius' marketing consultants on the project, told SCN that an initiative to partner with other owners in the precinct in the form of the Investment NSW Uptown Program, had led to the formation of the 'Chippendale Collective' – a membership-based organisation with the aim of establishing the precinct as a key south Sydney CBD destination. The collective – Phoenix Central Park, Twentieth Letter, The Abercrombie Hotel (Solotel), Four Points by Sheraton, Brewery Yard (IP Generation), Kensington St. IGLU and of course, Central Park Mall – is now an Incorporated Association and has recently applied for an Investment NSW Grant. The Grant will be used to create and deliver long-term strategies and marketing campaigns for the precinct.
Fortius sees the centre at the heart of a 24-hour active precinct but that doesn't just focus on extending the night-time trading. Few shopping centres in the world own a park; Central Park Mall does!
It's situated at the rear of the centre and it's not just some 'token' green space; it's a real park, it's large and an established community focal point enjoyed daily by the locals. Last month, in partnership with Organic Food Markets, they launched Central Park Farmers Market. It runs every Saturday with about 40 market stalls of local providores, producers, growers and artisans, already becoming a regular community happening.
Other initiatives using the park include a partnership with Palace Cinemas to establish an annual outdoor cinema event; the park has been confirmed as an approved site for the SXSW festival in October this year – the first of a five-year hosting deal with the NSW Government; the park has hosted parts of Vivid, Art Month and the Sydney Fringe Festival.
Yet probably the biggest coup in creating this 'urban playground' was to secure the tenancy of Fortress Sydney, the largest video games and entertainment venue in the Southern Hemisphere.
Fortress Sydney is an entertainment powerhouse with capacity for 1,000 people over two floors to compete in international online tournaments, play, socialise, game, dine and drink.
Fortress Sydney has a fantasy-themed tavern, based on Fortress's unique character lore, an incredible competitive and esports games arena featuring a mezzanine/VIP level, another sci-fi inspired bar, arcades, PC gaming zone with the highest spec Alienware rigs, private party booths, with table service quality food and drinks. It's a two-level, 2,500m2 venue with an expensive, sophisticated, and stylish fit-out and is already attracting corporate events and private parties.
The adjacencies both emerging F&B operators secured by Fortius' leasing agent Halicorp Group complement this entertainment hub. There's the brand-new, 200+ seat Sunny Seafood Yum Cha restaurant opening in October, and Uobei Sushi, to name a few. On the lower levels, Woolworths Supermarket, Priceline, the Japanese chain Daiso as well as 'Amazing' – an Asian market. Glue is there, along with global brand Superdry.
And of course, the centre boasts the Palace Central cinema complex – comprising of 10 auditoria, lounge and bar area, the cinema continues to represent a transformation of the traditional cinema-going experience.
The repositioning of Central Park Mall continues, but what the centre is, its future direction, is already clearly established. It is 'an urban playground' and the market it's attracting are the very people who live, work, study in its immediate surrounds. They come to the centre to be entertained, to see movies, to play and party at Fortress Sydney, to wine and dine or just to sit in the park and enjoy a sunny day. On Saturdays, they visit the Food Markets and at any times, convenience shop. Have they left the best positions till the last? Melissa Kaczmarek says it's possible.
Kaczmarek told SCN that they're now turning their attention to the street frontages to Broadway, and with the opportunity to capture the 195 million passenger movements a year in the adjacent Central Station, the mind boggles as to what and who they could attract!
SCN will follow the repositioning of Central Park Mall as it promises to provide some lessons on 'experiential' features.
It's not a traditional centre but as it sits in such a prime and populated position and has elected to become a significant player in Sydney's 24-hour economy, it's future operation will be of interest to our industry.
This profile features in the latest issue of Shopping Centre News. Premium members can view the full digital edition here