This article by Scott Mosely, Managing Director Investment Management, Lendlease, forms part of a special CEO Outlook feature published in SCN's Big Guns 2022 edition.

With more than 60 years of international experience in constructing, developing and managing shopping centres and urban retail precincts, Lendlease's long-term commitment to the retail sector remains strong – and we believe there's a lot to be optimistic about.
After a challenging two years, favourable market fundamentals have expedited Australia's retail recovery and the sector has also benefitted from the recalibration of asset valuations and incomes to more sustainable levels, providing retailers with a new base to operate profitably.
During the height of the pandemic, lockdowns saw discretionary spending and travel curtailed, resulting in Australian households accumulating savings. At the same time, the retail sector received support in the way of government stimulus packages, statutory relief and much-needed assistance from landlords, enabling many retailers, particularly SMEs, to keep operating.
As the population, job market and wages grow, housing prices boom and interest rates remain low, the economy is already bouncing back. As borders open and restrictions continue to lift, we expect pent-up demand will stimulate the economy and support ongoing retail recovery, particularly needed in the CBDs.
The capital markets and investors are demonstrating strong confidence in the sector too, with a surge in investment activity seen so far in FY22 and in some cases, high-quality assets are set out to outperform office and industrial.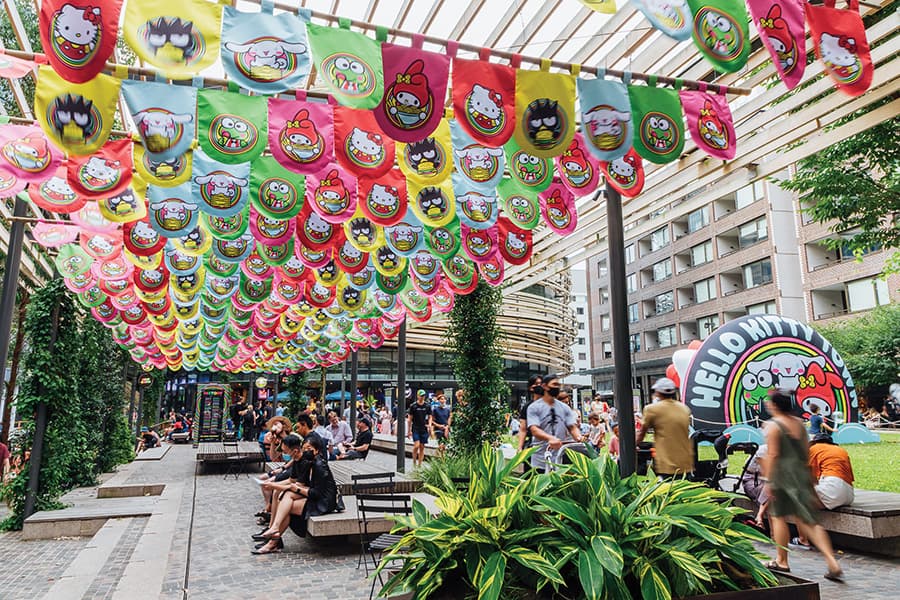 A changing landscape
The past two years have brought lasting changes to consumer habits as spending on services such as health and education continues to rise. As a result, the traditional retail tenancy mix will shift as exposure to these high performing categories increases to keep shopping centres relevant and vibrant centres of the community.
This will see increased floor space dedicated to entertainment, health and wellbeing, experience and leisure, and an increase in mixed-use centres that have adapted to changing consumer spending.
Having an integrated multidisciplinary investment management platform comprising funds management, development and asset management allows us to respond quickly to this sector evolution. We are accelerating APPF Retail's Urban Growth Centre strategy and forming new and exciting cross-sector partnerships.
We are leveraging our place-making and product expertise to create mixed-use precincts that support thriving communities. While retail will remain the key focus of these precincts, the move to mixed-use will see a diversification of income streams and a complete change in the sense of place as people live, work and play within their local communities, and centres experience 24/7 activation.
Last year, we received Development Approval for approximately 10,000m2 of A-grade office space that will accommodate an estimated 1,000 workers at Lakeside Joondalup in Western Australia. As part of the development, we will provide greater accessibility and safer connections to and from the train station and shopping centre for the thousands of people who visit, learn or work in the city's nearby education and civic precincts.
Further plans are underway to densify land holdings and unlock mixed-use opportunities across our strategically placed assets, including Macarthur Square, Erina Fair and Sunshine Plaza. These plans are set to further embed these centres within their local communities and bolster the resilience of an underlying retail offer that is curated to meet consumer needs.
The considered consumer
The 2022 Edelman Trust Barometer found 58% of people buy or advocate for brands based on their beliefs or values. Consumers are increasingly buying less but spending more on brands or companies that are ethical and sustainable.
We are actively witnessing the tipping point on consumer demand for sustainable outcomes and sustainability is proving a driver of top-line retail performance. This is reflected in the demand and interest among investors and stakeholders for highly sustainable companies and assets.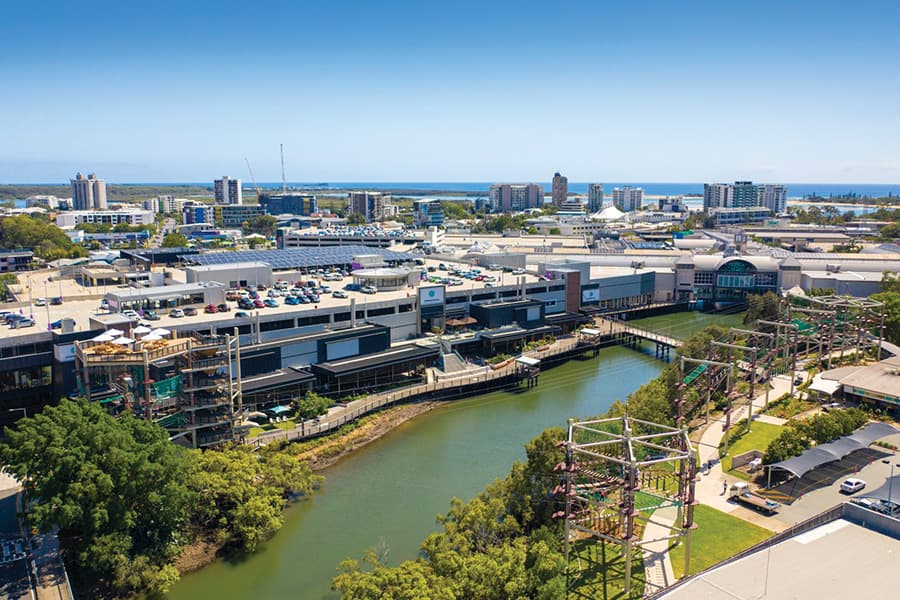 Creating sustainable places is part of Lendlease's DNA, and our vision is to create the best places for people today and for generations to come. As a global leader in this space, we want to lead the evolution of our industry to be truly sustainable – environmentally, socially and economically. Our commitment has been consistently recognised in benchmarks such as GRESB, which in 2021 placed Lendlease's three retail funds in the top four positions in the Australian and New Zealand retail sector peer group.
We are working in partnership with our retailers to help us achieve the goal of being absolute zero carbon by 2040, and we are welcoming more and more brands who are demanding a commitment in this space too.
We've also seen a move towards consumers favouring local during the pandemic, whether that's Australian-made products or shopping in their local area. This trend is expected to increase, with CommBank Consumer Insights reporting 52% of Australians believe locally sourced and manufactured products are now more important than ever.
Our centres are already hubs within our local communities, and part of our role as a landlord is to partner with local hero producers and businesses and support them to thrive. More than ever, we have learned the value of flexibility and are working with several growing local brands and businesses that can adapt to change quickly – this is especially important in the digital age.
Bricks supporting clicks
Omnichannel retailers are fast outpacing pureplay when it comes to profitability and are ramping up their digital and multichannel investment to drive increased web traffic, brand awareness and sales.
The convergence of online and in-store strategies will continue to drive spending through both channels, and there is a huge opportunity here. We are actively collaborating with and co-investing in progressive omnichannel brands that are agile and have shown growth throughout the pandemic.
Data around the impact of physical stores on brand performance and sales clearly demonstrates that bricks-and-mortar is here to stay. In fact, it is integral in the delivery of multichannel strategies by providing last mile logistics solutions and a seamless in-store and online customer experience. As a cross-sector asset management platform, we are well set up to explore potential opportunities to support retailers' last mile fulfilment needs with our industrial portfolio and partnerships.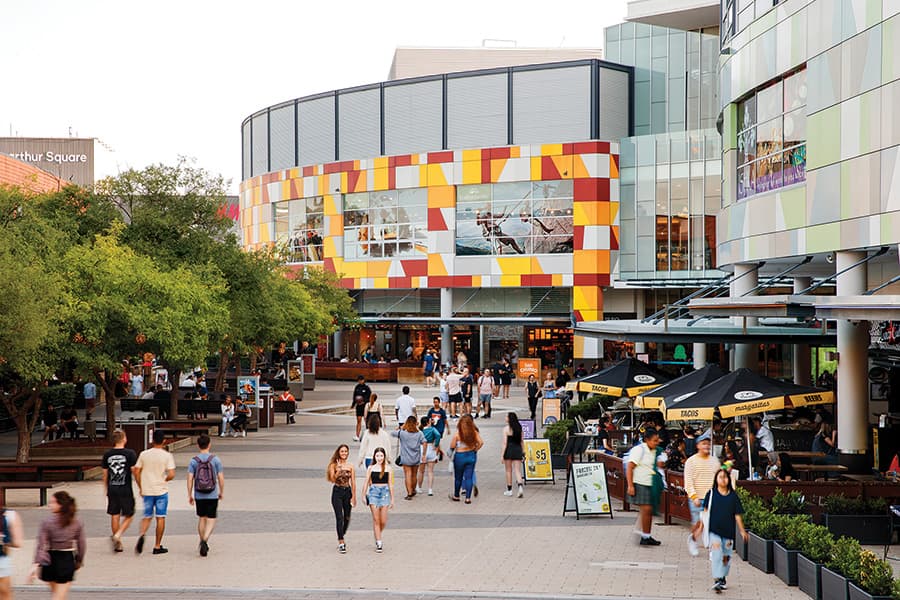 We are also leveraging our broader digital capability to support retail growth. In 2020, Lendlease launched Podium, our property lifecycle platform. Digitising our processes will improve safety, efficiency, costs, risks and project quality, as well as customer experience and sustainability outcomes.
We are using our data to deliver solutions that improve outcomes for customers, retailers and assets. This is everything from retailer analytics, building performance analytics and communications infrastructure to omnichannel retailing platforms, which will be vital for the success of local hero retailers whom may not have this infrastructure themselves.
To further support the omnichannel platform, we are piloting new services at our centres. This has previously included Click & Collect and, more recently, we have partnered with Australia Post at Macarthur Square to create an on-site logistics hub.
The on-site hub allows customers to purchase online from local stores and have goods sent conveniently and efficiently directly to and from the centre. The purchases are logged to the stores in the centre rather than an online platform, allowing us and the local retailer to capture the benefit of their omnichannel presence.
Retail outlook 2022
Our ability to be agile to meet consumer demand in recent times has led to a record number of lease deals across our portfolio in the past 18 months. This translates into increased MAT and market share gains and ultimately fuels additional tenant demand. Our centres are certainly evolving and with a continued willingness to be adaptable in our approach, we see a very positive outlook.
Of course, delivering a high-quality consumer experience remains paramount. The focus will be on creating personalised, seamless and considered shopping experiences alongside unique activations that create a sense of destination. We expect to embrace more large-scale brand partnerships that drive foot traffic and can be leveraged by local retailers – more activations like Hello Kitty Town and Frozen that we brought to life in Darling Square to support retailers and create memorable experiences for locals and visitors alike.
We continue to believe deeply in the role of retail in sustaining communities and supporting growth. The growing investments we make in best practice ESG and data-driven, consumer-led insights will continue to drive our operational performance and innovation.
With place-making at the core of our approach to retail, we are proudly focused on creating community centred, digital and sustainable mixed-use destinations that thrive.