Westfield, indisputably – the greatest shopping centre company in the world. The bulk of its global portfolio was in Australia – now owned and managed by Scentre Group. At Scentre Group, the term 'shopping centre' has given way to 'Living Centre'. The Group operates 42 'Living Centres' in Australia and New Zealand. The descriptive phrase change, is much more than a clever brand initiative; it's reflective of a whole new approach to the business, which has the customer as the focus. It's about to change again – Westfield 'Living Destinations' have arrived – all 42 of them!
The first of the 'modern' shopping centres appeared in the US not all that long ago, in the 1950s. At that time, Americans were the wealthiest people on the planet. The American 'mall' was somewhat a fashionable entity with lavish embellishments such as marble floors and chandeliers. Opulence exuded; malls were bastions of excess. America in the 1950s and 60s was rapidly developing one of its twentieth century contributions to the world – the cult of consumerism – and it established it on the home front first. Shopping malls led the way; they were the vanguard in the strategy of providing consumers, not with what they needed, but with what they wanted.
On the other side of the world, in Australia, massive migration from Europe and Asia in the 1950s and 60s led to the sprawling of our major cities; new suburbs mushroomed (Australia's population in 1950 was a mere eight million) and their residents were distanced from the traditional, every day, retail shopping strips and town centres. Retailers knew they had to 'reach their customers' so developers provided the solution – Regional Shopping Centres, the first 'Big Guns'.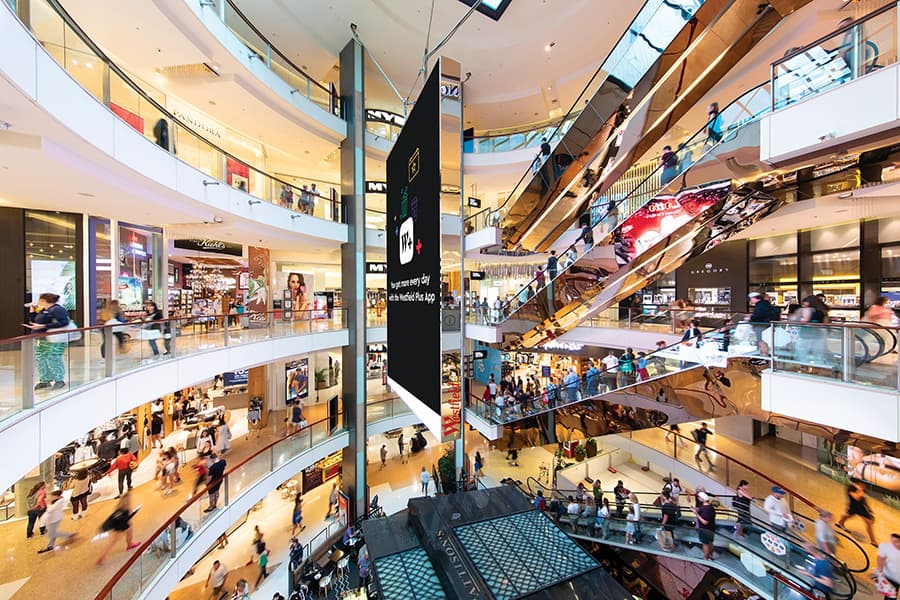 And therein lies the difference between the two models – the American and Australian. The Australian shopping centre catered to the retail 'needs' of the community, as distinct from its 'wants'. From the 1960s and into the 70s, the 'needs' of these ever-expanding suburban communities were fairly basic; they needed everyday shops – butchers, bakers, fruit and vegetable grocers, chemists, banks, homewares, newsagents, department stores, supermarkets, clothing et al. The developers focused on the retailers' needs, the tenant mix and retail planning, so the centre became a copy of the traditional retail strip; it was often described as the town centre with a roof over it!
Indisputably, Westfield led the way. Its centres set the standards to which others aspired. The ROI of Westfield centres exceeded all initial expectations; the company expanded exponentially and, in less than half a century, it became the most powerful retail property development company in the world.
The history is highly relevant to the study of the present organisation – now Scentre Group of course – and indeed, to the shopping centre industry in general, because during the past few years or so, Scentre Group has changed its focus. Whereas, historically, the company focused on a select variety of issues – from retailers and customers to architecture and design, tenant mix and so on – today, everything derives from the 'customer'.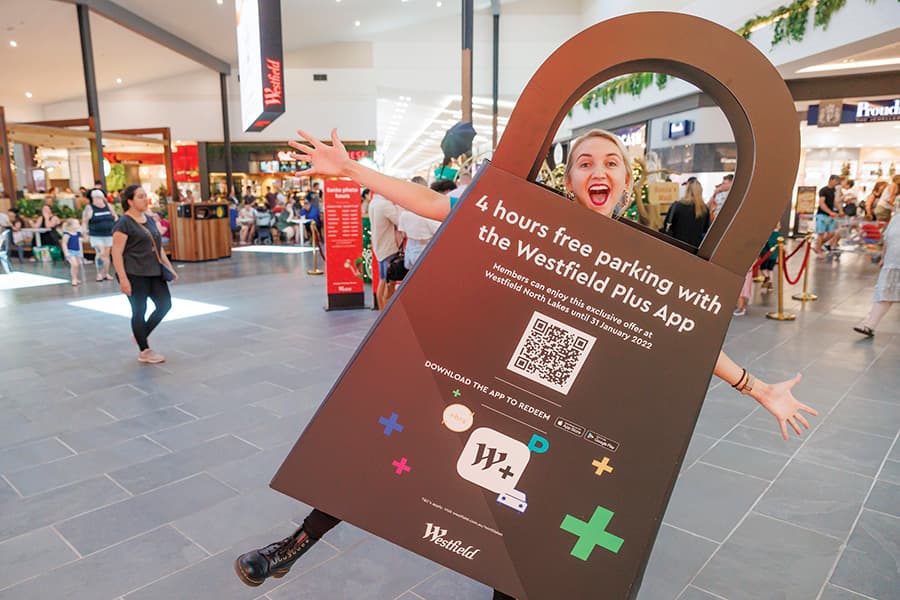 As Stewart White, Scentre Group's Director Development, says: "We are obsessed with the customer; anything we do, any strategy we employ, any initiative we undertake, is driven by the customer and what the customer wants." And of course, today, what the customer wants is far more than just shops!
Today, major centres have evolved to the extent that they have become the real town centres, the quintessential community focal points for the regions they serve. At Scentre Group, the evolution is so advanced, that the term 'shopping centre' has given way to 'living centre' and already, the next phase, 'living destination' is clearly on the horizon. White says the speed of change is phenomenal; the customer is seeking a more diverse range of experiences, citing health, wellness and education as examples. This drives innovation, the creative use of space, the re-imagination of how they use space and how they develop, design, construct, lease and subsequently manage space.
A prized portfolio
Scentre Group has some 42 Westfield Living Centres across Australia and New Zealand in close proximity to some 20 million people; it's a reach unmatched. Furthermore, they are destinations trusted by those people – spaces in which they feel comfortable, safe and unthreatened – spaces they 'own' and spaces in which they linger.
Getting to know those people, forming relationships with them and becoming part of their everyday lives is Scentre Group's focus and it's led to the company taking a leading-edge position in our industry today.
For a start, when you visit any one of Westfield's 37 Australian and five New Zealand centres, the whole Australian Scentre Group portfolio is at your fingertips. The 'Westfield Direct' platform comprises retailers from across the entire portfolio whom have their own unique virtual storefronts – an extension of their 'in-centre' experience. Customers browse Westfield Direct by category or curated collections and visit the virtual storefronts or even search by specific product. They can order from any Westfield in Australia, then 'Click & Collect' at any Westfield location or have their order delivered to their door. Westfield handles the end-to-end experience, including order fulfilment logistics, customer service and last mile delivery. Every Australian Westfield Living Centre is a Westfield Direct distribution hub, facilitating all inter-centre and interstate product transfers. And for Westfield Plus members, other incentives abound.
The Westfield Plus membership program offers benefits to customers when they shop on Westfield Direct and when they visit any Westfield centre. The program now boasts 2.2 million members, an increase of 1.6 million in 2021. Membership benefits include free deliveries for Westfield Direct purchases, reward credits on Click & Collect buys, plus free and easy returns by mail. The Westfield Plus App unlocks a range of additional benefits at participating Westfield centres. Different centres offer different benefits – extended free parking for example. The bottom line is that Westfield Plus is another 'membership' vehicle deepening the relationship with the customer, strengthening connection with the 'place' and brand, and reinforcing 'ownership'.
True customer-centricity
Of course, this customer focus goes far beyond that of a few membership incentives. At Scentre Group, at all levels, it's an integral component of the corporate culture. Westfield iQ is the company's bespoke research platform measuring customer sentiment towards Westfield centres. It already has about 12,600 customers who participate, communicating their interests, what they'd like to experience in Westfield centres, how marketing campaigns have influenced them, changes they'd like to see, as well as suggested improvements. Customers participate in research questionnaires and complete surveys, providing constant feedback to management, acting as it were, as an external advisory group that, in turn, tweaks the product (the centre) so it continually evolves to reflect customer preferences.
Of course, all of this data collected from Westfield Direct, Westfield Plus and Westfield iQ doesn't just influence the management of existing centres – it goes far beyond, providing fundamental components of the Design Briefs for the development of new centres and redevelopment of existing ones. The 'approach' is totally different; today's teams have a different mindset. This 'customer focus' has engendered a whole new attitude towards development.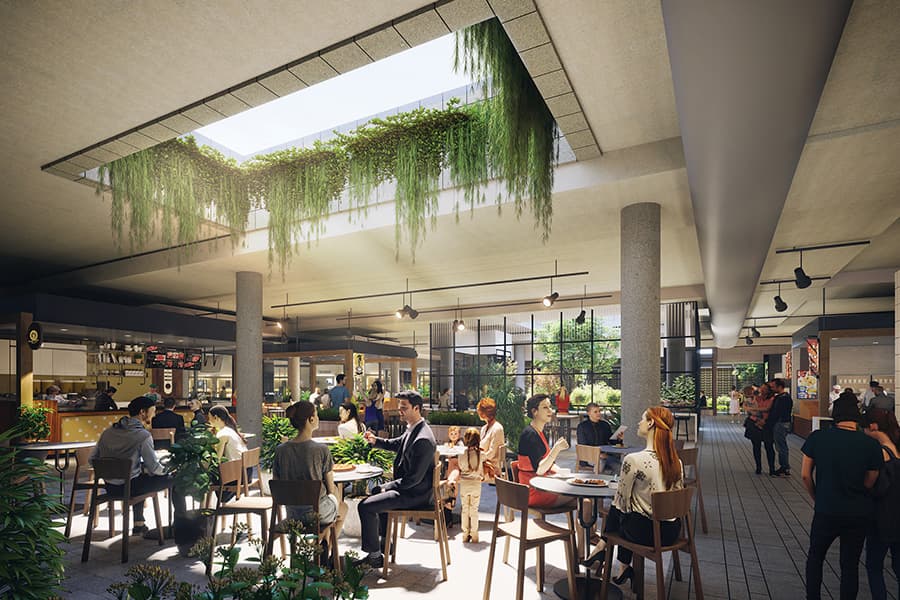 Reimagining Westfield Knox
Take, for example, the current redevelopment of Westfield Knox; even its media releases have a totally different tone to that of yesterday, announcing: "The reimagining of Westfield Knox is underway with transformation to occur in stages between 2022 and 2023." 'Reimagining' and 'transformation'. This is creative stuff, somewhat eclectic, bordering on art form!
Stewart White told SCN that the redevelopment of Westfield Knox is reflective of the new approach.
"It's a two-level centre with a GLA of 141,158m2 sitting on a massive site close to 80 acres or 32 hectares, some 26km east of the Melbourne CBD. The redevelopment will optimise this space and increase GLA by about 3,000m2 yet the outcome for customers and the community will be significant." he said. "It's a region undergoing dramatic change and expansion; Development Victoria has produced a masterplan for the immediate surrounds of Westfield Knox, proposing a large residential development of more than 450 dwellings. Subdivision plans have already been lodged for approval. Knox City Council is creating a mixed-use precinct on the centre's eastern and north-eastern boundary to improve the area's natural and public amenity. This will be followed by the construction of a performing arts centre and a re-housing of the Civic Centre."
The redevelopment of Westfield Knox will re-position the centre, re-establishing its role and relevance within the community as the place more people choose to come, more often and for longer.
More than two million people live within a 30-minute drive time of Westfield Knox; the Trade Area covers a population of 478,000 with a retail expenditure of $7.2 billion – 1% higher than the Melbourne average.
Scentre Group has undertaken a massive research program to understand the customer and community needs with a 2030 horizon, to gain insights and find out how they spend their time and money, and how they see the centre as part of their daily lives. The development team has utilised its own data through focus groups as well as CX Loop information, their own research and analytics team's data, the Westfield iQ survey information as well as surveys conducted by local councils and feedback from community stakeholder groups via the company's community grants program, 'Westfield Heroes'.
The new Westfield Knox sees the redevelopment of the old four-level Myer store and surrounds. Level 1 incorporates a brand new, state-of-the-art, 4,000m2 Woolworths supermarket. A new mall is created perpendicular to the existing one, housing a major ALDI, a Fresh Food Market anchored by a fruit and vegetable mini-major, along with a large Asian grocer.
The old Myer Level 2 will be replaced by a new concept Rebel store and another lifestyle operator such as outdoor clothing and equipment shop, Macpac. Adjacent to Rebel will be an expanded JB Hi-Fi store with the remainder of the reconfigured mall featuring other athleisure and contemporary fashion retailers.
The former third-level Myer space, now serviced by a new escalator and lift, will comprise a 2,000m2 community library and a new 1,700m2 multi-purpose community space reflective of the old 'Town Hall' spaces that were used for a variety of events, hired out by community organisations or even individuals for special occasions such as weddings or major anniversaries.
The relocation and repositioning of the Fresh Food Market provides the opportunity to create a brand new, state-of-the-art Food Court located in the middle of the centre; the existing Food Court will be replaced with key mini-majors and large format specialty tenants.
Customers are expecting a 'totally revitalised shopping experience', so the ambience and presentation of Westfield Knox will be completely upgraded, including new floor finishes, column treatments, upgraded amenities, new balustrades, new ceilings and changes to skylights. Ticketless parking and a guidance system will be introduced, allowing additional Westfield Plus benefits when using the fully upgraded parking. Community consultation highlighted a strong focus on sustainability; as a result, on-site solar will be implemented along with other energy efficiency initiatives.
On completion, Westfield Knox will comprise a GLA of about 145,000m2, reinforcing its position in the Top 10 (by GLA) of Australia's major centres. In terms of MAT, Westfield Knox is already in the Top 20 of Australian centres; the $355 million redevelopment could well see it move into the Top 10 within a few years. Westfield Knox is jointly owned by Scentre Group and State Super.
Innovations galore
Scentre Group's Director, Leasing and Retail Solutions, John Papagiannis, told SCN this hyper focus on the customer produces leading edge initiatives that can lead to rewarding partnerships with innovative retailers.
"For example," he said, "we noticed that pets – especially dogs – appeared in their various collections of customer data. It was difficult to take a dog shopping; there were no real facilities for dog care at shopping centres."
A dedicated team within Leasing and Retail Solutions identified a growth partner in Hanrob, which has led to the first 'doggie day-care' outlet located in a shopping centre at Westfield Warringah Mall, where Hanrob now operates a canine care centre and premium pet retailer. Drop your dog off at the store, go shopping and enjoy lunch, knowing your pooch will be well cared for. Your furry friend can play with Hanrob's equipment, perhaps have a walk, or even receive a shampoo and make-over. Visitors can of course browse and purchase in-store prior to collecting their pet.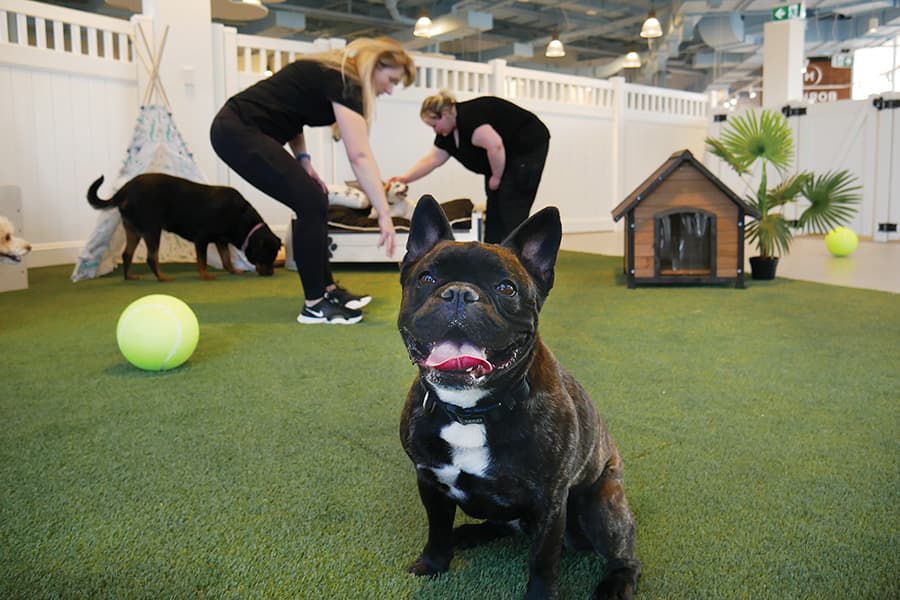 Indications are that the novel operation is a great success; plans are already afoot to replicate it in other centres.
Scentre Group has engineered several other 'first-time' operations in shopping centres; think Freak at Bondi, Pretzel Australia and CarExpert… the list goes on.
A leader in luxury
Another of Scentre Group's current developments is occurring at 101 Castlereagh Street, Sydney, the former David Jones department store building. Acquired by Scentre Group and CBUS Property about five years ago, the development presents the opportunity to expand Westfield Sydney's luxury precinct to create an iconic, globally recognised, luxury mixed-use project that will provide the highest standards in all its components.
As we all know, Westfield Sydney is one of the best 'city' retail developments with an MAT in excess of $1.2 billion and a Specialty MAT/m2 in excess of $22,000 – the highest in the country and one of the best in the world. That's common knowledge – but what's not widely known is the power and almost unrivalled performance of its luxury component – the growth of this sector is truly staggering.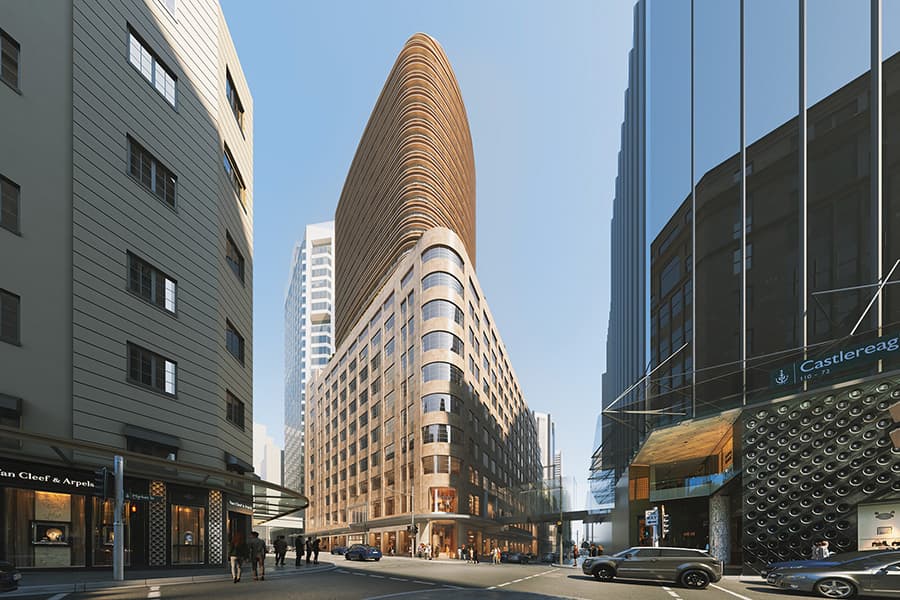 In 2010, Westfield Sydney's luxury component consisted of 21 stores with a total MAT of $81 million. By 2019, the number of stores had increased to 33 with an MAT of more than $400 million, representing an MAT/m2 in excess of $40,000! Such performance has created a demand for luxury retail that Westfield Sydney has been unable to satisfy; the development will enable the company to offer more luxury space and to reinforce Westfield Sydney as the heart of luxury brands in the Sydney CBD.
The development will see five levels of retail within the existing heritage structure owned and managed by Scentre Group, and a new tower consisting of six levels of commercial – owned and managed by CBUS – along with 101 luxury apartments to be developed and sold by CBUS. Physical connection via a mall under Market Street, as well as a bridge to the new level 4, will link directly into Westfield Sydney.
On completion in 2023, the 'whole' will present itself as one luxury precinct of retail, commercial and residential, reinforcing the traditional Castlereagh Street luxury status in addition to redefining Market Street as a luxury watch destination through the leasing of both sides of the street to luxury watch brands.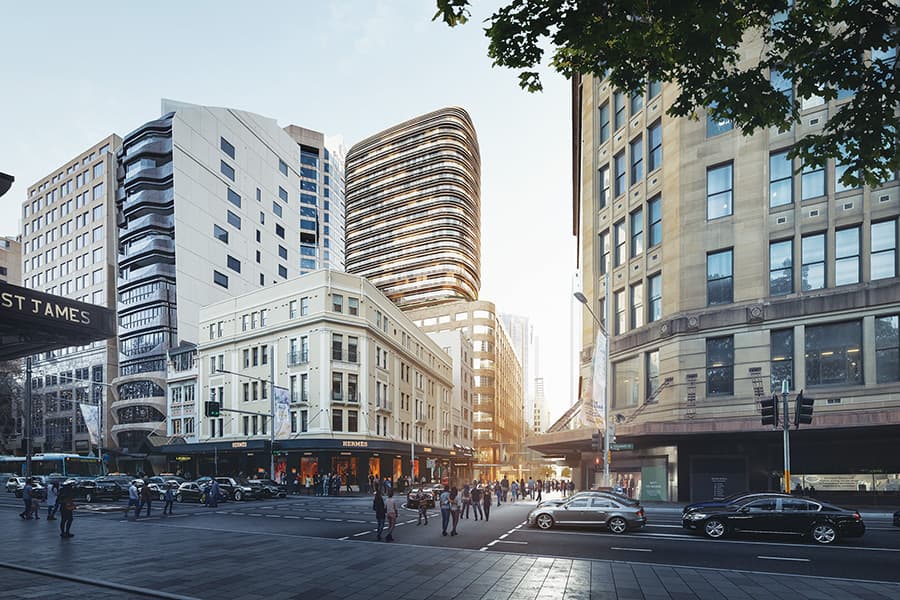 Dawn of Living Destinations
Talking to senior people at Scentre Group, one can't fail to be impressed by the enthusiasm and the creative spirit that pervades. It's not just 'another' hype, but a realisation within the organisation that the Westfield 'brand' means something, and there is a responsibility to the broader community to keep lifting the bar. Throughout the half century or so since Westfield was born, it has achieved a market positioning that is truly unique. People say, "I'm going to a Westfield" when where they're going is to a shopping centre, irrespective of who owns it. That's power, derived from customer familiarity, from loyalty, from comfort. Few brands anywhere in the world have ever reached that pinnacle.
Harnessing that familiarity, that brand loyalty, translates at Scentre Group into making its 'living destinations' even more intimate for the customer, developing the closeness and informality, thereby making the spaces part of the everyday culture of society.
For Papagiannis, it all comes down to a simple feature: "We've got some 20 million people within a 30-minute drive of our centres," he says. "What 'living destinations' will achieve is an increase in visitation and, more importantly, they'll stay longer."
In a world in which technology and social media increasingly tend to isolate people, the need for social interaction becomes more crucial. For thousands of years, 'retail', whether in the form of primitive markets or modern, sophisticated shopping centres, has always been the predominant form of social interaction. Today, we live in a time in which the very nature of retail is changing, so a new form of social interaction is demanded.
Scentre Group has recognised this and, in transforming its assets from shopping centres to Living Centres, and now to Living Destinations, is seeking to satisfy that demand. In so doing, it's focusing on the customer; that translates into reimagining 'spaces'. Today, changes in the way we live are rapid; 'retail' will continue to evolve; its fundamental or traditional form may well become anachronistic. What is constant, and what will never change, is the human need for social interaction… And Scentre Group is betting this will happen in 'Living Destinations'!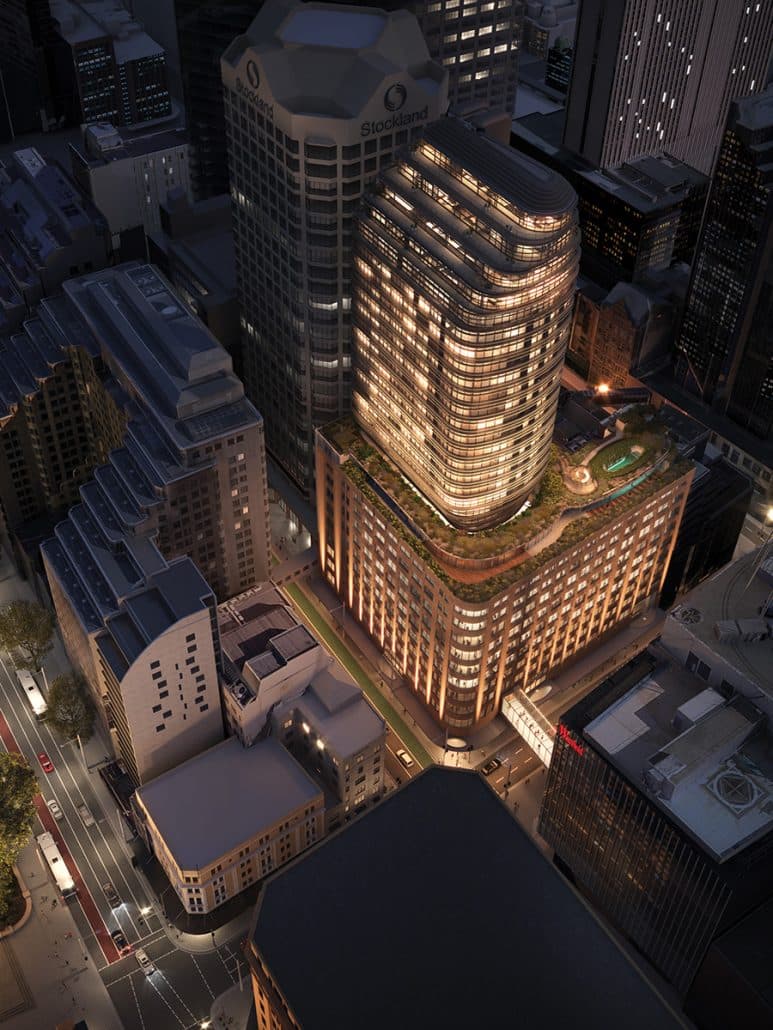 This cover story is published in SCN's Big Guns 2022 edition: