A new precinct has been created in the heart of Sydney's CBD. It will bring people back to a previously neglected part of the city, where they will enjoy a restored architectural wonder.
Nowadays, the word 'iconic' is an overused superlative. We tend to do that, to exaggerate; it's become part of the norm. In a world of mass communication, the internet, social media and the like, to stand out from the ordinary requires superlatives. It's a pity because overuse diminishes effect. Yet some things are undisputedly 'iconic'. In Sydney, The Rocks precinct, the birthplace of modern Australia, is iconic, as are the Opera House and the Sydney Harbour Bridge.
An unusual feature of these three iconic entities is their proximity to each other. Sydney's Circular Quay is shaped like the letter 'U'; stand at the ferry terminals on the curve of the letter U and The Rocks forms the left parallel while the Opera House and surrounds, form the right; the central view across the water is dominated by the Sydney Harbour Bridge.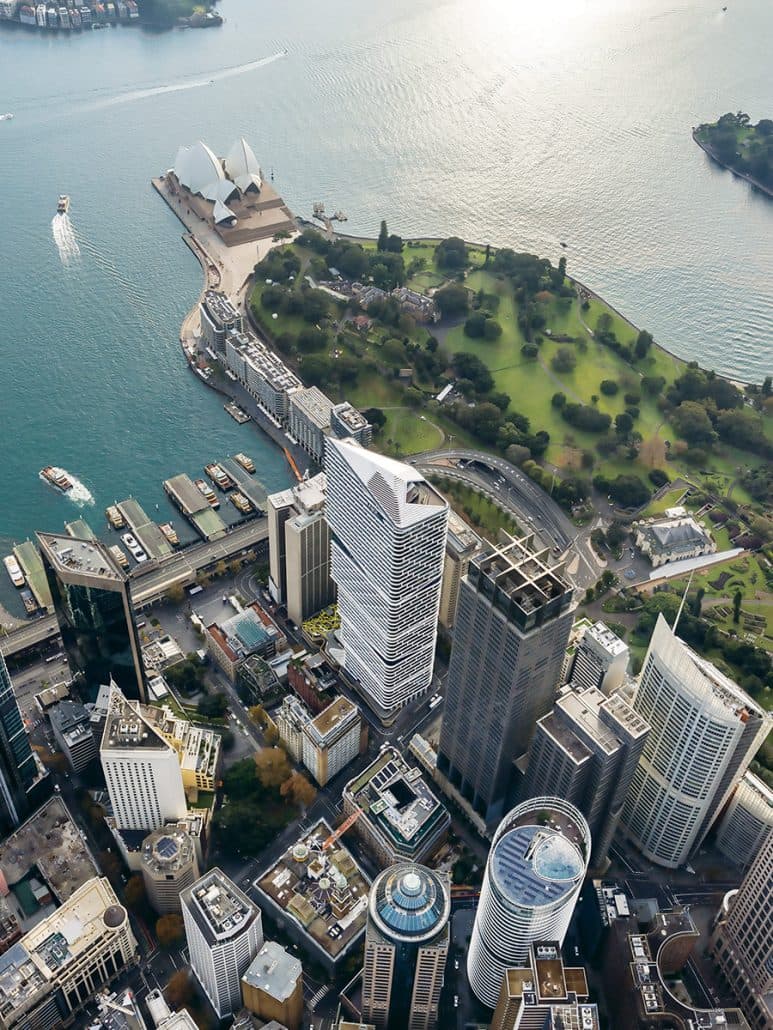 Perhaps because of the iconic nature of this part of Sydney, the precinct leading away from it – towards the city – has been somewhat overlooked in the past in terms of its geographical and historical significance. Phillip, Young and Loftus streets were perceived merely as routes to and from Circular Quay to the city, or walkways to the office towers in the vicinity. The buildings lining the internal laneways were neglected. Previously known as the AMP Building, 50 Bridge Street dominated the landscape and little else was considered important.
The redevelopment of 50 Bridge Street has since changed all that; a new neighbourhood has been created. Today, Quay Quarter Sydney comprises Quay Quarter Tower (owned by Dexus, Mirvac and REST), and Quay Quarter Lanes, (which is owned by Dexus and Mirvac). However, our story begins with the tower.
In 2013, Australian architectural practice BVN designed a new masterplan for the Quay Quarter Sydney precinct and a 'design envelope' for a new tower. Together with AMP Capital and City of Sydney, the BVN architects ran a design competition for Quay Quarter Tower.
The winning design from the Danish architects 3XN was revealed and BVN was appointed as the Executive Architect firm to collaborate with 3XN and develop its design concept for construction. Instead of a typical knock-down and construction of a new modern tower, the design involved the rebuild and recladding of the building's entire exterior; the internal core along with 66% of its existing columns, beams and slabs and 95% of its internal walls, were retained as part of the redevelopment. Quay Quarter Tower was completed in 2022, winning the International High-Rise Award and in the same year, at the World Architecture Festival, it won the World Building of the Year!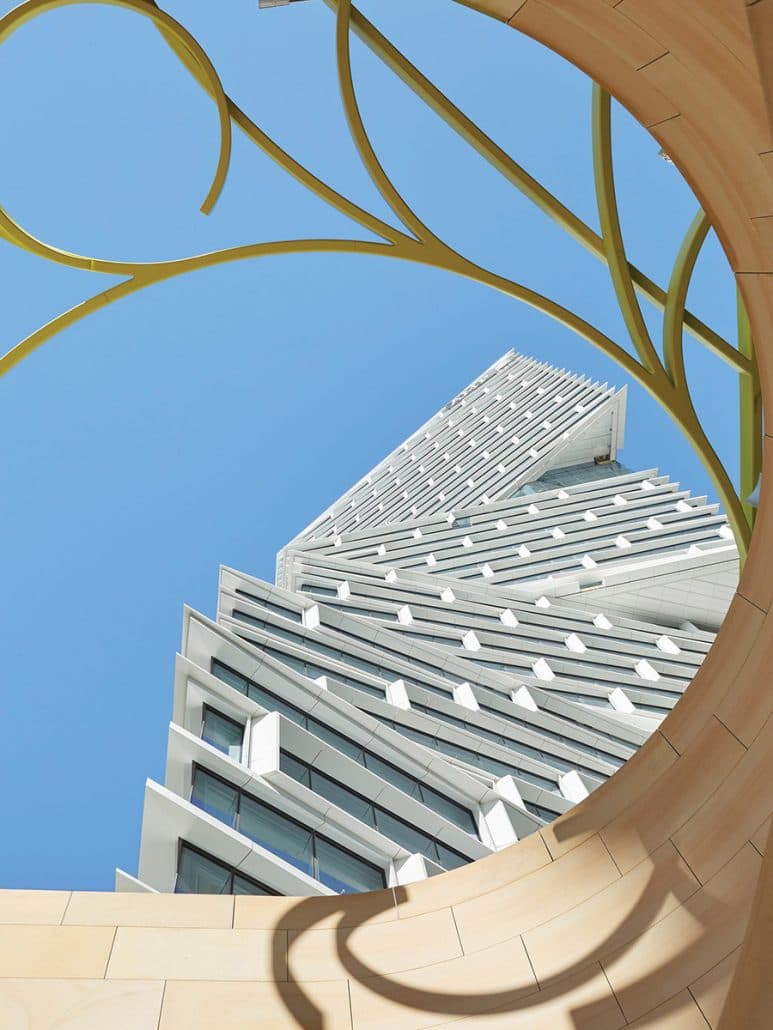 The transformation of the tower is nothing less than extraordinary but, more importantly, in terms of retail, Food & Beverage, lifestyle and community engagement, the establishment of a seamless link to the surrounding buildings has created a stunning precinct in the heart of Sydney's CBD.
Spanning two city blocks, Quay Quarter Sydney comprises the stunning Quay Quarter Tower at 50 Bridge Street and the boutique Quay Quarter Lanes, which form a rejuvenated Sydney precinct comprising Phillip, Young and Loftus streets. Quay Quarter Lanes is a vibrant cultural hub of high-end retail, set amid world-class restaurants, cafes and pocket bars, alongside a prestigious commercial and residential offering.
What's truly remarkable about the creation of this precinct is that its 'theme' was determined at the very beginning, meaning every element, from the design and tenant mix of the three-level retail space at the base of the office tower, through to its seamless link to the lanes, the historic buildings' restoration and even the artworks, all conformed to the 'theme'.
On completion, it was a perfect example of the whole becoming so much more than the sum of its individual parts. For example, the restoration of Hinchcliff House located at the southern end of Young Street, led by Carter Williamson Architects, is testimony to the success of the adopted strategy.
A collective of hospitality professionals was sourced, who believed that food, drink and the environment that accompanies them, are essential to human connection. 'House Made Hospitality' was led by Creative Director, Scott Brown who'd built a career leading premium hotels across Asia before becoming one of New Zealand's most prolific restaurateurs. Culinary Director, Stephen Seckold's career spanned some 20 years with Michelin Star restaurants both here and abroad; he was Executive Chef of Flying Fish for seven years. Beverage Director, Jason Williams, who, after an unprecedented five wins as Australian Bar Manager of the Year, had based himself in Singapore and opened numerous bar concepts including four listed in the 'World's best 50 Bars' also joined the team. Others in the collective had similarly impressive international reputations, namely Commercial Director, Roger Greg and Operations Director, Justin Newton.
The restoration of Hinchcliff House was meticulous. It was to become a four-level celebration of the best of Italian dining and drinking set within a glorious 1880s sandstone wool store. Hinchcliff House is now home to Grana, described as 'Tuscany on a plate' – big bowls of pasta and big joints of meat accompanied by vegetables and cheeses. Likewise, its counterpart, Lana, is 'a trip to the Amalfi Coast', offering fresh seafood, citrus and oils. Apollonia, inspired by the movie The Godfather, is a sexy subterranean bar that captures the dark and moody vibe of 1970s Sicily.
Further down sits 'Side Room', a spin-off from the popular Fishbowl group of cafes that began in Bondi Beach in 2016. Side Room specialises in customisable lunches and dinners of healthy salads with a Japanese twist. The space also features Bubble Nini Tea, Marrickville Pork Rolls, Humble Bakery, Adora Handmade Chocolates and a plethora of restaurants offering a range of cuisines including Mexican, French, Japanese and Korean. Services in the mix include Elite Spinal, About Smiles for dental care, and salons with a difference, Tribe Lifestyle and The Men's Grooming.
A traditional 'Omakase' restaurant (which roughly translates to 'I'll leave it to you'), Besuto offers a world of innovative Japanese culture and food that connects with the art world. It's an experiential restaurant displaying works of several of the most talented Australian artists. There's no menu as food is purchased daily and what's freshest and best is taken back to the premises to feed those lucky diners occupying the 12 available seats. Besuto caters to a maximum of 48 people a day!
If you think 12 seats is tiny, then you'll be taken aback by Kobo, a Korean Omakase-style restaurant in Quay Quarter Lanes, that seats eight patrons at a time! It's distinctive, meticulously prepared food is lovingly created by Jacob Lee in his motherland's 'bapsang' style, Korean for 'a table setting for meals to be enjoyed'. Again, there's no menu; diners watch Jason prepare their food in the warm and moody atmosphere where the marble eating bench is offset by the American Oak bulkhead and exposed concrete floors and walls.
Quay Quarter Lanes is simply a celebration of the finest in food and beverage. For those lucky enough to live and/or work in the precinct, it provides an atmosphere of heritage and tradition in its architecture, yet the character and ambience of an experiential outing featuring the distinctive qualities of the best of modern cuisine. And it's the full range of that cuisine on offer that's impressive.
Here in the Lanes are not just restaurants featuring formal dining options but also casual F&B offers stretching from the early hours around 6am, to late night dining, after dinner cognacs and everything in-between.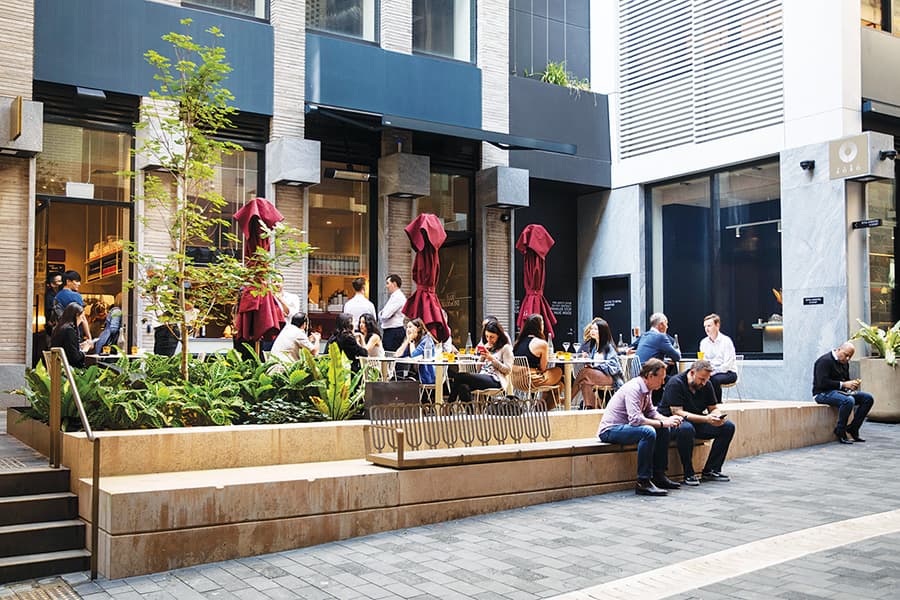 House Made Hospitality Group's Scott Brown has opened Bar Mammoni which he describes as "a place where you can always get something, no matter what time of day, no matter what you're feeling like or what your budget is. We'll always have something for you." At 6am, you can get a stand-up espresso with a fresh brioche. Lunch is a short order menu, based around grazing plates and platters, with pizza served by the slice. As the sun drops, out come the dips, platters, arancini and a couple of pasta options. "It's ideal," he says, "for folks heading out to the opera or theatre – a glass of wine and a nibble."
The detailed strategic approach to the mix, its market and potential, all adopted as critical to the design and leasing for the Lanes, is a direct follow on from that invested in the three-level retail component of the tower. Quay Quarter Tower was unarguably a world first; its redevelopment, the almost doubling of its size in terms of leasable space, its new façade, the innovations – both structural and technological – in its construction, are all acknowledged by its aforementioned 'World Building of the Year Award' at the 2022 World Architecture Festival.
In terms of the entire precinct, although 'part of the whole', of course, Food & Beverage takes the lion's share of space, but services such as a pharmacy, health club, supermarket and the like are all well-catered for. This spectacular three-level space is as distinctive as the neighbouring Quay Quarter Lanes!
The Food & Beverage offer celebrates the diversity of Australia. The theme is undoubtedly 'modern Australia,' but, here, they've gone further than usual in defining that term. They've got Vietnamese food for example; but it's Vietnamese with an Australian twist. Called Penelope's, owner Cuong Nguyen says he specialises in large proteins – dry-aged beef, pork as well as fish and shellfish. "We showcase the incredible produce that we have here in this incredible country, and this area is lacking when it comes to modern Australian cuisine," he says. "If you're a tourist visiting this stunning location, you're going to want to eat Aussie food." Also on offer is Nam Nam, a Vietnamese takeaway and Quay Quarter Lanes' legendary Marrickville Pork Rolls.
The Sushi Hon restaurant is owned by Hyung Nam, the man who opened Sydney's first sushi outlet some 30 years ago in the Hunter Arcade off Pitt Street in the CBD. Back then, says Hyung, the idea of eating raw fish was very foreign so that was just a small portion of sales; instead, they focused on cooked tuna, chicken and beef. Today, it's a totally different story, as Australians have adopted sushi as their own! Hyung told SCN that the biggest seller these days is salmon. The Sushi Hon will be the eighth of Hyung's outlets.
Moving through, there's more Asian fusion food on offer with chicken, dumplings, seafood and health food ready to hit the tables; it's a cacophony of the finest in casual, as well as formal dining, along with a significant component of take-away offerings enhancing the mix.
In addition, House Made Hospitality has another venture here, Martinez, which is set to transport patrons to the south of France. This fine dining restaurant and roof top bar overlooks Quay Quarter Lanes and is back-dropped by one of the city's closest views of the Sydney Harbour Bridge. It's a feature that just shows off the iconic nature of this location; another 'must-see' precinct within the heart of the original Sydney.
Also taking advantage of the harbour views is Belles Hot Chicken, which recently opened its 130-seat flagship restaurant on Quay Quarter Tower's verandah with its Nashville-meets-Americana style fried chicken menu that's sure to delight its growing cult following.
Quay Quarter Tower and the adjacent Quay Quarter Lanes' redevelopment team has undertaken a meticulous approach to a whole range of disciplines to deliver an exceptional and innovative retail and services precinct. It's brought together leading international architects, heritage experts, world-renowned artists and the best in advanced construction technologies. It's combined them with expert Food & Beverage operators, leasing teams, along with interior /exterior designers, artisans and even public art creators.
Quay Quarter Sydney has brought all of these experts together and succeeded in inspiring them to adopt a shared vision. A vision of creating a new precinct and a reinvigorated neighbourhood in the heart of Sydney that incorporates a significant historical and heritage legacy, plus the showcasing of a world-class building and the provision of Food & Beverage, services, entertainment and leisure.
People will walk this 'new' precinct. City workers will enjoy it during the day and after work; as will those who visit the city for special occasions or simply to wine and dine. People walking this precinct will be tourists – both local and international – numbering in their tens of thousands. The precinct and surrounds boasts 61,000 workers, 1,500 residents and some 4,000 hotel rooms!
What these hordes will have in common is that they will all be catered for; whether they're after a quick sandwich during a lunch break or the finest of gourmet meals in the most exquisite surrounds available in formal dining today. Whether they've come for a nightcap after the opera or a quick drink before the theatre, they'll find what they seek with ease.
And while exploring this extraordinary part of Sydney, they will not only be immersed in some of the best that historical and modern Australia has to offer, they'll also be witnessing one of the most elite and awarded built environment achievements in the world.