Nicholas Street Precinct is the visionary new urban heart of a revitalised Ipswich, one of Australia's fastest-growing regional cities. It's a place of community, connection, creativity and commerce. The $250m project is the largest transformation to be undertaken in the Ipswich CBD in more than three decades. 
Stages One and Two featured the reopening of Nicholas Street (which was once a mall), the delivery of a new Ipswich Central Library, and the launch of Tulmur Place, the city's stunning new entertainment precinct and civic plaza.
Tulmur Place is already becoming a thriving community hub, with locals flocking to their new city heart to explore the space and enjoy the plethora of free community events on offer. More than 13,000 visitors attended the opening of Stage Two, and this overwhelming support has continued.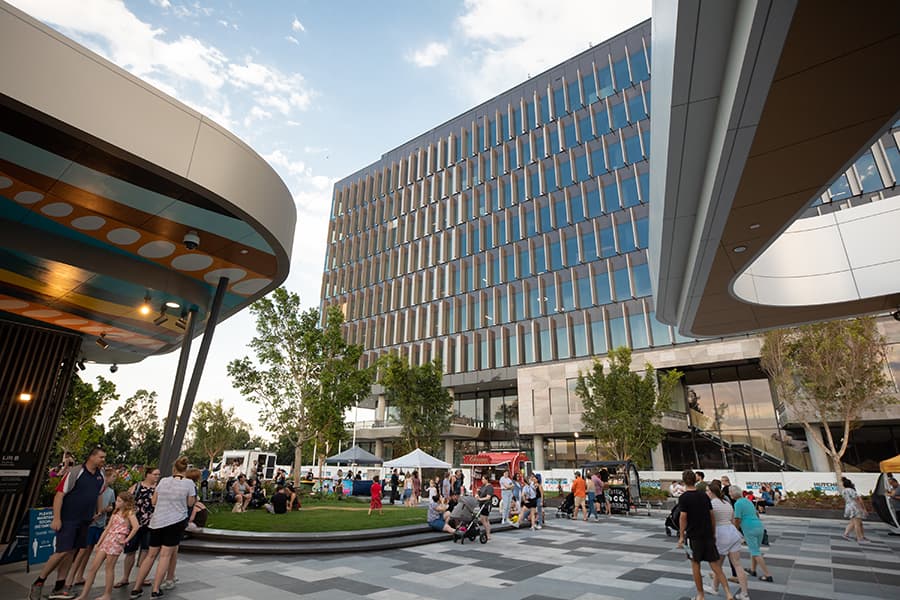 At the project's completion, the Precinct will also be home to a new Ipswich City Council (council) Administration Building (with more than 800 council officers, to be opened by mid-2021), the first dedicated children's library in the country (to open in conjunction with the Administration Building), entertainment, retail, and food and beverage offerings, a restored Commonwealth Hotel, and more than 14,500m2 of landscaped public space for the community to enjoy.
At the core of the finished Precinct will be the all-important anchor tenant; a cinema complex with innovation and community at its core that will be supported by a bustling Precinct. Ipswich City Council is seeking expressions of interest from suitably qualified and experienced operators to operate a Cinema Complex in the Nicholas Street Precinct, Ipswich.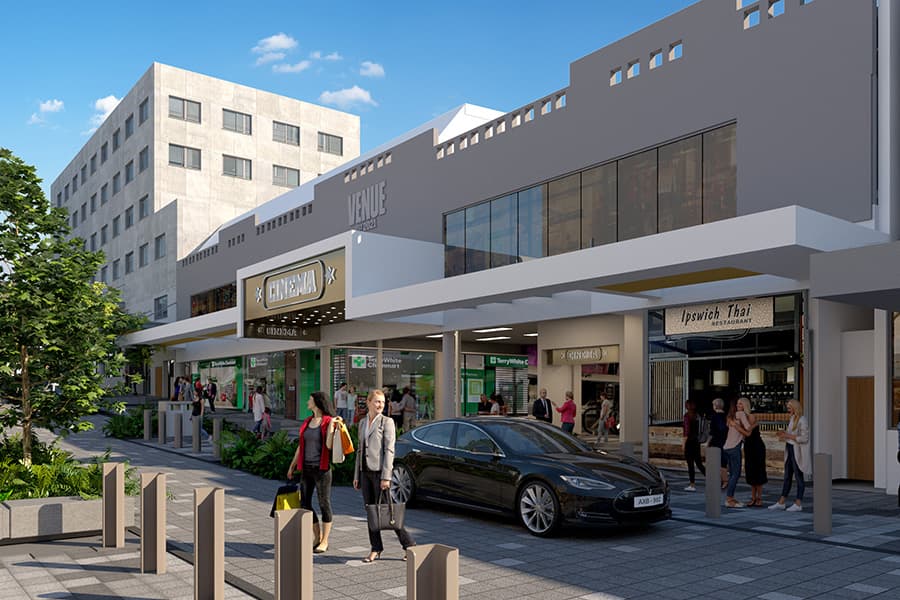 This engaging and impactful community space will be supported by a thoughtfully curated events calendar featuring handmade markets, farmers' markets, food trucks, food and wine festivals, concerts, entertainment and school holiday activities.
From major cultural and music events through to grassroots community activities, the Nicholas Street Precinct is fast becoming the go-to place for recreation and entertainment for Ipswich residents, who have shown their support of the new city heart by attending the Precinct's special events in droves.
Renowned Australian architect, Buchan, has designed an engaging masterplan that will support high rates of foot traffic critical to successful retail trade. Tourists, shoppers, residents, and diners alike will enjoy a tree-lined, pedestrian-orientated, mixed-use high street, featuring unique retailers, restaurants, cafés and entertainment venues.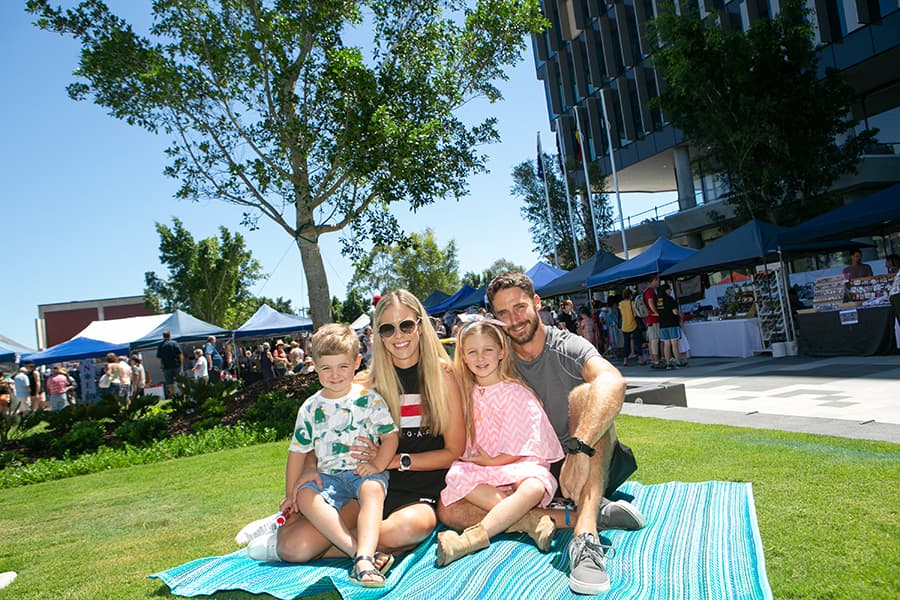 The uniqueness of the area will be exemplified in the new life to be given to numerous heritage buildings in the Precinct, and the ability of the modern architecture to lift their presence and seamlessly blend the old with the new. This can be seen most spectacularly in the restoration of the Commonwealth Hotel, also known as Murphy's Hotel, in Union Place.
Thoughtful place-making initiatives such as iconic public art and an extensive façade illumination, coupled with simple public amenity such as pavilion shading, ample seating, a water play zone and free public Wi-Fi, will create an enduring 'sense of place' for all visitors, ensuring their regular return to the Nicholas Street Precinct.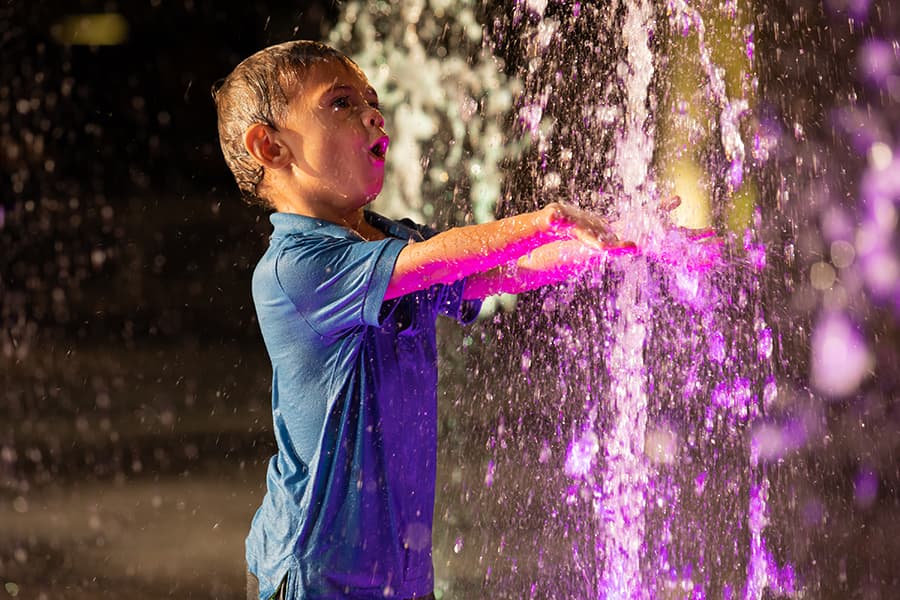 Just the beginning
And this is only the beginning for the heart of the city, with a revitalisation plan underway for the broader Ipswich Central area, which has been identified by the council as a major opportunity to increase economic activity in the region, to be realised over the coming years.
Approximately 20,000m2 of new or refurbished food, leisure and retail space has been released to the market. Offerings include traditional inline restaurant units through to a refurbished, historic hotel and a multilevel pavilion in Tulmur Place. The mix is diverse and will cater to the wider demographic while delivering a point of difference for Ipswich and the region.
These food and beverage tenancies will support the many cultural, business and leisure offerings available in the Precinct, with increased trading hours in the city centre from early morning well into the evening.
A city of growth and opportunity
Located just 40 minutes from Brisbane, the Nicholas Street Precinct enjoys access to an immediate trade area of more than 222,000 residents (estimated to increase to 520,000 by the year 2041), ample transport connections and a booming $9.77 billion local economy. This represents a 93% growth in production since 2001, with millions of dollars in projects underway or pending.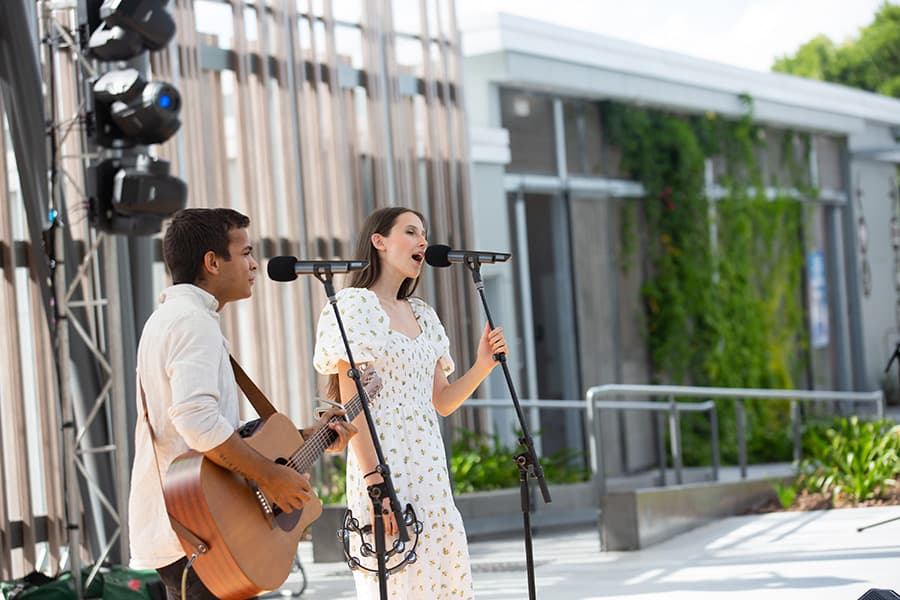 Ipswich is home to Australia's largest military base, RAAF Amberley, providing contract opportunities for local business and aerospace specialists. The RAAF base employs more than 6,000 people and contributes over $300m annually to the Ipswich economy.
Today, Ipswich comprises a diverse economy led by aerospace, manufacturing, education, health, transport and construction. Established major business includes building, metal product manufacturing, food product manufacturing, logistics and warehouse distribution.
Over the next two decades, Ipswich is set to cement itself as one of the most exciting economic growth zones in Australia.
Some interesting facts about the City of Ipswich:
Ipswich is directly connected to six major highways, rail, an intermodal transport hub, three airports and the Port of Brisbane.
A young, vibrant, family-orientated city, the average age is 32.3 years (as at 2016, QGSO).
More than two million people visit the City of Ipswich every year. The city is alive with nature-based recreation and adventure opportunities, and together with participation events, is building its popularity and reputation as a tourist destination.
Gross regional product (GRP) is $9.7 billion.
Manufacturing delivers more than $3.6bn per annum to the local economy.
The economy benefits from more than $1.1bn in international exports.
Ipswich City Council is seeking expressions of interest from suitably qualified and experienced operators to operate a Cinema Complex in the Nicholas Street Precinct, Ipswich.
Documents are available for download from Vendorpanel.com.au/Publictenders.aspx at no cost. All requests for clarification should be conducted through the forum.