AMP Capital has revealed some of the new retailers set to showcase their wares in what is slated to be the Inner West's newest hub blending retail, food and drinks, plus art and culture.
The Inner West's much-loved Marrickville Metro will welcome an array of new offerings as part of the highly anticipated development, which runs parallel to the existing centre and is on track to open in June 2021.
As the population of Marrickville continues to grow and is predicted to reach about 437,000 by the end of 2021, Marrickville Metro has designed the new space to help meet the growing demands of the local community. This latest development has been carefully designed to celebrate all things Inner West – building a vibrant, diverse community hub that is unmistakable to the area.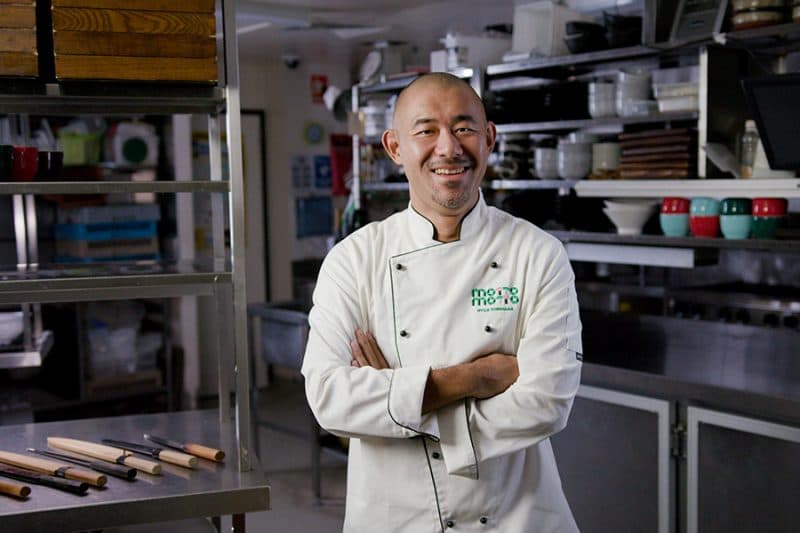 The new site has been designed to allow visitors to explore and discover a vibrant and eclectic offer filled with market-style fresh food, delicious ethnic cuisines and alfresco dining options delivered by a mix of incredible independent and locally owned restaurants, cafés and providores.
"Our vision for this development has been to create an inclusive space that adds convenience and lifestyle opportunities for those who live within our local community," said Dean Young, Centre Manager, Marrickville Metro. "We're not only upgrading the size of the centre to meet demand; we're also working to integrate features that really complement and enhance the unique Inner West culture and the Marrickville way of living.
"Our new retailers have completely embraced this culture and, as a result, we have some exciting new-to-market concepts delivered by some of Sydney's much-loved operators," he said.
Joining the dining mix at Marrickville Metro are Rice Pantry, The Grumpy Italian and Motto Motto Japanese Kitchen. Established in St Peters since 2017, Rice Pantry specialises in modern Asian cuisine and has chosen Smidmore St at Marrickville Metro to relocate and launch a new, larger concept store with an exciting and innovative menu. The Grumpy Italian is a familiar face in the Inner West with locations in Chiswick and Strathfield. The new location means Marrickville locals won't have to travel far to indulge in authentic Italian food with a side of attitude. From the team behind Australia's most awarded Japanese restaurant, Sono in Queensland, Motto Motto will join Marrickville Metro on Smidmore St, taking the best parts of traditional Japanese fine dining and reimagining them in a casual and contemporary eatery.
Among the other food and beverage retailers are a combination of offerings catering for breakfast through to late evening. Kűrtösh will make the perfect pit stop with its famous chimney shaped pastry and slab cakes sold by the weight, while Firestone, known for its premium wagyu steaks served on heated hot stone, will be expanding with its fourth venue offering all-day dining in a colourful and casual atmosphere. Lebanese restaurant, Raman, will keep visitors fed and entertained late into the evening. Signalling its third venue in the Inner West, Sushi Maru is excited to fully immerse itself in the local community and deliver quality sushi and sashimi to Marrickville locals.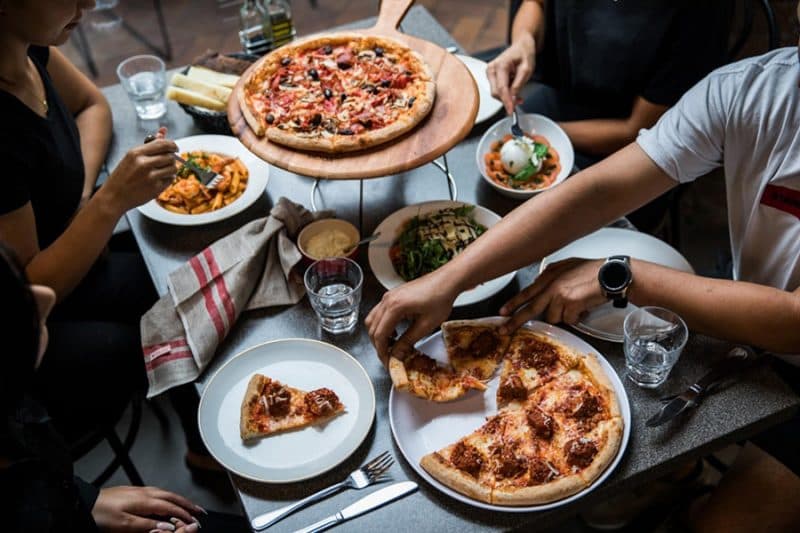 For everything in between, the go-tos will be house-made gelato from C9 Gelato with a generous selection of more than 35 flavours and desserts to choose from. Having plied its trade at various grower's markets for over 20 years, Shepherds Artisan Bakehouse has consistently worked with regional farmers to source the best quality local ingredients to produce wholesome, tasty baked products. Coco Fresh Tea & Juice is re-creating the tea drinking experience around the world and will bring a variety of bubble tea selections and healthy fruit tea options.
The fresh food precinct will be anchored by a new Coles supermarket, which brings another fresh choice to the current offer of Woolworths, ALDI and Panetta Mercato.
Coles will have a large range of plant-based food options and a focus on reducing waste, with close-to-expiry date foods being donated to Secondbite and a collection point for soft plastics that will be recycled by Replas. Specialist Asian supermarket, Miracle Supermarket will relocate to the new site, as well as Panetta Mercato, which will move to accommodate a refreshed concept including an on-site café. A variety of speciality stores will also be welcomed to Marrickville Metro, including a new seafood store, butcher and chicken shop.
Among the other 40 new retailers are a range of lifestyle, fitness, beauty and convenience offerings. Unique art and design store Hypmotive will set up its second creative store in Marrickville. Known to residents for its rare collections produced by skilled independent artists and makers across Australia, Hypmotive's new space is an opportunity for local residents to shop for unique items and attend a variety of workshops such as wheel thrown pottery.
Bodyfit Marrickville Platinum offers a premium member experience and the convenience of 24/7 hours. Its all-inclusive memberships provide access to all Bodyfit locations, unlimited group exercise classes, crèche, sauna, spa, state-of-the art equipment and parking. It also welcomes Fitness Passport members and prides itself on not only being a gym but a community for all members.
Additional retailers include pet care and grooming company, Palms & Paws, and Barber Industries, which blends the concept of a traditional barbershop with modern day techniques and craftsmanship. Independently owned Liquor Emporium will have more than 500 craft beers, organic and natural wines and non-alcoholic wines available in its new store at Marrickville Metro.
Pop-up spaces for casual leasing are also available to encourage greater diversity and opportunity for the local community to contribute to the development.
Marrickville Metro has previously worked with community groups such as local re-use centre, Reverse Garbage, Enmore TAFE NSW, Li'l Crafters and Newtown Neighbourhood Centre and will continue to support and encourage similar community initiatives in the new site.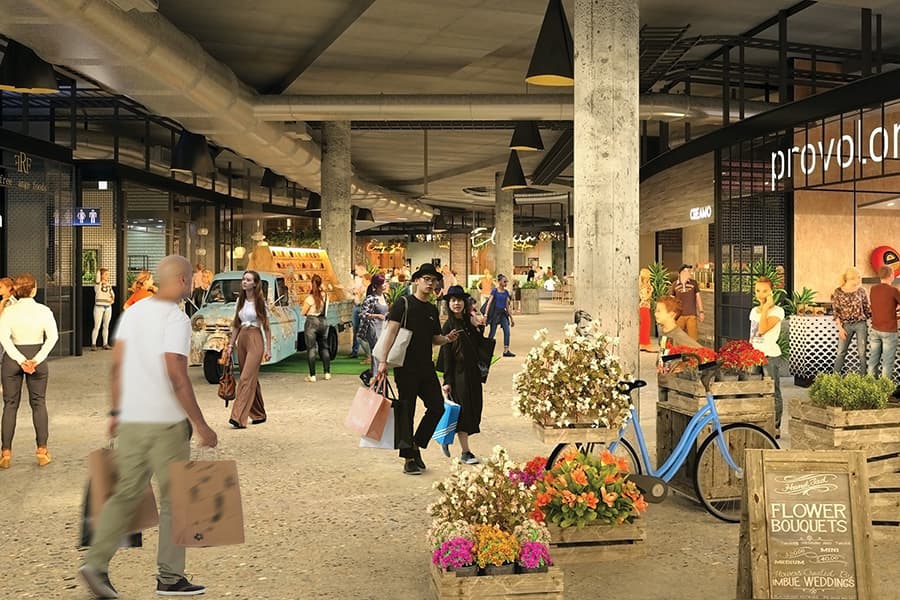 The development has been designed by leading architects across retail, town centre and urban development, Hames Sharley with ADCO Constructions engaged as the project builders. A former unutilised industrial warehouse, the expansion site has retained the existing external facia in order to maintain the integrity of the area's local heritage, drawing on the rich culture of the urban village community and providing an architectural vision for the future.
Integral to the design of the site are both large-scale and hidden pockets of art commissioned by local artists through Marrickville Metro's partnership with Inner West Council and the EDGE Inner West public arts program. The Marrickville Metro team has also worked with amazing local artists to ensure that the new space reflects the artistic, creative and diverse community that is its home.
Large-scale artworks by Georgia Hill and Liz Shreeve were installed earlier this year, with Fintan Magee and George Rose commencing their installations in April 2021. Bespoke artworks will bring new life to the amenities and features with travelator art, furniture art, parents' room art and quirky amenity signage. The local art program not only adds beauty and interest to the development but also provides support to the talented local creative industry in what has been a difficult year.
Marrickville Metro's development is opening in June 2021at 20 Smidmore Street, Marrickville. A full line-up of centre and retailer launch activity will be available in the weeks leading up to launch.
About the development
The new development will be located at 20 Smidmore Street, Marrickville.
The development is estimated to cost in excess of $142 million.
Currently the centre is 22,000m2. The development will add an additional 11,000m2, making the total finished project 33,000m2.
Coles makes up 3,942m2 of the additional 11,000m2.
The development will add an additional full-service Coles supermarket in addition to Woolworths and Aldi, a dedicated fresh food precinct, indoor and al fresco dining with cafés and restaurants, and up to 44 new retail stores
A pedestrian bridge and a street level 'pedestrian only' walkway connecting the new and existing development space as well as a 'pedestrian safe zone' with wheelchair access will be added.
The new development will create an additional 455 parking spaces, taking the total car spaces to 1,473 on completion.
Upon completion, the redevelopment is expected to bring at least 600 new jobs to the Inner West area.