Canberra Centre has officially opened the second and largest stage of the highly anticipated Tiger Lane precinct. Spanning 2,000m2, Tiger Lane is a never-before-seen concept for the Capital and is set to become Australia's best pan-Asian food experience.
Included in the precinct are five hawker-inspired eateries, a modern Chinese restaurant, and a central bar, each offering a unique and delicious culinary experience of signature pan-Asian flavours from Japan to South Korea, China and Southeast Asia. This is in addition to stage one of the precinct, which involved the opening of Taki and Inari restaurants in late 2022.
Leading the dining experience is celebrated Australian chef, Shaun Presland, who takes the role of Executive Chef of the precinct.
"We're so thrilled to finally open the doors to one of the most exciting food experiences in Australia. Tiger Lane will up the ante of the food scene in Canberra, with unique and notable venues at every corner, the diverse offering is sure to have something for everybody."
The newest restaurant, Mrs Wang, is the largest of the precinct and is an expression of the ever-evolving Chinese food culture created in Australia. Executive Chef of Mrs Wang is legendary Canberra chef Gerald Ong.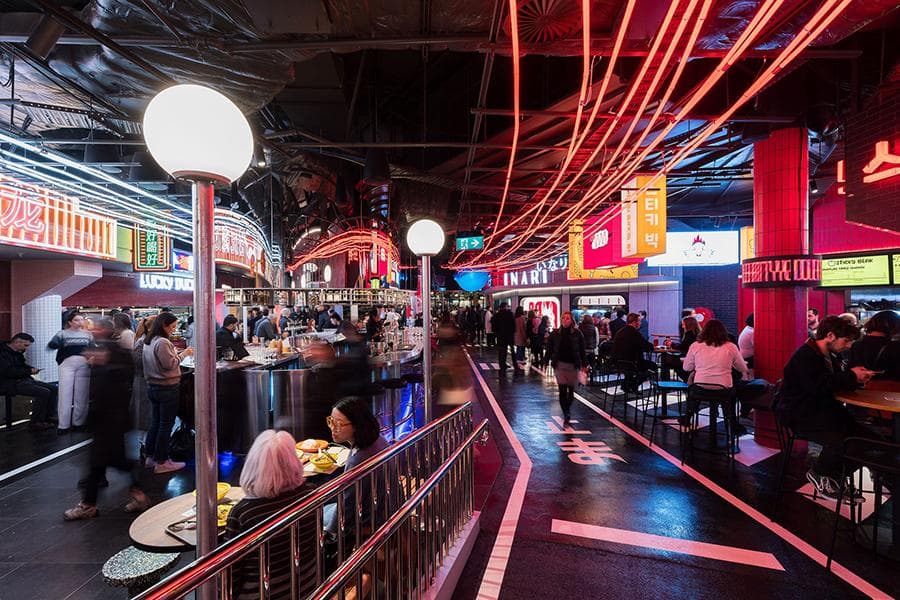 "Mrs Wang is modern Australian Chinese that's interesting enough for the well-travelled gastronaut, yet familiar enough to call it your new Chinese local," says Ong.
"Some of the menus will change daily, based on what we're getting from local farmers and what's in our fish tanks. There's also a lot of fun speckled throughout the menu with dishes like fried ice cream with char siew caramel."
Ong is also driving two of the hawker stalls, Lucky Duck and Golden Panda.
"Lucky Duck is inspired by traditional Cantonese barbeque culture, with a wood-fired duck oven at its heart, while Golden Panda honours the hawker, dai pai dong and Tze char shops of Asia," says Ong.
Presland leads the menus for the remaining three hawker offerings – Sticky Beak, Blowfish and Inari Express.
"Sticky Beak is where you'll find Asian Fried Chicken and Korea's version of the dagwood dog. Inari Express is the little sister of our signature restaurant Inari and serves up everyday Japanese street food favourites on the go," says Presland. "Blowfish offers next-level hand rolls and groovy poke bowls, putting a pop culture spin on your standard sushi roll using everyday sando concepts like a bacon and egg sushi roll, a Philly cheese roll and a fried chicken and curried egg roll."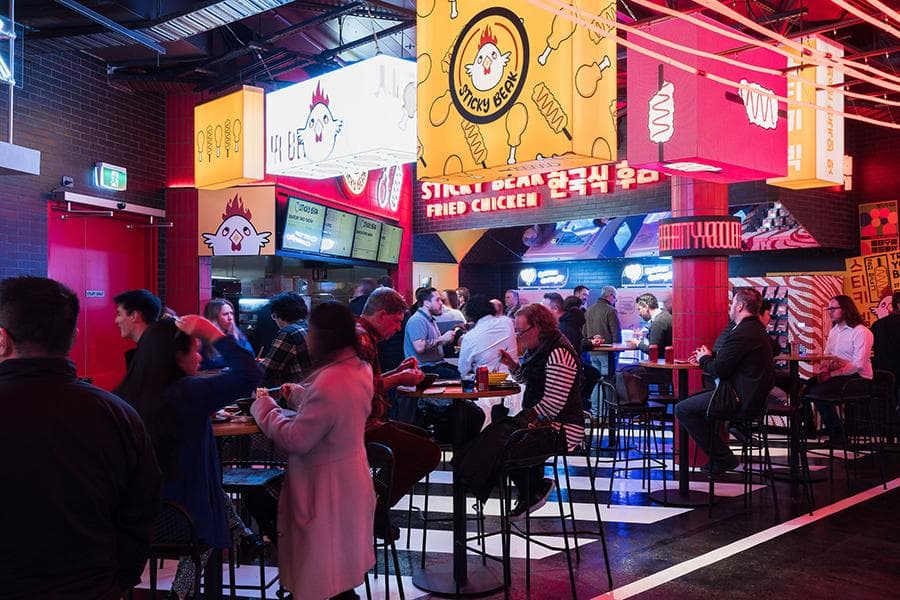 Tiger Lane was designed by specialist interior architecture firm, Interior Life, led by director, Tomas Scerbo. The urban thoroughfare, inspired by the hawker centres of Asia, is an action-packed sensory overload, lined with the hawker food stalls, and anchored by the three restaurants.
Lining the ceiling are endless rows of red and white neon strips, mimicking the passing traffic of busy streets. A stainless steel bar sits at Tiger Lane's heart, reflecting the chaotic surrounding visual stimuli in its mirrored surfaces.
Urban features include a life-sized bus stop and quirky Asian vending machines. Setting the tone at the precinct's entry is an Australian-first digital LED floor and responding soundscape to capture your attention and welcome you inside.
"We worked hard to evoke the feelings that you get in bustling Asian streets like Tokyo, and Hong Kong from which we drew inspiration. Places that are all joined by a common thread of vibrancy," says Scerbo.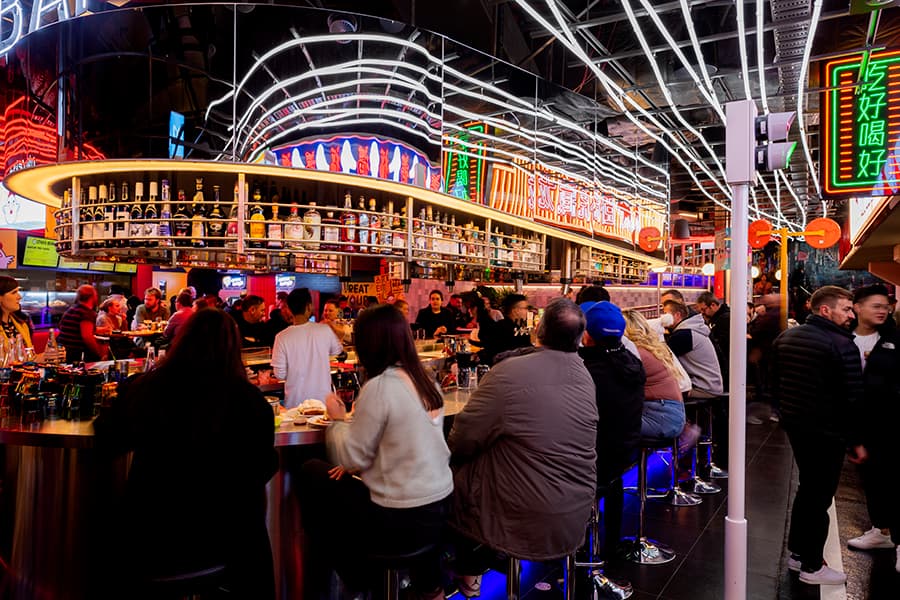 "When you walk inside Tiger Lane you will experience a huge sensory awakening because it'll feel as close as possible to the real thing – the vibrant, electric and intense energy and spice in the air and in the food of these places."
"They're loud and they overload the senses but that's how they're meant to be," he adds.
The restaurants offer refuge and a quiet place of escape from the vibrancy of the street.
"Mrs Wang in particular is a place of discovery – it's an anchor of the precinct and gives a sense of the unexpected, paying homage to yum cha culture, with a glorious 1930s art deco style," says Scerbo.