Adelaide's Rundle Mall is arguably the most iconic retail strip in Australia; it's certainly the oldest. It's a strip containing the best retailers in the country and the location of their flagship stores. At the very heart of Rundle Mall sits Rundle Place, a centre under massive transformation that will bring to the CBD a new dimension in retail, leisure and entertainment.
One reason why so many in our industry find excitement in retail property and shopping centre management is that it never sits still. A perfect case study in this regard is Rundle Place Shopping Centre, a premium centre owned by Fortius Funds Management (a part of Growthpoint Property Australia), in a joint venture with Irongate Group. The JV acquired Rundle Place in early 2021. The asset provided significant reposition opportunities notably due to the vacate (pre-acquisition) of the ex-major Harris Scarfe, 9,000m2 across two major upper level premises.
Change comes in all forms. Retail itself changes; customer demand changes; design and structure changes. New forms of retail emerge, new concepts and new usages. It's always been that way. However, these days, one element of change is different – speed. We've never seen such a rapid rate of change before and with that comes opportunities.
One constant is that Adelaide's Rundle Mall is undoubtedly one of Australia's most iconic and powerful retail strips. It's the oldest CBD retail pedestrian mall in the country and has dominated Adelaide's retail scene for more than 130 years. At its heart sits Rundle Place.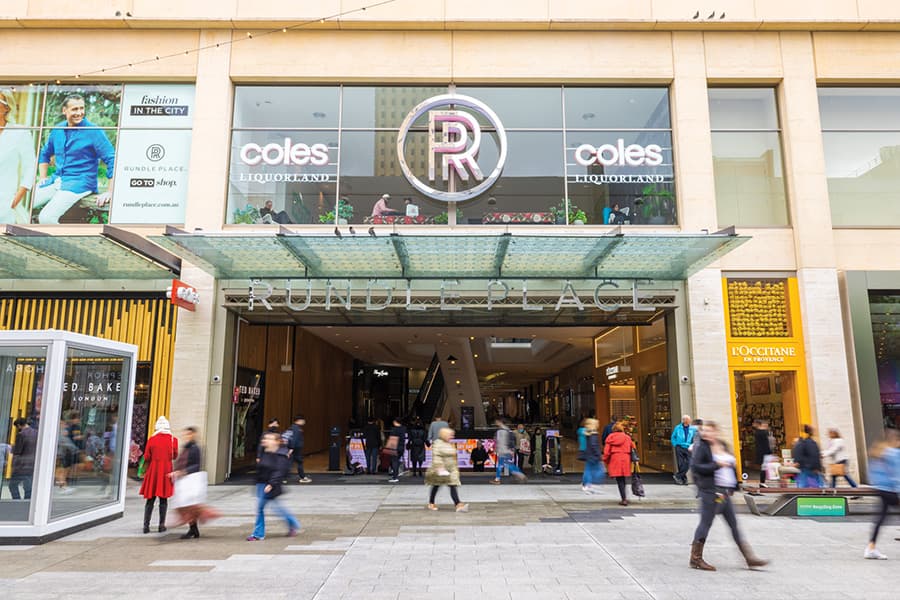 An established Fortius strategy, with an evidenced track record, is an ability to secure institutional grade real estate assets, and apply value add and specialist management expertise to maximise the property's value. Sam Sproats, Executive Director of Fortius Growthpoint told SCN: "…these assets have yet to be fully transformed to cater to current and future market demands".
It's impossible to tell the whole story of the Rundle Place complex in terms of a single entity; the modern ten-year-old centre is inextricably linked to the ongoing transformation of Rundle Mall itself over the past few years as it secured flagship stores from national and international brands.
The Rundle Mall precinct is managed by the Adelaide Economic Development Agency (AEDA) – a subsidiary of the City of Adelaide. AEDA's Executive Manager, Rundle Mall, Andrew White, told SCN: "Some of Australia's – and the world's – biggest brands are investing heavily in Rundle Mall with new stores and exciting new concepts."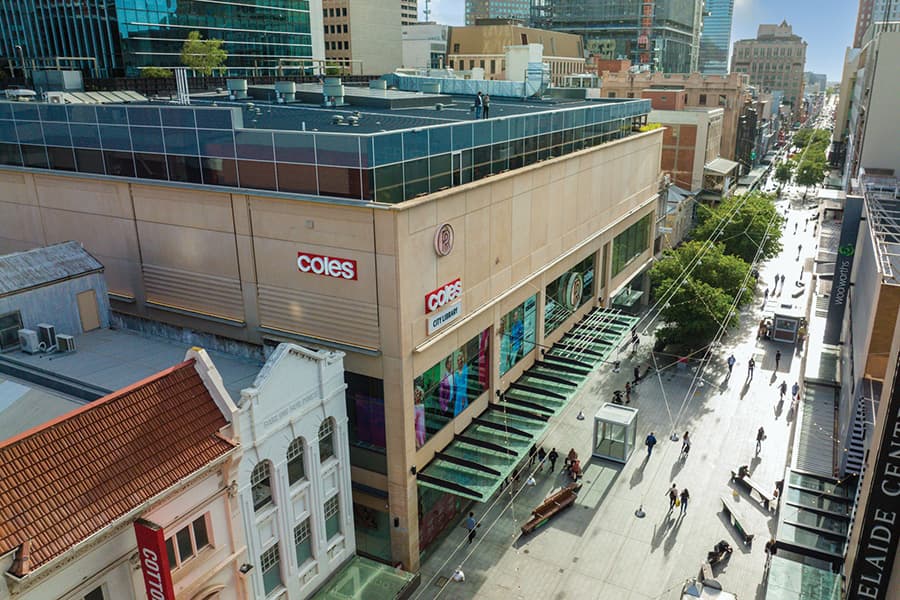 These retailers include Uniqlo, which opened its first South Australian store to much fanfare last November. JD Sports is already trading in its new CBD flagship store and Glue and TAG Heuer opened their first SA stores in the Mall. Last year, Rebel Sports opened a new experiential store concept and Dymocks refurbished the iconic Regent Theatre into a new 1,000m2 flagship that has become one of its best performing stores in Australia. H&M, Sephora, MECCA, Tiffany & Co., Nike, adidas, along with Myer, David Jones and Kmart all trade in Rundle Mall and its 7.5% vacancy rate is the lowest in the country for CBD retail strips, according to CBRE's latest H2 2022 data, with multiple new store openings scheduled for 2023.
Adelaide has a CBD on the move with current development projects valued at $12 billion including a Charter Hall office tower that will accommodate 3,500 city workers on top of the 5,000 retail and office workers already based in the Rundle Mall precinct. One hundred cruise ships have scheduled Adelaide stopovers for the 2022-23 season, which will bring thousands of tourists into the CBD and Rundle Mall; and at its epicentre sits Rundle Place.
Rundle Place is evolving into a prominent retail shopping and entertainment precinct. A massive frontage to Rundle Mall leads into a ground floor mall spanning the whole block linking to Grenfell Street. At ground level sits South Australia's only Apple Store; in addition to L'Occitane, Seed and Witchery. M.J. Bale, Kookai and Aquila recently opened new flagship stores, and soon lululemon and Nude Lucy will open their doors. Country Road is in the mix, plus Mimco and T2 Tea, to name a few. It's a powerhouse level that links directly via escalators to the lower ground and upper ground (level 1) floors.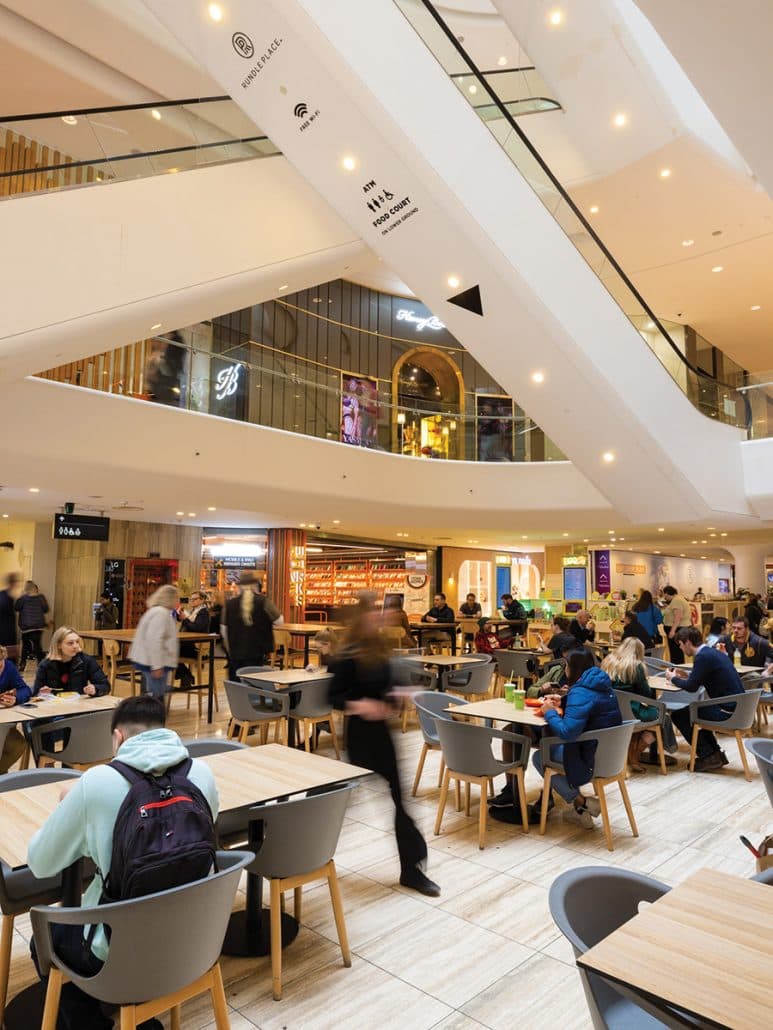 The lower ground floor is just as powerful. Anchored by a full-line Coles supermarket and Liquorland, the level boasts a buzzing food hall alongside complementary services. Soonta, Boost Juice, Salsa's Fresh Mex Grill, Dumpling 100 Express, Beyond India, Warong and Kintaro Sushi add to the culinary vibe, with the precinct showcasing the best of the local operators complemented by several national chains, offering best-in-class food and services to a bustling demographic.
An existing pharmacy has been expanded and relocated to feature a flagship TerryWhite Chemmart, as well as Fashion Nails and Just Brows & Beauty. It's busy, buzzy and a perfect fit for the approximately 10 million visitors per annum that visit Rundle Place.
These two floors – lower ground and ground – showcase the best in what might be loosely termed 'traditional retail' – full-line supermarket, convenience and service, food hall, fashion, accessories, perfume and the like, along with Apple.
So, what's missing? And here, again, the inextricable link to Rundle Mall itself comes into play. What's missing in the whole CBD precinct? Perhaps it resulted simply from a lack of space, but 'entertainment and leisure' has been notably absent. Rundle Mall is chock-full of powerful retail but, as yet, has not featured a comprehensive entertainment and leisure retail precinct within the CBD. However, Rundle Place is about to rectify this with the announcement of Entertainment Place.
Later in 2023, Rundle Place will deliver Adelaide's newest and most dynamic entertainment quarter. Funlab will occupy an expansive 2,200m2 – almost half the entire level – with direct access from Grenfell Street and Rundle Mall. The precinct will showcase Funlab's first major South Australian operation, featuring brands Strike Bowling, Hijinx Hotel and Archie Brothers Cirque Electriq, in addition to best-in-class food and beverage offerings.
Not your average tenpin bowling alley, Strike Bowling turns down the lights and cranks up the fun with high-energy music bringing a party atmosphere to the bowling alley. Hijinx Hotel is an immersive interactive game experience housed within the theme, wonder and theatre ofa quirky New York-style hotel, where the rooms are reimagined into fun and experiential gamified rooms. Archie Brothers Cirque Electriq is a dazzling, delightful spectacle for all ages, bringing together a kaleidoscopic circus of cocktails, arcade and ticket games that give old-fashioned fun a new lease on life.
This is a flagship Funlab operation bringing to downtown Adelaide fully immersive experiences on a large scale; a destination in its own right, a place to be entertained for several hours in a digital world of fantasy and amusement. This fabulous feature occupies almost half the floor; so what makes up the rest?
Adjacent to this quarter will be a dining precinct set to become a landmark destination in Adelaide's hospitality scene. It will position itself as the culinary heart of Rundle Mall, with restaurants and bars offering considered dining options showcasing South Australian producers and national tenants.
It's a project building on the established, already thriving CBD centre. Renaud Herington, Senior Asset Manager at Fortius Growthpoint, in charge of the repositioning, told SCN that, already, close to 30 negotiations involving new tenants, relocations, expansions, flagship store creations and the like have already been completed, repositioning Rundle Place as the leading retail, entertainment and leisure centre in Adelaide's CBD.
Any reporting on this project cannot ignore another significant acquisition made by Fortius at the same time (under separate ownership structure). Adjacent to the centre is a multi-storey car park providing approximately 500 spaces. The car park links directly into the centre on all levels, providing easy access to all retail, entertainment and leisure operations. This is not just a rare facility for the city of Adelaide, it's a facility seen hardly anywhere in the world in the heart of the CBD of a capital city! Where else does one find a retail centre with direct car park links on every level, in the centre of a CBD? It's as rare as hen's teeth…
Yes, it's an ambitious undertaking but the team is no stranger to this type of reposition project. Rundle Place has distinct similarities with Fortius' other CBD centre, Mid City Centre, with dual frontages on Sydney's Pitt Street Mall and George Street. It acquired the real estate in 2006. It was demolished in 2007, making way for a new office and retail centre completed in 2010, with Lendlease acquiring a 25% stake during the construction period. Much (in Sam Sproats' terms) of the 'first generation' retail disappeared, and Mid City Centre now houses retail powerhouses such as Virgin Active, Uniqlo, Rebel Sport, Culture Kings, Tissot, Seiko, Hype DC and Forever New.
Pure 'investment' in retail property is simply not enough. Retail properties require expertise in retail planning, marketing, management and leasing; they require expert teams to work together to meet current market demands that change constantly. The Adelaide CBD is changing. Some 1.4 million people live in the Adelaide Metropolitan Area currently and the average daily visitors to the city number approximately 315,000. About 24,000 live in the city, which today boasts about 450,000 international visitors each year. Fortius Growthpoint and Irongate Group have secured the very heart of the Adelaide CBD; and has the vision and the expertise to provide for the new market demand – the second-generation of retail.
Rundle Place will complete its planned repositioning of the centre early in 2024; watch this space for updates.
This centre profile features in the latest edition of Shopping Centre News magazine – premium members can view the full digital magazine here.