This article by Mark Fleming, Chief Operating Officer, Region Group forms part of an annual CEO Outlook feature, published in SCN's 2023 Big Guns edition.
Having weathered the COVID storm, Region Group is in a wonderful position to take advantage of future growth opportunities. I was delighted to become the Chief Operating Officer of the Group in September last year, having been the Chief Financial Officer for the nine years prior. I feel privileged to lead a great team and want to thank those who have come before me for building such a solid foundation.
Our tenth anniversary and new brand
In December 2022, we celebrated our tenth anniversary since demerging from Woolworths and listing on the ASX. Over that period, we have grown our assets under management from $1.3 billion to more than $5 billion, acquired 69 shopping centres for more than $2.7 billion, delivered a total unitholder return of more than 234% and recently entered the ASX100 Index.
To mark the anniversary, we changed our name from 'Shopping Centres Australasia Property Group' to 'Region Group'. The new brand reflects the changing nature of our business over that ten-year period.
Rather than just being shopping centres, we see our convenience-based centres as essential for the communities in which we operate, as reflected in our new purpose, mission and vision statements:
Our Purpose: Supporting better communities through life's essentials
Our Mission: Making life's essentials easy and inspiring
Our Vision: Fast and easy essentials at a place nearby.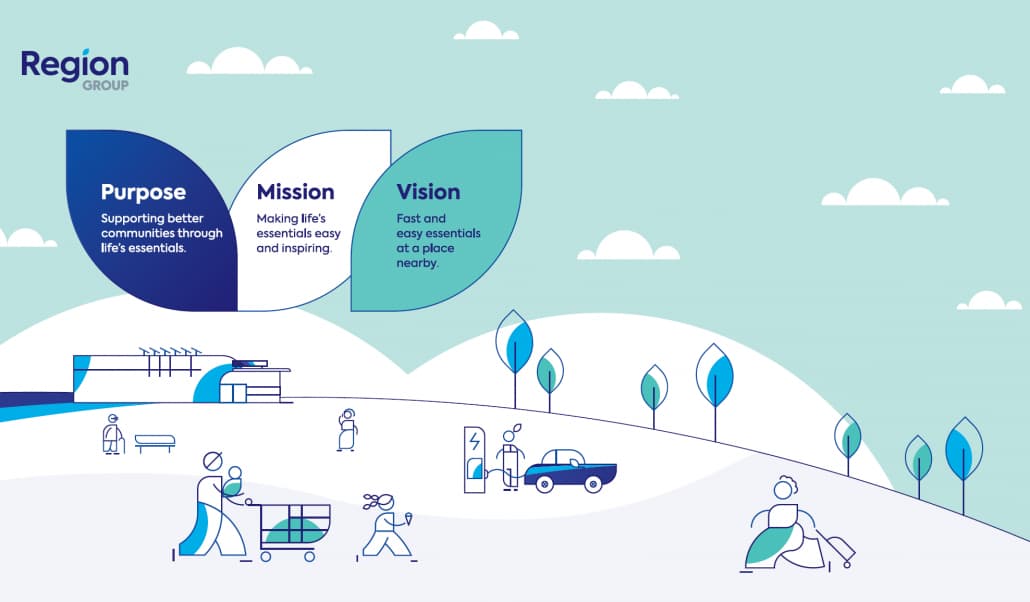 The rebrand was much more than a name change. We wanted to signal a brand evolution externally but, most importantly, internally. We know that our biggest and most valuable assets are our Region people. So, with that in mind, we have also refined our values:
Trust: Our word is our bond
Collaboration: We achieve and grow together as one team Innovation: We embrace doing things differently to get people what they need, when and how they want it
Leadership: We stand for what people need and show the way forward.
Our new brand provides the platform to unlock our future potential and to better support our purpose, mission, vision and values as we embark on the next ten years of growth.
Convenience-based shopping centres will continue to be resilient
Throughout the COVID pandemic, our centres remained resilient. As at 31 December 2022, our retailers' MAT growth was 3.6% and our retailer sales are now 12% above pre-COVID levels.
We expect our retailers' sales growth to remain resilient in the year ahead, even in the face of rising interest rates and inflation. Rising interest rates are designed to curb consumer spending and this will impact all retail businesses to some degree. However, we believe our centres will fare better than most for several reasons:
Shopping local: The 'shopping local' trend is continuing with more people continuing to work from home than prior to the pandemic
Online sales: An increase in online sales has actually benefited our centres, which are increasingly becoming last mile logistics hubs. Not only are our retailers using our centres for last mile logistics, but our research shows that an increase in retailer online sales also leads to an increase in-store foot traffic
Non-discretionary retail: The majority of our retailers are in non-discretionary categories that we expect will remain resilient even if there is an economic downturn… we often say that our customers still need to eat, go to the doctor, visit the pharmacy and get their hair cut, even if times are tough!
Inflation is a double-edged sword. For consumers, on the one hand their wages will increase, while on the other their cost of living will increase. For retailers, their sales will increase, while on the other their costs will increase. For landlords, our rents will increase, while on the other our expenses will increase. Which of these opposing forces will be more dominant is not entirely clear. At Region Group, we believe there is upside in our rents while retailer sales remain strong, and at the same time we will be focused on achieving cost efficiencies by leveraging economies of scale and seeking innovative solutions while continuing to improve centre standards.
Acquisitions, funds management and developments
One of the implications of rising interest rates is that it has become more difficult to acquire new assets that meet our return hurdles. We have not acquired any centres since July 2022, and we expect that acquisition activity will continue to be subdued until market pricing adjusts to the new cost of capital.
We were delighted to commence a new partnership with GIC of Singapore during 2022. We currently have $350 million of assets under management in this partnership. As with our own balance sheet, we are cautious of acquiring new assets in the current market environment, but we expect that the fund will grow to approximately $750 million when market conditions allow.
We also see significant opportunities to invest in our existing centres. Due to strong sales growth, our specialty retailer sales productivity is now more than $10,000 per square metre while our average specialty rents are only $806 per square metre, resulting in a specialty occupancy cost of less than 9%. This creates an opportunity to invest in our centres to improve customer experience while achieving an attractive return on capital. Refining this 'development' pipeline will be a key focus over the next 12 months, and we are doing this through implementing a voice of the customer program to truly understand retailer and shopper sentiment towards our centres.
Sustainability
Sustainability will continue to remain an important part of our core business strategy. Not only is there a growing investor interest in sustainable investments, but organisations are also continuing to understand the inherent risks of climate change and the duty of being a responsible business. Our redefined sustainability strategy, launched in 2020, was developed on that basis, focusing on six key pillars: Climate Risk, Energy & Carbon, Water & Waste, Leading Local (community engagement), Diversity & Inclusion and Health & Wellbeing. We are proudly making good progress in each of these areas.
Climate risk has been a key issue during the past few years with droughts followed by floods. Our Lismore centre and its surrounding community were impacted by the recent floods, with our centre currently undergoing a major redevelopment. Our purpose of supporting better communities through life's essentials has never resonated more than at that time. Our commitment to rebuilding our centre and contributing to the rebuilding of Lismore and its community's prosperity has been our fundamental approach from the beginning. We were able to support the local community during this difficult time by ensuring that critical services were available as soon as possible after the disaster, including enabling the delivery of groceries from a temporary facility at our nearby Goonellabah centre (which avoided the flood), and opening a temporary supermarket, pharmacy and a local fruit and veg operator at Lismore Central within six weeks of the flood subsiding. We also focused on assisting with the reinstatement of jobs to support the local economy through donating shopping vouchers to the Lismore Recovery Centre, supporting all of our retailers and their staff with supermarket and pharmacy gift cards, and donating to our Leading Local partner, The Smith Family, which went solely to its Flood Appeal.
With the impacts of climate change continuing to impact our centres, retailers and our local communities, we have completed climate risk assessments at six of our centres in FY22 and are in the process of completing another six centres in FY23. These risk assessments will assist us to understand the climate resilience of our centres. We are also implementing Community Resilience Action Plans at 11 centres that are in communities susceptible to being impacted by the effects of climate change. This will allow us to assist those communities in any future climate events including floods and cyclones to ensure they can access the essentials, but also to embed our centres in local disaster relief plans.
Our headline energy target is to achieve net zero by 2030 (for scope 1 & 2 emissions relative to an FY20 baseline). We have made great progress on achieving this target and expect to achieve it well before the 2030 deadline. During the past 12 months, we have installed LED lighting at all of our centres and solar panels on all of our WA centres. We now have nine megawatts of solar panels, well on the way to achieve our target of 25 megawatts. In addition, we believe there is further upside from building management systems and potentially on-site battery storage. Importantly, all of these investments generate an attractive financial return – so we can achieve our net zero goal while also improving financial performance.
Our Leading Local pillar continues to be important to us as we strive to truly be at the heart of our communities. With our portfolio of centres located in regional and metro locations across Australia, it is essential that we continue to improve our engagement with our local communities. At Region, our centres are not only the food baskets and local watering holes, they also play a bigger role in contributing to the prosperity of our local communities. Each of our centres has a Local Community Action Plan that impacts positively on the social and environmental challenges being faced within that local community.
The year ahead
Against a challenging macro-economic backdrop, we expect that Region Group will remain resilient. Our retailers are well-positioned to weather any potential economic slowdown and we are excited about the opportunity for Region Group to continue to pursue our purpose of supporting better communities through life's essentials.