This article by Elliott Rusanow, Chief Executive Officer, Scentre Group forms part of an annual CEO Outlook feature, published in SCN's 2023 Big Guns edition.
We have momentum as we head into 2023 and pursue our strategy to create the places more people choose to come to, more often, for longer.
Our 42 Westfield destinations are essential places in local communities and continued to attract more people during the year, which is testament to our team's focus and dedication to customers.
Together without restrictions
Giving more reasons for more people to come to our centres is what I obsess about, what the team obsesses about.
At the beginning of 2022, we continued to see customers return to our Westfield destinations and that has continued.
Knowing our customers and how much they wanted to be back together, we took deliberate and decisive action to activate our spaces through events and experiences that everyone could access.
By year's-end, we had hosted more than 15,400 events in our centres. In turn, we welcomed 480 million customer visits in 2022, which was an increase of 67 million on 2021.
A couple of highlights from 2022 included our partnership with Deaf Australia to pilot Auslan Santa across our platform, the collaboration with Disney to host Disney100 celebrations in 2023, as well as our participation in the NSW Government's CBD Revitalisation Program.
The NSW Government selected five of our Westfield destinations to participate in the program to support local businesses in attracting visitors back to CBD areas once pandemic restrictions were eased. Westfield Sydney, Westfield Hurstville, Westfield Parramatta, Westfield Penrith and Westfield Chatswood worked in direct collaboration with their local councils, business and community partners to host events that celebrated their communities.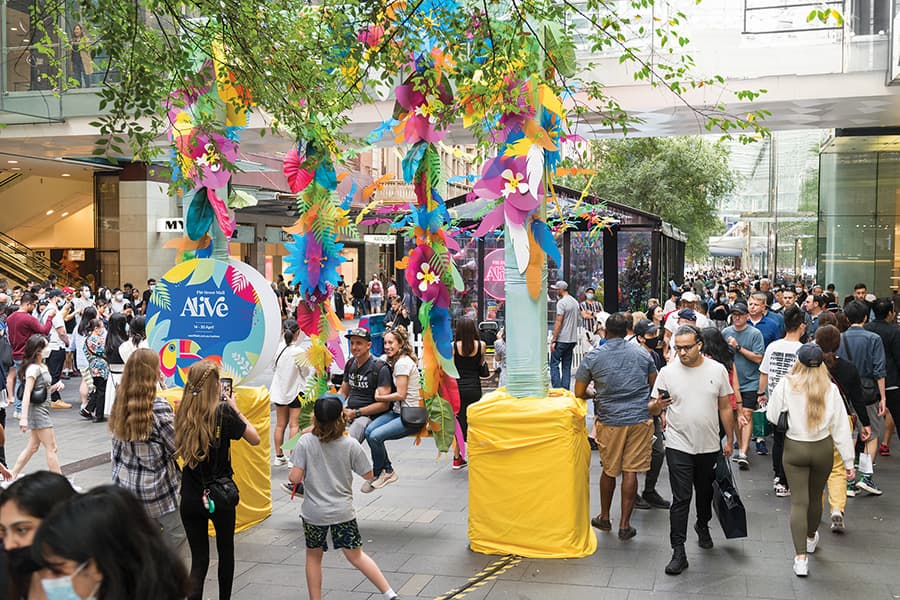 Connecting business partners with customers
Our focus on driving more customer visits by activating our destinations with quality events and initiatives created strong opportunities for businesses to interact with our customers.
During 2022, our business partners achieved a record level of sales on our Westfield platform in Australia and New Zealand. This momentum has continued into 2023 with January sales up 21% over 2022, and also 11% higher than 2019.
Six of our Westfield centres surpassed $1 billion in total annual sales, including Westfield Chermside (Qld), Westfield Bondi Junction (NSW), Westfield Fountain Gate (Vic), Westfield Sydney (NSW) as well as Westfield Miranda (NSW) and Westfield Carindale (Qld) for the first time. Westfield Doncaster (Vic) also surpassed the milestone for the first time, in January this year.
Demand for physical space and new experiences
In 2022, growing demand to be in our destinations and interact with our customers was evidenced through record leasing activity and a continued willingness from new and existing business partners to commit to long-term CPI-linked leases.
Portfolio occupancy increased to 98.9% at 31 December 2022 and leasing deal activity reached new heights, with a record 3,409 lease deals completed during the year, an increase of 912 on the year prior.
Our team continues to make great progress on identifying emerging trends and new concepts to introduce into our portfolio – working collaboratively with business partners, to create, launch and grow new experiences.
Excitingly, we launched a range of first and new concepts into our centres. This included the opening of shopping centre first, Decathlon, at Westfield Miranda and Children's edu-tainment experience Planet Mino at Westfield Warringah Mall.
From a category perspective, we're also seeing a longer-term trend that includes a shift to a higher proportion of experiential offerings. Approximately 43% of our portfolio is now made up of experiences, covering everything from services to dining, to health, wellness and entertainment.
There's more to come this year.
Investing in our destinations
Investing in our destinations to ensure they remain the places where people choose to spend their time is fundamental to achieving growth.
In Victoria, we opened the first stage of our $355 million investment at Westfield Knox (SCG share: $178 million), a new gourmet marketplace featuring a new Woolworths and ALDI on Level 1 of the centre.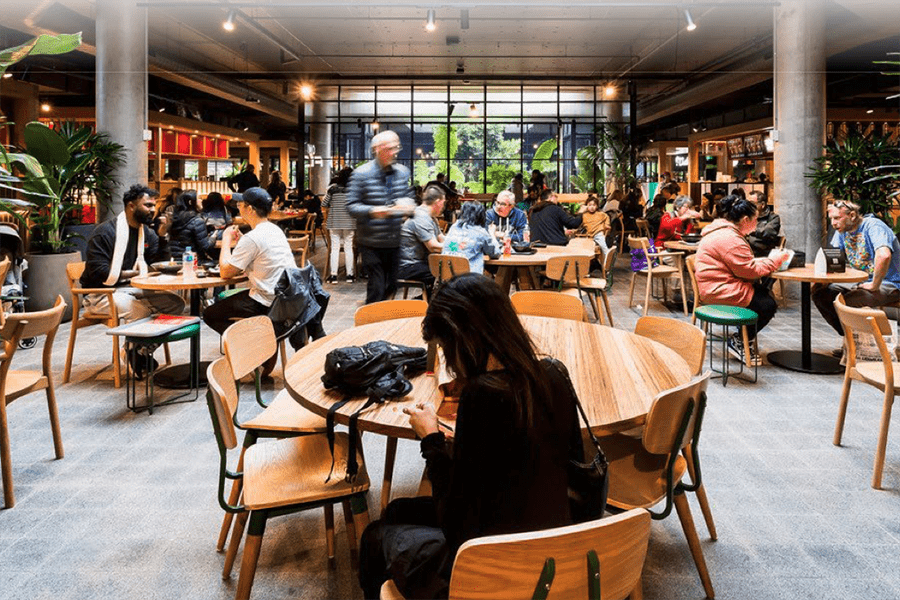 For the Westfield Knox development, we undertook a comprehensive community consultation process to understand the long-term needs of the local customer. This continues to inform the centre's transformation, with the remainder of the centre including new retail experiences, a swim school, full sized basketball court, Knox public library, co-working facilities and a multi-purpose community space, to open in stages throughout the year.
We completed the $55 million investment at Westfield Mt Druitt, including a new rooftop dining, entertainment and leisure precinct, featuring 15 restaurants and indoor-outdoor spaces for the community. The upgrade has driven significant improvements to visitation and dwell time, with visitation up 36% compared to 2021.
In November 2022, we completed our $33 million investment at Westfield Penrith, including the introduction of new casual dining experiences, a Coles supermarket and an entertainment precinct. We have seen visitation increase by 22% compared to the corresponding period in 2021.
Our $33 million investment in Westfield Parramatta opened in November 2022. The new fresh food precinct features Coles, ALDI and a Tong Li supermarket, among other speciality retailers. We have already seen visitation increase by 41%.
Looking forward, we're excited about our future development pipeline, which is in excess of $4.5 billion.
We're continuing to make progress on 101 Castlereagh Street, which includes an extension of Westfield Sydney and our luxury retail offer.
We have also received approval for our projects planned for Westfield Booragoon and Westfield Albany, and look forward to sharing more updates on these developments throughout the year.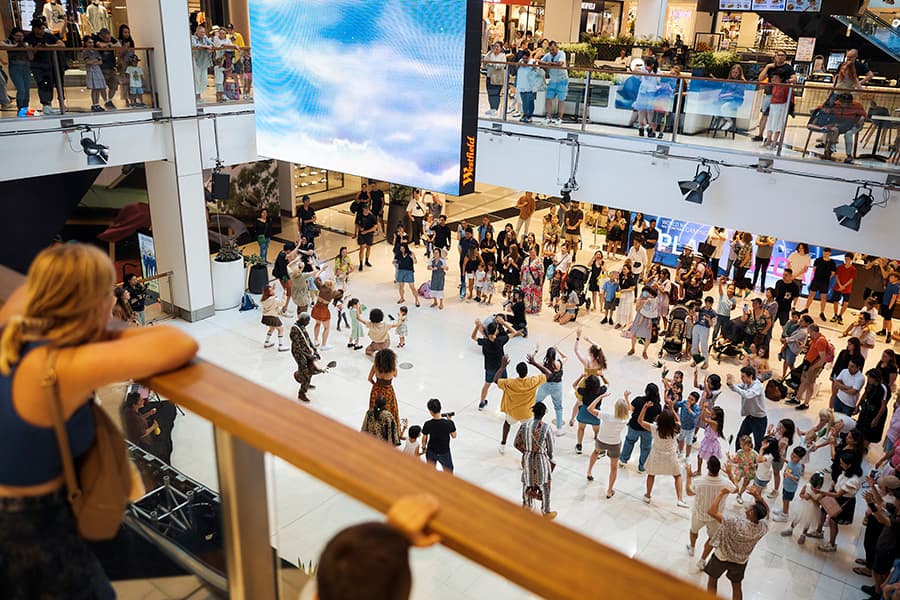 Being a responsible sustainable business
Operating as a responsible, sustainable business underpins our strategy and ambition to grow. It's an important part of how we create long-term value for our stakeholders.
During 2022, we continued to make progress on core initiatives – from our net zero pathway, environmental strategy and continued investment in the communities we're part of. As a long-term owner and operator of essential social infrastructure, we have a responsibility to the community to reduce our carbon footprint. Since 2014, we have reduced our emissions by 38%.
Our New Zealand portfolio is now powered by 100% renewable electricity and our Queensland portfolio will move to 100% renewable electricity from 2025.
We're optimising asset efficiency (eg. LED lighting installation and building management system enhancements) as well as making on-site renewable energy via rooftop solar, which all contribute to reducing our emissions.
Building momentum
There's a lot to look forward to and feel excited about in 2023.
The willingness of customers to be in our destinations and interact with our business partners, gives us the energy and focus to continue building momentum.
Visitation to our Westfield centres for January and February was up 19% on last year.
We are confident that the strength of our business and platform, the quality of our team and our customer-focused strategy will continue to generate long-term growth.
Our centres are busy and vibrant with activations already underway. Sydney WorldPride 2023 and Mardi Gras festivities took place last month and we were also excited to commence the Disney100 festivities across all 42 Westfield centres. We know the intergenerational appeal of Disney will resonate deeply with our customers.
We look forward to creating more reasons for people to visit their local Westfield centre, more often and for longer, in 2023.