The changing market
Interest rates falling, movement in property prices, cost of living pressures, low wages growth and the impact from the country's bushfires and coronavirus outbreak are all impacting consumers' confidence.  Landlords and retailers are steering their businesses through an ever-changing market. 
Media coverage does not always tell the full story and often contributes to the market's confidence. It can be easy to be disheartened by the headlines and believe the retail sector in Australia is going backwards at a fast rate. However, when you take a closer look and deeply understand the sector, you soon realise the fundamentals of the Australian economy are sound, driven by strong population growth, a return to a more stable federal government, supported by record government infrastructure spending and a sensible planning system that controls supply based on demand. 
According to Citigroup, consumer spending growth has been remarkably consistent, despite volatility in take home disposable income. Consumer spending growth has averaged 4.5% since 2010, or 3.0% per capita. Australians are now saving 2.3% of their annual income, i.e. three years ago households were saving $6,100, now they are saving around $3,500.
There may be retailers struggling in this market, including some national chains that are consolidating store footprints, closing or going into administration but this is not new. 
Going back a few decades, Brashs was the go-to destination for recorded music and home entertainment, now JB Hi-Fi dominates the category. Pizza Hut family dine-in restaurants and Sizzler were the go-to dining venues, now families enjoy curated dining and entertainment precincts with quality amenities and amazing activations all close to where they live. 
During the past four years alone, more than 60 new retail brands opened in the Australian market, including Decathlon, Holey Moley, Suitsupply, TK Maxx, Taco Bell, Lego Store and JD Sports to name just a few. The number of new luxury retailers coming into stand alone stores is not slowing down, with Hublot, IWC Schaffhausen, Jaeger-LeCoultre and Panerai all opening recently at the Dexus managed building, 175 Pitt Street in Sydney. The retail sector evolves and will continue to evolve.
Cities to keep growing
Cities around the world are just one-third of their way through a 100-year cycle of urbanisation. In Australia, this is supported by strong long-term population growth forecasts in Sydney and Melbourne, and record levels of infrastructure investment to support their accessibility, liveability and sustainability as they grow. 
One of the key megatrends impacting our business model is the continued growth of cities and urbanisation. There is a mutual relationship between these growth drivers and the role that Dexus can and does play in shaping our cities for the future as desirable places to live, work and play. 
This is consistent with our strategy, which is centred on delivering superior returns from high quality real estate located in Australia's major cities. 
Our development pipeline contributes to creating leading cities by adding to the fabric and economic prosperity of cities and satisfying the evolving needs of our growing customer base.
The circa $170 million investment into Sydney's MLC Centre includes the delivery of approximately 6,000m2 of new and enhanced retail space across four levels and is supported by the existing office tower. International luxury fashion house Valentino will unveil a new Australian flagship store at this Sydney landmark. Valentino will set the tone for Sydney's renowned luxury precinct on Castlereagh Street and appeal to the growing international tourist market. The redevelopment of the MLC Centre also includes plans to revive the Theatre Royal with Dexus entering into a long-term lease with the NSW Government, paving the way for a private theatre operator to run the theatre. Upon completion, the MLC Centre precinct will activate the heart of the city with a trading day spanning 16 hours.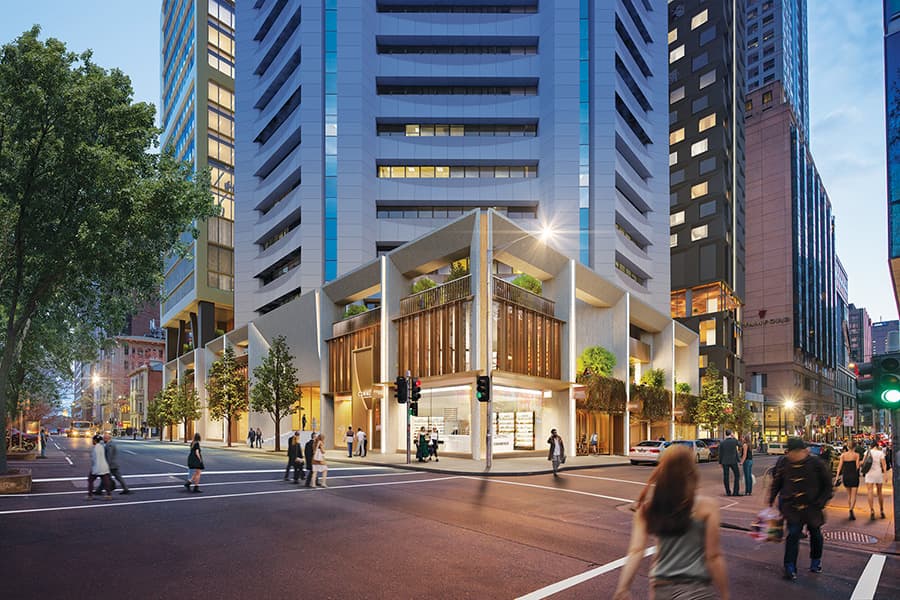 The Waterfront Brisbane concept masterplan will transform Eagle Street Pier into a premium business and leisure destination. The $2.1 billion city-shaping development includes two premium office and mixed-use towers, a variety of riverfront restaurants, casual eateries and shops and approximately 7,900m2 of new and revitalised public realm space, unlocking this Brisbane CBD gateway site for future generations. 
The 80 Collins Precinct in Melbourne is another example of Dexus investing into improving leading cities. This site is of historical and social significance and the project is nearing completion in 2020. 80 Collins is positioned in Melbourne's epicentre for business, culture and retail with the development delivering a new 38-level premium office tower, supported by a new retail podium showcasing leading food and beverage operators along with destinational luxury fashion brands and a new 255-room boutique hotel. 
Partnerships drive value
Dexus is committed to working with our customers to deliver tailored property solutions that drive sustainable outcomes in an ever-changing consumer environment. Today the right retailer property solution underpins the success of the operation and needs to consider many areas to drive success.
As a diverse retail and industrial property owner, manager and developer, we specialise in providing tailored customer solutions across our extensive Australian portfolio. 
We know that physical real estate will remain important in an omnichannel world for its role in customer branding, service and online sales support. Our view is based on positive trends in urban densification, the need for community places, growth in the service sector and the value of large centrally located assets.
Operating an integrated retail and industrial model unlocks global megatrends, addressing the virtually driven shopping economy and meeting customers' high expectations in an increasingly urbanising and highly connected world.
Tech intensity
Technology continues to drive business innovation forward across the globe. A State of Tech Intensity Microsoft study revealed that as the 2010s give way to the 2020s, organisations are moving beyond adopting the latest applications and are developing their own proprietary digital capabilities to help propel success and gain a competitive advantage.
One of the key findings of the study was the extent to which companies have already embraced tech intensity. According to the study, tech intensity is already pervasive, with 73% of companies reporting they are currently creating their own first-party intellectual property using next-generation technologies such as machine learning (39%), internet of things (37%), AI (32%), blockchain (29%) and mixed reality (21%).
The study also revealed broad agreement across industries that tech intensity is critical for current and future success. For example, 75% of respondents believe that harnessing tech intensity is the most effective way to build competitive advantage today, and 75% also believe it will be crucial to building competitive advantage in the future.
The best performing retailers and retail asset owners across the world are well on the way to implementing a tech intensity business operations model. 
Investing in our people
Our people and capabilities are central to how Dexus delivers on its strategy. Our people are inspired and motivated to create spaces where people thrive, supported by a culture that delivers value for our investors and other stakeholders. In our most recent employee survey, the results returned an employee Net Promoter Score of +40, signalling high levels of engagement and a strong connection to Dexus.
We continue to focus on internal career planning, development and new opportunities for our people. During the past year, we placed internal candidates in a high percentage of available roles. 
We believe that investments in our people and capabilities create meaningful and productive workplaces for our teams and enable the right culture and behaviours to deliver sustained results.
Retail has a big future in this country 
The year ahead will have its challenges with ongoing global uncertainty but there are just as many opportunities. Strong active asset management with value adding strategies will continue to generate growth opportunities.  
Despite record low mortgage servicing costs in Australia, we expect retail turnover growth to remain muted until there is an increase in wages growth and a pickup in consumer sentiment. Saying this, a pickup in activity in the residential property market could have a positive effect on Household Goods retailing over the next couple of years. Although a renewal in new home construction is still at least 12 months away, greater transaction activity in freestanding houses with more renovations and alterations could lead to increased spending on Hardware & Garden retailing.
The retail property industry will continue to innovate and change to seek out sustainable future investment returns. This is what makes the sector so exciting to work in. 
Dominant lifestyle community centres, highly connected city-based destinations and super convenient retail hubs will be the assets that generate the best results into the future. 
The future value creation potential for Dexus is closely linked to the success of Australia's major cities, which are recognised for their population growth, amenity, infrastructure investment, ease of access, and place to do business. 

About Dexus
Dexus is one of Australia's leading real estate groups, proudly managing a high quality Australian property portfolio valued at $33.8 billion. We believe that the strength and quality of our relationships is central to our success, and are deeply committed to working with our customers to provide spaces that engage and inspire.
We own, manage and create high quality spaces across the office, industrial, retail and healthcare sectors. Our spaces are located where our customers need to be, covering the central business districts of Sydney, Melbourne, Brisbane, Adelaide and Perth.