Returning to the office in January, I couldn't help but be moved and inspired by the efforts of our fire fighters, volunteers and regional communities who fought the ferocious fire conditions over the summer. It can be easy for those living in metropolitan areas to lose perspective on how these communities manage ongoing periods of crisis, stress and change. What has been particularly inspiring is how many of those impacted by these unprecedented events continue to demonstrate a strong sense of resilience and adapt to the challenging cycle of droughts, fires and floods, but also the structural challenges of climate change – reshaping the way we live and manage land. It's clear it's time for a step change. 
Looking to our industry, the Australian retail and shopping centre sector is also managing headwinds on two fronts. On one side, cyclical economic factors such as low wage growth, softer retail consumption and weaker economic growth are weighing on sales performance in some discretionary categories, offset to some extent by growth in food and services spending. These often occur every decade, and are not new in the retail sector, but economic cycles are a fact of life and, like drought, we can only adapt to ensure we meet the needs of our customers and investors at various times in the cycle. 
Structural trends such as generational shifts in demographics, technology disruption, sustainability drivers and emerging business models disrupting the traditional retail model, are forcing the industry to radically rethink our approach to new challenges. But this also creates great opportunity for innovative managers and owners to exert the most effective influence in ensuring that these assets remain vibrant, relevant places and ultimately ones of value. 
The emergence of Australia's fastest growing Millennials and Centennial demographic is driving a more "connection centric" approach. They have grown up in an era dominated by social media and digital interaction, however they actively seek greater personal connectivity, which shopping centres are uniquely placed to provide. No longer is it good enough for shopping centres to be passive places 'to buy stuff', they must be engaging places 'to do stuff' too. 
It's through this lens, we remain optimistic about the value of retail-based centres. Australia, by global standards, is well-placed to continue to deliver vibrant retail experiences that defend valuations. Historically, retail is also the most defensive real estate sector, producing stable returns with low volatility largely driven by diversification of tenant mix, the versatility and adaptability of the asset class and higher barriers to entry due to Australia's planning system. The rationale for investing in retail remains consistent with the historical justification, however the approach to management and the broadening definition of the asset class must evolve to succeed.
In the face of this disruption, we continue to ask ourselves – how do we create valuable places where I choose to spend my time? How do we create engaging places that enable our retail partners' success? And how do we deliver on these promises, while providing investors with reliable, long-term returns? 
While retail or 'shopping' will remain integral, we see opportunity for centres to play a greater part in fulfilling the needs of a more urbanised demographic that continues to see population growth concentrated in metropolitan, high amenity areas.  The strong fundamentals of these centres – high amenity, strong footfall, with good supporting infrastructure – create opportunity for greater synergies and connectivity through complementary uses of space, to deliver strong and diversified income streams.  It is through this social infrastructure hub approach that we look at the fundamentals of each asset and respond and adapt to remain relevant and drive value. 
What is constant is the importance of getting the key foundations of any asset right:
• Place – creating great places, broadening the traditional retail mix and unlocking mixed use opportunities to create common value.  
• Partnership – collaborating with and providing the stage for our retailers and tenants, understanding and creating connection with our community and customers, and driving value for our investors. 
• People and platform – attracting and enabling our best-in-class people with the right tools and resources to understand and embrace the changes necessary to unlock the true value of shopping centres.
Place
Whether a shopping centre or office precinct, place continues to play a critical role in building connections between people, their communities and organisations. 
As a global real estate fund manager that's been shaping communities and skylines for well over 60 years, AMP Capital is in a unique position to understand and drive this place value – from our ground up day-to-day perspective of community expectations, to our global macroeconomic insights and outlook.
Recognising our responsibility to maximise the value within the site context and investing in the right mix that reflects the desires and aspirations of our communities, is more critical than ever. When investing in our clients' assets, our focus is making our centres better, not necessarily bigger. As we continue to see retailers consolidating into the more dominant, successful centres, we remain focused on improving speciality sales productivity and retailer profitability. With that in mind, in the short term we're remixing less productive tenancies with usages not traditionally included in shopping centres – unique experience and leisure offerings, dining, showrooms and auxiliary health and wellbeing services.
It's this perspective that we are approaching the $800 million development of Karrinyup Shopping Centre in Perth on behalf of our client. With the mixed-use project well and truly underway, on completion, the centre will be the largest in the state and will combine traditional retail with dining, entertainment and residential apartments to create a vibrant community hub, backed by strong catchment fundamentals including a large total trade area, solid growth prospects and higher than average household income. 
Experience and service remain critical ingredients across all our centres. When we develop our places, we often think about how we can activate them for the community, creating a strong sense of belonging and identity. 
As the gateway to Sydney and global model for future thinking, our world-class multi-billion-dollar Quay Quarter development is no exception to this thinking. It is set to create a new energetic city neighbourhood with amenity that supports the lifestyles of our partners and customers, with holistic lifestyle retail, wellbeing and social experiences.
With high-end residential apartments, boutique retail lanes and heritage buildings, Quay Quarter Lanes, due to open later this year, will deliver a retail offering anchored in food and lifestyle, bespoke shops and boutiques, artisanal cafés, bars and restaurants operating 18/7, and character-filled experiences for every time of the day.
The development process was driven by robust research into trends and customer desires. It follows AMP Capital's carefully crafted approach to design excellence and place-making, and identifying the right retailers and activations to deliver exceptional customer experiences.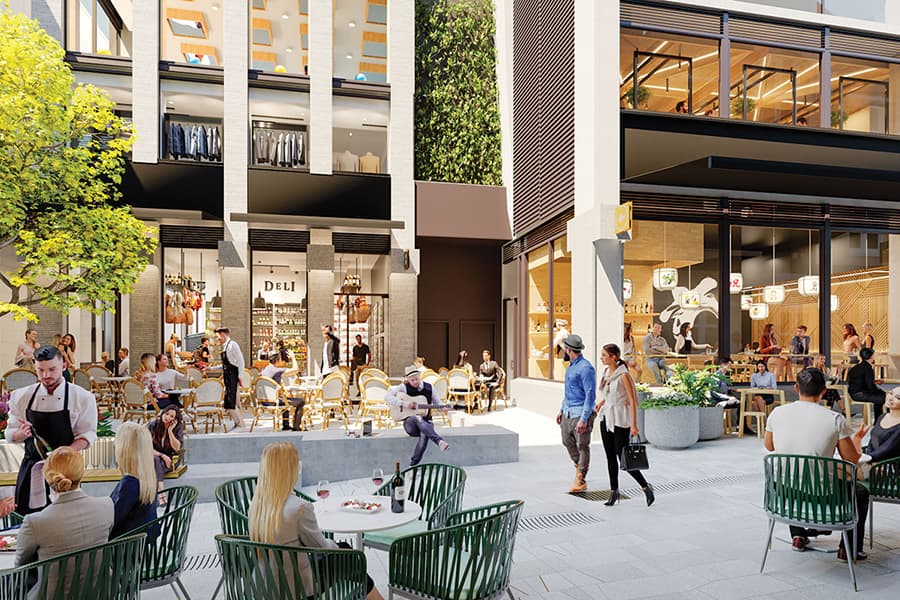 Partnerships
No longer are we in the game of just 'retail'. This is what our retailers and tenants specialise in. We believe we are in the business of people and experience. As managers, our role is to provide a platform to help our tenants and retailers in their success and enable them to thrive. In turn, we want to give our community a place to connect and give customers a sense of choice and convenience.
Partnership is a term that gets thrown around often and, in the past, we haven't always got it right, but for our team we know the importance of collaboration to understand the key drivers of retail performance and ultimately find shared value. 
Technology focused retailers will undoubtedly be part of the future of foot traffic generation. Recent Forbes research shows that half of online sales are triggered by an in-store experience – one in five happen on the same day – and that smartphones were used in more than one-third of US retail sales in 2018, including everything from initial product research to making a purchase. That accounts for more than US$1 trillion in sales.
Recently, we collaborated with several online-only retailers in Brisbane. We enabled them to showcase their products and services in a physical retail setting, that attracted thousands of their followers to the centre, driving new customers and converting them to sales across the centre. This example is a small, but important step in the evolution of omni-channel retailing, which clearly demonstrates the future importance of physical retail as a connection point between online and offline retail. 
Shopping centres are a unique eco-system and we all need to work together to create and share this value.
People and platform to deliver
Finally, managing valuable places is not a one-person exercise. As I step into my new role here at AMP Capital, what I'm most excited by is our people and culture. Attracting and enabling best-in-class people with the resources, empowerment and experience to embrace the changes we are faced with head on, will help unlock this shared value. 
The collaboration between the multi-disciplinary skills we have here at AMP Capital has been great to be part of – mixing the experience of the best in the business retail professionals, with fresh perspectives from industries outside of real estate. We're also significantly investing in technology and new ways of working to enable better decision-making and unlock new markets and categories for consumers to engage with.
Critically, it's harnessing a strong collective culture of being more innovative, more agile in our decision-making and a strong sense of willingness to test and learn new things that will enable us to push through this disruption we face.
As I go back to what I was most inspired by over summer – resilience and the ability to adapt. It's these traits that will put us in good stead to ensure retail-based centres not only remain relevant but also continue to be valuable places.

About AMP Capital
AMP Capital is one of the largest direct real estate fund managers in Asia Pacific with more than $29 billion* in assets under management on behalf of global investors. We are also one of the most experienced, with our heritage in real estate investment, management and development spanning more than 50 years and many investment cycles.
AMP Capital's extensive global network and integrated management model allows its 600-strong team of real estate professionals to realise true value for clients through the investment management, property management and development of a portfolio of some of the most iconic shopping centres, office buildings and industrial estates across Australia and New Zealand.
AMP Capital's Retail team is a specialised team that combines world-class experience and specialist capabilities in the management of some of Australia and New Zealand's most successful and high-performing retail centres, underpinned by comprehensive knowledge of the shopping centre industry and backed by extensive research.
*As at 31 Dec 2019.