Fourth industrial revolution
We are now experiencing the fourth industrial revolution with great advancements in technologies such as robotics, artificial intelligence and biotechnology. The world is changing faster than we could ever have imagined and every day we are being challenged in an industry that many of us have grown up in. Executing change requires courage and lightning speed.
In 2016, Klaus Schwab, Founder and Executive Chairman of the World Economic Forum said: "We stand on the brink of a technological revolution that will fundamentally alter the way we live, work and relate to one another. In its scale, scope and complexity, the transformation will be unlike anything humankind has experienced before."
The revolution is here. The retail players set to survive this disruption are already focused on building their companies to be truly agile and innovative, and are harnessing data, technology and a deep understanding of customers to help them evolve.
Forces of change
At Lendlease, we have a team of researchers working to understand the forces of change disrupting retail and what retail will look like in 2025.
Start with the value chain, the lifeblood of every retailer, to understand the impact of the structural changes we are experiencing. Production lines, consumption methodology, transport systems and delivery models have all been severely disrupted.
Traditional shopping centres have for decades mapped customer journeys to enhance and remove pain points. Global disruptive forces have changed the journey forever as customers, consciously or not, are living in their own virtual bubble fuelled by big data.
Customers everyday receive a barrage of information driving purchasing decisions, which is fuelling a revolution in traditional shopping behaviour.
But as humans, our need for social connection and sensory experiences mean that bricks-and-mortar retail will always have a place in our lives.
Traditionally, people visited shopping centres for purely transactional reasons, but we're now seeing the rise of a new consumer – one who is globally-minded, who values experiences, personalisation and convenience. They want to be more mindful about what they buy and how it impacts the world. They also want to be the best person they can be.
Customers today want exceptional and seamless shopping experiences across all touch points. They want stores to treat them as individuals, catering for and remembering their likes and dislikes. They expect technology to make it easy for them to get what they want, where and when they want it.
Online retailing's increased sophistication has elevated customer expectations around retailers' instore product knowledge and speed of transaction. The role of superior, well-informed customer service is more important than ever. We know that 40-50% of customers will search online for fashion or homewares purchases before coming to a shopping centre to make their purchase, and 40% will search for dining options ahead of time. Interestingly, 60% of online apparel shoppers do not find what they need online, whilst almost 60% of physical store shoppers do – indicating a significantly higher conversion rate for physical shoppers over online shoppers. (ShopYou Data Insights Report, December 2018).
The retail industry is already evolving to meet customers' heightened expectations.
Lendlease will soon finish transforming Sunshine Plaza in Queensland into the shopping centre our customers told us they wanted – a place that feels like a home away from home, with even the smallest detail in the Centre reflecting the local coastal lifestyle such as coastal themed wallpaper, framed photos, furniture and even the children's play area.
Customers have always complained about shopping centre car parks, but things are changing there too. Shopping centre managers are increasingly focused on making parking less stressful such as introducing ticketless parking.
More centres are adding entertainment to their offering such as live music or miniature golf. At Sunshine Plaza, Lendlease has started constructing an outdoor high ropes course. This is a first for a major regional shopping centre and will include a 22-metre-high viewing deck, 150 course challenges and 16 zip lines, with the longest one at 130 metres across a creek.
Like Sunshine Plaza, shopping centres are being transformed into 'lifestyle centres' so that they remain relevant and attractive to their communities. It's what we add to the traditional bricks-and-mortar that will drive the change, such as introducing bold masterplans with a mix of uses that will enhance returns and drive traffic, and provide customers with a rewarding and memorable daily experience of working, living and socialising in a sophisticated ecosystem.
For retailers and shopping centres, the key to surviving the forces of change is to purposefully disrupt the way our businesses currently operate.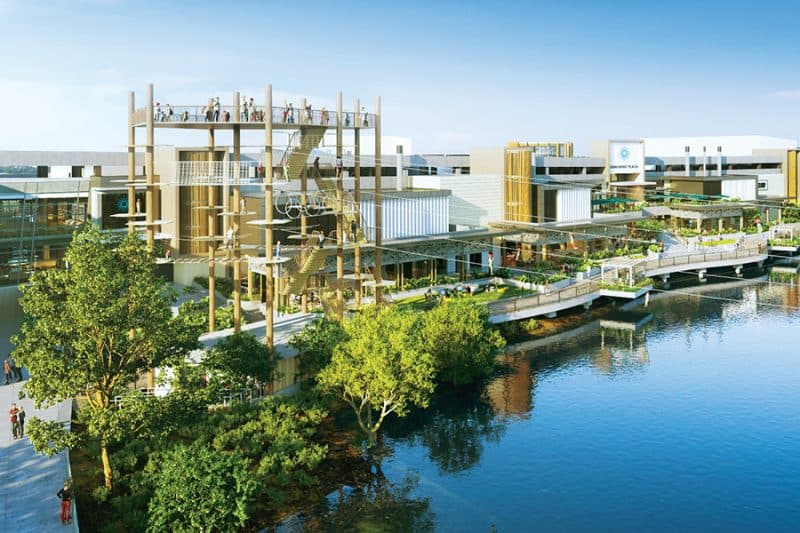 Driving innovation
For bricks-and-mortar to prosper during the next decade, innovation, adaptation and strategic thinking is required.
Lendlease this year will focus our efforts on driving innovation, and harnessing our international knowledge and experience. Lendlease Retail will specifically focus our energies on three key drivers:
• Meeting elevated consumer expectations using the data and information that we have at our fingertips,
• Delivering place creation informed by what the data tells us and,
• Driving dynamic innovation through collaboration.
Innovation underpins Lendlease's international strategy and is integral to our culture. We encourage diversity, including thought, collaboration with external partners including universities and start-ups to accelerate progress, and we challenge industry norms to deliver innovation.
All our employees can access training, tools and resources to help build, test and implement ideas. Innovators are supported through our 'innovation pathway' steered by trained innovation guides.
Our innovators also have access to advisory forums, made up of entrepreneurs. Along with advice, these forums can also allocate seed funding to support experiments in our innovation labs.
Critical to our innovation approach is the equal focus we place on defining the need, conceiving and testing our ideas.
Through 'hackathon' events we generate ideas around Lendlease's strategic priorities. At the end of 2017, we held a two-day retail hackathon where 40 participants tackled problems and challenges and came up with new approaches to our retail centres and precincts. During 2018, we partnered with the University of Sydney to explore one of those ideas and now we're looking at trialling the idea at a shopping centre.
Lendlease has also partnered with CoVentured – a platform for Australia's biggest businesses to collaborate with start-ups to deliver innovative solutions. Leveraging this partnership, we recently pitched the challenge of how we can better connect with customers to a number of startups and scaleups. We selected two of the best ideas to explore further.
One of our most interesting projects underway will not only benefit Lendlease, but also the broader property and retail industry. Lendlease internationally is focused on developing a standard method to measure the value of place. We know that investing in placemaking is critical to the success of our retail precincts, yet it can be a challenge convincing the accountants and investors of its income generating benefits. By placing a commercial return on investment to 'place' development, we believe we can ensure a more customer-focused experience across our assets.
Knowledge is power
As a 60-year-old business with an international reach and more than 13,000 employees across the world, it makes perfect sense for Lendlease to capitalise on that collective experience and knowledge.
Lendlease has established an international online knowledge hub driven by communities of practice. Our Retail community of practice includes senior managers from Australia, Asia, Europe and America. Our goal is to share our collective knowledge, skills and experience across Lendlease's business.
We are already benefiting from learnings gained by our colleagues in America and Europe, where online retail and rising vacancies have been more strongly felt.
As retail developers, the core of our business is to understand our customers and their needs and wants. This is why Lendlease has invested in an extensive customer research program, which is set to grow this year.
In 2018 alone, we interviewed more than 9,000 customers and more than 600 retailers to understand how we can improve our retail assets. In 2019, we will be building on this by trialling new ways of engaging with our customers across Lendlease projects.
We know that it is only by understanding what our customers want that we can best meet their needs.
Retail has evolved time and time again. But this next phase of evolution will require retailers to be bold, take risks and be innovative. Change is here; welcome and embrace the disruption. We are.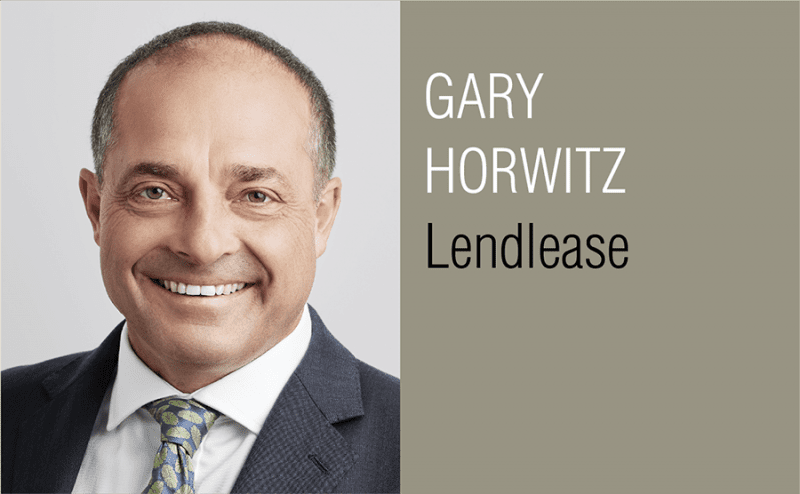 About Lendlease Retail
With more than 40 years' expertise in constructing, developing and managing Australian retail shopping precincts, Lendlease delivers high-quality customer experiences across Australia through our A$7 billion-plus portfolio. Our retail division delivers integrated services including retail development, design and construction, urban regeneration, masterplanning, leasing, marketing and asset management.
We manage 19 high-quality retail shopping precincts in urban and regional areas. With our customers' experience at the core of everything we do, our team of professionals strives to consistently exceed expectations and foster lasting connections between retailers, brands and the millions of customers visiting our retail places annually.