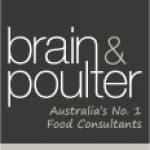 Whether you would like to plan a retail food development for highest returns, get maximum rental yields from your assets, or help underperforming tenants to turn their business around, Brain & Poulter can help.
Their expert team has more than 15 years' experience improving the financial performance of both food precincts and individual retailers. Brain & Poulter regularly help clients generate as much as $400 return for every $1 investment in their services. They are also the consultant of choice for Government organisations, airports, educational institutions and leading property professionals.
We love Mini Guns! They play such an important role in the fabric of our communities.